Theater students present FST showcase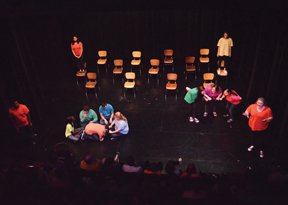 The Department of Theatre at The University of Southern Mississippi presented the Freshman, Sophomore, Transfer Showcase on Sept. 21 at 5:30 p.m. in the theater building. Members of the theater performed a skit entitled "15 Reasons Not to Be in a Play" by Alan Haehnel. The Freshman, Sophomore, Transfer Showcase (FST) served to provide students who are new to the theater department a chance to showcase their work to the community and theater faculty.
Ryan Mahannah is a second-year graduate theater performance major at Southern Miss and is also director of the Freshman, Sophomore, Transfer Showcase.
"It also gives them valuable performance experience that they can learn and grow from as artists," Mahannah said. "Each time we work on a show we grow and better ourselves as artists."
Mahannah selected the material and ran rehearsals for about three weeks. Students involved benefited by gaining the experience of putting on a show.
"They have made some really strong bonds as a group," Mahannah said. "This bond allowed them to find friends in the department when some of them may not have known anyone coming in. Having a safe place to work is key to a successful theatrical career."
Once the main-stage casting for the season was complete, the freshman, sophomore and transfer students who were involved in any roles this semester signed up on the call-board and came to the first FST meeting. "They all came, and we played improv games and did some cold readings from the script, and then the next day I cast the show with everyone who showed up and we started working," Mahannah said. The ironic play about not being in a play was delivered through a series of duets, monologues and ensemble scenes.  The play was humorous as the students went through the 15 reasons not to put on a play. Costumes were plain as students dressed in jeans and solid-colored shirts. The only props on stage were chairs that were used as other students. "The cast got to work on a whole bunch of different characters in one show and got to stretch themselves as actors,"
Mahannah said. "The showcase gives new students a chance to be seen and to build their resumes," professor of theater Monica Hayes said. "It was a successful night.The department is proud of these students who represent the future of our program." More information on future events can be found on the Department of Theatre's web page.
Donate to Southern Miss Student Media Center
Your donation will support the student journalists of University of Southern Mississipi. Your contribution will allow us to purchase equipment and cover our annual website hosting costs.