Forum features Pulitzer-winning author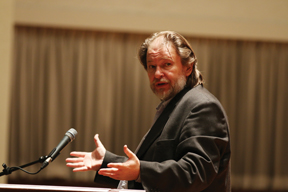 The 2015-2016 University Forum kicked off Sept. 22 with speaker Rick Bragg, former correspondent for The New York Times and 1993 winner of the Pulitzer Prize.
Bragg, an author, presented his lecture "Writing the South" at 6:30 p.m. in Bennett Auditorium on campus. The award-winning writer has written works that have been admired for their ability to capture the essence of Southern culture.
Braggs was the first speaker for The University of Southern Mississippi's fall 2015 University Forum. Braggs captured the audience with his wit and humor, recalling his history growing up in the South.
"I grew up at the knee of the best front-porch storyteller on the planet, and I think a lot of us did," Bragg said, attributing his writing ability to the stories he has heard over the years.
He talked about his experiences of getting "stuck," or captivated, in time by referencing events that had happened to him, like gluing his knuckles to a wall, among other stories. He mentioned his mother and depicted their relationship in words and scenarios that brought laughter to the crowd.
This year, Bragg was named one of 12 initial inductees, along with Zora Neale Hurston and Harper Lee, into the Alabama Writers Hall of Fame. Bragg is the author of a collection of essays entitled "My Southern Journey: True Stories from the Heart of the South."
In his nonfiction books, Bragg recollects accounts of Southern life often times based on his personal experiences living in the South. Bragg has a way of pulling his Southern experiences out and creating detailed sensory descriptions. He recently wrote a best-selling biography of music legend Jerry Lee Lewis. His work includes coverage of the late Oseola who gained international fame after she left her life savings to USM in 1995.
Since 1974, University Forum has offered the premier lecture series at Southern Miss. The University Forum has brought some of the most accredited and prestigious speakers worldwide from areas of science, politics, literature, art and history to USM. Sponsored by the university's esteemed Honors College with support from the Office of the President, these talks have been made possible and continue to captivate the public through Southern Miss.
"We are reinventing the forum," university forum director Andrew Haley said. "The university and President Bennett recommitted to the Forum to ensure we can put on events like this. We searched for speakers who could add something to the academic mission of the university and could bring what was being taught in the classroom to life."
The remainder of the talks will take place Tuesdays at 6:30 p.m. on the Hattiesburg campus. Bragg will be followed by five "thought leaders." They are physicist Diandra Leslie- Pelecky, lead attorney in the Landmark U.S. v. Windsor case Roberta Kaplan, reporter for The Clarion-Ledger Jerry Mitchell, inspiration for the Lilly Ledbetter Fair Pay Act Lilly Ledbetter and author of "Nickel and Dimed" Barbara Ehrenreich.
"These are all people who are part of the national conversation on things that matter to America," Haley said. "We're a university and our job is to educate. Our first job is to educate our students, second job is to educate our faculty but our third job is one that often gets forgotten—is to educate the public."
A Q&A session and a book signing followed the speech.
"We want to encourage people to come see this as a series," Haley said. "The rest of the five speakers are just as fantastic as Rick Bragg."
Donate to Southern Miss Student Media Center
Your donation will support the student journalists of University of Southern Mississipi. Your contribution will allow us to purchase equipment and cover our annual website hosting costs.