USM demoralizes 49ers on the road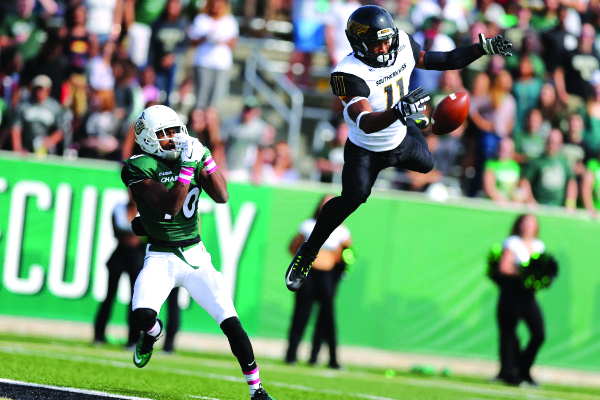 Southern Miss (5-3, 3-1) beat Charlotte (2-5, 0-4) in dominating fashion 44-10 and is closing in on bowl eligibility, needing just one more win over the final four games to be eligible.
The Golden Eagles pounced early and often, holding a 23-3 lead going into halftime. The Golden Eagles held Charlotte to only 136 yards of total offense at the intermission and their running game to just 48 yards— the strength of the 49er offense.
Michael Thomas got the USM offense going in the first quarter when he caught a slant over the middle, was hit hard spinning him around, but he stayed up and raced to the end zone. The 69-yard touchdown gave USM a 7-3 lead. Thomas broke a school record with his fifth consecutive 100-yard receiving game as he totaled 105 yards on six catches.
Southern Miss was deflated for a phase in the game by a novice mistake when miscommunication on punt coverage caused Korey Robertson to accidentally muff a punt late in the second quarter. Charlotte recovered the ball, starting their drive at the USM 34-yard line. But what happened next only drove the momentum toward Southern Miss even further.
Charlotte quarterback Lee McNeill took the snap on 1st and 10, and took a deep shot in the end zone, attempting to put a dent into the Southern Miss lead. But Kalan Reed was in perfect position and made a highlight reel, one-handed interception, his third of the season and the seventh of his career.
Charlotte just could never get any consistency going, with two quarterbacks sharing time under center for the 49ers.
The duo, McNeill and Matt Johnson, went a combined 12- of-30 for 120 yards and three interceptions. The entire Golden Eagle defense played exceptionally well, swarming around the ball all game. Southern Miss had nine tackles for loss, combined with two sacks.
These days, it seems a little odd when Nick Mullens does not eclipse the 300- yard mark through the air, but despite failing to reach that mark against the 49ers, he still produced at an extremely high level. He completed 24-of-38 pass attempts for 265 yards and four touchdowns. After throwing three interceptions last week, Mullens did not commit a turnover, continuing his breakout season.
For the season, he is averaging 326.6 passing yards per game and has a 3-to-1 touchdown to interception ratio. In the second half though, Mullens passed for less than 20 yards. He did not have to do much work, though, as Jalen Richard put the game on his back and ran wild.
Richard finished the game with 13 rushes for 114 yards and a touchdown, but his impact was felt beyond his presence in the running game.
Richard took a third quarter kickoff 95 yards to the house. He took the kickoff toward the outside originally, cut back to the inside through a seam, then accelerated back to the outside and scampered to the end zone untouched.
Richard did fumble in the fourth quarter, but Charlotte failed to capitalize. With his 114-yard performance on the ground, he became the first running back to have back-toback 100-yard games since Jamal Woodyard in 2011.
Some Golden Eagles had pretty quiet games however.
D.J. Thompson only caught two passes for 20 yards, and Ito Smith finished with eight carries for only 16 yards. Smith came into the game averaging over seven yards per carry. But the individual shortcomings did not hold back a Golden Eagle offense that put up 40- plus points for the fourth time this season. Southern Miss excelled in every facet of the game. With the offense clicking to the tune of 480 yards, and the defense holding Charlotte to under 257 yards, it was a complete effort from the Golden Eagles.
Southern Miss held the advantage in third down efficiency, yards per play, time of possession and first downs. Those are some of the little things it takes to win games for a budding bowl-eligible Southern Miss.
With upcoming games against UTEP, Rice, Old Dominion and Louisiana Tech, getting to seven wins is not out of the question. Winning three out of their next four games to become 8-4 is a very real possibility with how USM is playing right now.
Southern Miss will look to become bowl-eligible when it hosts UTEP for its annual Blackout game Saturday at 2:30 p.m.
Donate to Southern Miss Student Media Center
Your donation will support the student journalists of University of Southern Mississipi. Your contribution will allow us to purchase equipment and cover our annual website hosting costs.