Martin awaits his shot in NFL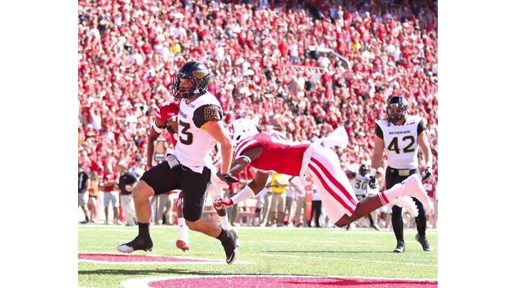 With the NFL Draft concluding this Saturday, many eyebrows were raised when former Southern Miss wide receiver Casey Martin was not drafted.
With the social media buzz surrounding him in the days leading up to the draft, one could only believe that Martin would fall to a team somewhere in the late rounds. Martin has not signed an undrafted free agent contract yet but could find himself playing professional football with some NFL team before the preseason.
Martin caught 80 receptions for 925 yards last season for the Golden Eagles. With his five- feet nine-inch frame, Martin possesses nifty qualities such as quickness and elusiveness.
On his pro day on March 24, Martin ran a 4.4 in the 40 yard dash. Also, many overlooked Martin's strength until he bench pressed 225 pounds 23 times.
Martin is a crafty slot receiver who uses his quickness to get open in the middle of the field. Martin's size and talent is similar to Los Angeles Rams slot receiver Wes Welker. Both measure in at around five feet nine inches, using that lack of height as an advantage over defenders.
With the average height of an NFL linebacker being six feet and above, both use their small frames to slip under tackles and gain a plus amount of yards after the catch.
The combination of size and speed wields fair for both as they cause many problems with those players matching up against him. Defenses have two options of either putting a tall, but slower linebacker on the quick, shifty receivers or using a speedy corner but taking the risk in other mismatches on the field.
A prime example of this is what Golden Eagle fans saw all last season with the duo of Mike Thomas and Martin. With Martin in the slot and Thomas as the wide out, many teams had to make decisions on stopping the short- yard pass with the potential of a big gain with Martin or the deep ball threat with Thomas. Many teams counted out the option of Martin's talent and would pay the price for it. Nebraska and Texas State both saw Martin in the end zone multiple times last season as the result.
This year's draft included many teams not scouting the short-route receiver.
With a bountiful draft class of deep ball receivers like Laquon Treadwell, Josh Doctson, Michael Thomas and Braxton Miller, Martin's chances of landing on a playoff team seemed realistic. With the top prospects being taken by teams who managed to lose more games than they won, Martin slipping to a playoff team's practice squad was my prediction for his outcome.
Martin's dreams of reaching the big leagues are not over yet. I still see the talented wide out signing with a team like Denver, Oakland, Chicago or Indianapolis before the preseason begins and competing sooner or later to crack a 53-man roster. If Martin does not land a contract before that, I can see him taking his talents to the CFL for a little while until it is his time for the NFL spotlight.
---
Donate to Southern Miss Student Media Center
Your donation will support the student journalists of University of Southern Mississipi. Your contribution will allow us to purchase equipment and cover our annual website hosting costs.