Price leads USM to first win in 10 games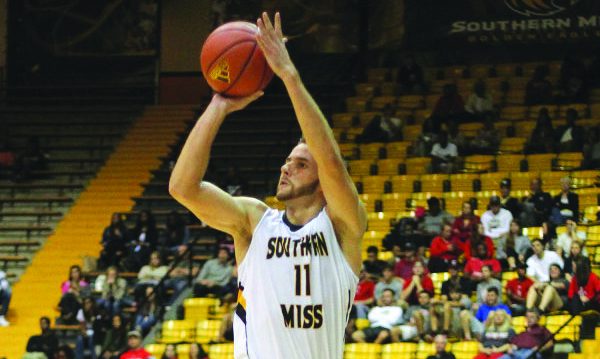 Khari Price was not the only reason that Southern Miss defeated Texas-San Antonio 77-59, but he sure was the most apparent. 
"It's hard to put everything on one guy, but its hard to not see the confidence of this basketball team the minute they found out Khari was going to play," said Head Coach Doc Sadler. "You could just see the confidence."
The senior guard played in his first action since last season stemming from a summer knee injury, totaling 20 points and three assists in his 32 minutes of action. The offense seemed to move a lot smoother with him, and the team was more calm when they were trying to put the ball in the hole.
"I guess my presence kind of helps it," Price said. "Being a fifth-year guy, being an older guy. Seen a lot of things at this level. My experience gives guys confidence."
On the other hand, Texas-San Antonio was trying to capture their fourth win in a row, averaging 70 points per game. In this contest, they were held to 59 points on 38 percent shooting from the field. USM also forced 13 turnovers, while only committing 11 turnovers themselves.
"They had to switch up their rhythm and things which helped us get the lead," Price said. "That goes back to coach [Sadler] putting four guards on the floor. When you have that much talent on the floor at one time, defense isn't a big deal."
Senior forward Quinton Campbell pitched in 20 points on an efficient 8-of-12 shooting night. Campbell was able to propel the Golden Eagles to rally to a 13-0 run midway through the second half to put USM back in the game. Cortez Edwards tallied a double-double with 13 points and 13 rebounds as the third Golden Eagle in double figures down the stretch.
The offense, led by Price, closed the deal.
"Definitely a weight lifted off our shoulders," Campbell said about his first win in 45 days. "We felt like something had to give. Any day, they could have given up. They kept fighting. That's what we need to keep our confidence high."
UTSA was led by Giovanni De Nicolao, who led the Roadrunners with 19 points and also had four rebounds and three assists. The Roadrunner offense, which produced 39 points in the first half, only produced 20 points in the second half, shooting 21.4 percent in the second period.
"We knew they were scoring too many points in the first half," Edwards said. "We just wanted to lock in on defense."
This game was the first C-USA win since Feb. 27 against North Texas, almost a year from the night that the Golden Eagles welcomed back their senior point guard.
"I can't tell you how big it was," Sadler said. "For me, it was unbelievable. I really believe this team has a chance to be competitive. I've said that all along. They just need confidence."
As the Golden Eagles will wait to host Texas El-Paso on Saturday, the feeling of relief came over the team heading into the contest against the Miners.
"It was great," Price said. "We got a win. That's all that matters. At the end of the day, it's a team sport."
Donate to Southern Miss Student Media Center
Your donation will support the student journalists of University of Southern Mississipi. Your contribution will allow us to purchase equipment and cover our annual website hosting costs.