Dominique Davis' career day lifts the Lady Eagles past William Carey 81-58
HATTIESBURG, MS – Dominique Davis had a career-high 36 points, which rallied the Southern Miss Lady Eagles past William Carey 81-58 to start the season 1-0. William Carey led most of the contest until a crucial 12-0 run in the third fueled a comeback, led by nine points from Davis.
"I'm just a competitor. I want to win, and that goes with a lot of emotion, and you can see it. I'm working on not showing my frustration, like when I was frustrated with that first half and myself. So, coming out, I knew there needed to be a spark, and you know, why not me," Davis said.
To be expected, the first quarter was sloppy since it was the first game. The Lady Eagles shot 25% from the floor and had 11 points. Davis led the Golden Eagles in the first quarter with six points.
"It was ugly. It was definitely ugly. I think we were just trying to find a rhythm. We were out players, it's early in the year, and we are still trying to figure out us," Davis said.
The Lady Eagles settled in a bit in the second quarter opening a 10-5 run to get back into the contest. William Carey battled back, though, and had their lead for most of the second quarter. They were able to tie the game, but the Crusaders got the lead back before halftime for a 35-30 score.
"It was ugly, but more, it was frustrating. We said that against our exhibition game against Auburn Montgomery. But I mean, you can't have that in back-to-back games. That's why we play the exhibition games," Head Coach Joye Lee-McNelis said.
The Lady Eagles were shooting 30% from the floor at the half, combined with six turnovers. Davis still led the team at halftime with 11 points. Lani Cornfield and Asia Broughton both had five, which was the second most for the team.
Southern Miss was 0-4 from the three-point line in the first half, whereas the Crusaders were shooting 50% from the arc. Lauren Rowley led William Carey in scoring with 14-points.
"They were just knocking down shots. They were excited to come in and play this game as well. And they were hitting them…it was like they couldn't miss. They were really feeling it. Respect for them as shooters, but that was on us as well. We weren't guarding the ball well in the first half," Davis said.
After some back-and-forth action to start the third quarter, Davis finally gave the Lady Eagles their first three-pointer. That shot sparked a quick 6-0 run by the Lady Eagles to tie the game at 44 midway through the third quarter. Then Davis erupted. Davis led the Golden Eagles on a 12-0 run to end the quarter with nine points herself after three straight three-pointers. The Lady Eagles led 56-50 at the end of three quarters.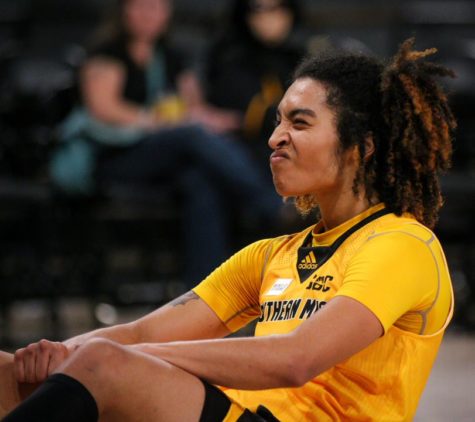 "She was amazing. You know Dom is such a competitor. I think that's what separates her from so many other players on our team. She hates to lose. There are players that love to win and hate to lose. She just hates to lose," McNelis said.
The Lady Eagles started pulling away at the beginning of the fourth quarter. They went on a 10-0 run to start the fourth before the Crusaders called a timeout. This run extended their lead to 66-50. The Lady Eagles' defense also started showing up late in the second half. They held William Carey scoreless for almost ten minutes of game time which helped them slowly but assuredly pulled away.
"Finally, our defense got things going after Dom hit some big shots, and Aisha Broughton came alive on the boards. I think defense was the reason we won the ballgame. Our defense generated some easy buckets for us," McNelis said.
The Lady Eagles were missing Meleyia Grayson today, a pivotal weapon in the offense, and Brikayla Gray and Femi Funeus are still unavailable for Southern Miss. McNelis said that it "affects them every day" in practice.
"We are going to have to figure it out, and today we did that with Dom," McNelis said.
Nevertheless, even with Grayson's absence, the Lady Eagles still outrebounded the Crusaders 39-27. Broughton had 15 boards along with nine points. Cornfield was second in scoring with 13 points on 5-9 shooting and also sparked the transition offense with four steals, six rebounds, and seven assists.
Even though it was sloppy, Davis and company got the job done. They take on Valparaiso in their next matchup on Saturday, Nov. 12.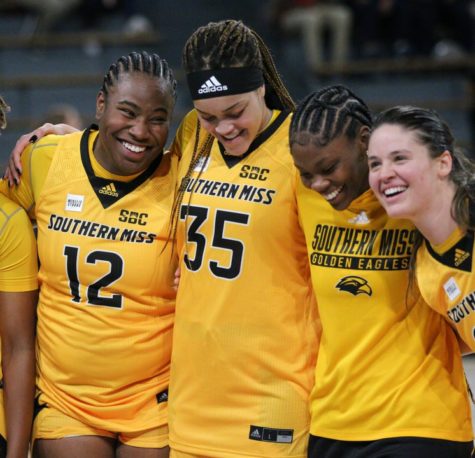 Leave a Comment
Donate to Southern Miss Student Media Center
Your donation will support the student journalists of University of Southern Mississipi. Your contribution will allow us to purchase equipment and cover our annual website hosting costs.