Southern Miss bests South Alabama 76-72, to stay undefeated at home
HATTIESBURG, Ms – Southern Miss returned home after 19 days away to beat South Alabama 76-72 in front of the largest crowd (4,128) in Head Coach Jay Ladner's era and kept the Golden Eagles undefeated at Reed Green Coliseum this season.
"It was going to be a war. Our players knew that. They've got a very good team. They've played an incredibly tough schedule up to this point. I thought our guys showed some resiliency and some poise and composure. I thought we played very well in the second half. Both hands, I thought, defensively and offensively. I thought we really got it up when we needed a few stops there late. We were able to get them and did a good job of taking care of the basketball and playing smart down the stretch," Ladner said.
Southern Miss started the game off red hot. The crowd was a factor from the start as guard Austin Crowley scored the first ten points for the team. Reed Green was rocking in ways Golden Eagle fans have not heard in a long time.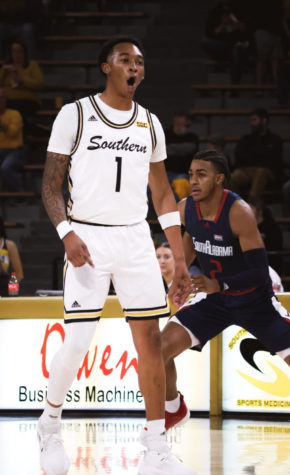 However, South Alabama took away most of the momentum Southern Miss had as the Golden Eagles went on an almost six-minute scoring drought in the middle of the first half. That drought allowed the Jaguars to settle into the game, and they took their first lead of the contest late in the first half.
"We began to substitute, and we just got out of rhythm a little bit. I thought we got impatient on offense and we're able to kind of get that back under control in the second half. But that was as much my fault with the substitution pattern than anything," Ladner said.
South Alabama led at halftime 37-33. They led despite Southern Miss winning the rebounding and second-chance points. But the Jags had the edge in shooting percentage, shooting 43% to USM's 38%.
The Golden Eagles also were shooting just 1-11 from three-pointers, while South Alabama was 3-14 from deep.
To start the second half, Southern Miss got some of their energy back, going on a 10-4 run. They reclaimed the lead in the early minutes thanks to a couple of threes from DeAndre Pinckney. At the under-16 timeout, Southern Miss led 43-41.
Then, Southern Miss turned the game around on a quick 6-0 run, emphasized by a Crowley slam dunk that brought energy back into the arena.
South Alabama somehow consistently weathered the storm and stayed in the game. Halfway through the second, they went on a 7-0 run for themselves, which had them right back in it, bringing the deficit back down to just one. The Jags then reclaimed the lead with about eight minutes left to play. Nevertheless, the Golden Eagles could rely on their defense and playmakers to weather the storm.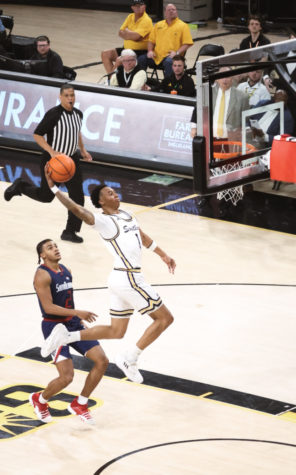 Crowley led all scorers with 25 points and four rebounds with five assists. He was a monster on the floor and delivered every time Southern Miss needed a play.
"I got off to a really good start. I was just feeling it. We were in the huddle and Coach was saying he has a hot hand, try to find him. These guys find me, in just backdoors like easy little supply drives," Crowley said.
Center Felipe Hasse, who has been having a rough stretch over the past few games, turned it on late. He scored a go-ahead and one basket to put Southern Miss up for good at the end of the game.
"It happens to me every year. But it's good to see the ball going in a little bit more. But I'm still doing my stuff, which is what has brought me here. At the end of the game, I felt good. I felt that confidence in myself," Hasse said.
Southern Miss now sits 16-4 and 5-2 in Sun Belt play. Men's basketball has not been where it is right now in a long time. Neftali Alvarez also returned to action tonight after being out since November with an injury.
"Our goal and vision from day one was to try to return Southern Miss basketball to a position of respect to national prominence. Of course what goes with that is Reed Green Coliseum coming back. I love this arena. And I love the spirit and I love how loud it gets in there. I'm very thankful to the crowd. Student section was awesome. And I think they had a lot to do with impacting winning tonight," Ladner said.
"We'll need them Saturday." Ladner added.
Next, Southern Miss takes on James Madison on Saturday from Reed Green at 2 pm.
Leave a Comment
Your donation will support the student journalists of University of Southern Mississipi. Your contribution will allow us to purchase equipment and cover our annual website hosting costs.