2023 Southern Miss baseball preview: Golden Eagles eye Omaha after historic 2022 season
HATTIESBURG, Ms – Baseball in Hattiesburg has quickly become the most anticipated Southern Miss sporting season every year. The hype and optimism for baseball last season was at an all-time high, and the team did not disappoint. Ranked as high as No. 4 in the country, the Golden Eagles won their first NCAA Regional since 2009. They also became one of the few teams ever to host a Conference tournament, an NCAA Regional, and an NCAA Super Regional.
The hype for baseball this season is even higher this season. With the roster returning most of its key stars and adding several talented transfers, the diamond in Hattiesburg this season is set for success. The focus is on opening day, which is February 17, but the team, the fans, and the coaches can't help but eye a potential trip to eastern Nebraska in June.
Here is an in-depth preview for the 2023 Southern Miss baseball season by the 4th Street Sports Staff:
Schedule Preview – Dima Mixon  
This season, Southern Miss faces one of the most extensive and hardest schedules to date. You can view the full schedule here
"This is the toughest schedule we've ever put together. But the longer you stay in it, the more you have to build a resume for that committee to not give a reason to not let you in." Head Coach Scott Berry said.
Southern Miss has a tough opening series with Liberty; Liberty was a regional team last season. However, they did need to rebuild their entire weekend rotation over the fall. Which they have been able to do. Then after a date with New Orleans, they welcome Illinois to Pete Taylor in the second weekend of action. Unlike Liberty, Illinois missed the tournament last season but still had a winning record and made the Big Ten tournament.
Then, the Golden Eagles meet Mississippi State in their annual game in Pearl, MS. Last season, Southern Miss beat Mississippi State 7-1, and this year, no doubt the Bulldogs will look to avenge that loss.
After the Bulldogs, Southern Miss welcomes Dallas Baptist to Pete Taylor Park. Dallas Baptist was the only team to sweep the Golden Eagles last season. After Dallas Baptist, Southern Miss travels north to face the defending National Champions and the team that ended their season last year, the Ole Miss Rebels. This will mark USM's first trip to Oxford since Ole Miss ended their season in 2021 in the Oxford Regional.
After Ole Miss, USM welcomes Valparaiso to the Pete for a series before conference play. For conference play, Southern Miss will have to travel to Texas State, Troy, Old Dominion, Coastal Carolina and ULM. They draw Georgia Southern, James Madison, Arkansas State, South Alabama and Louisiana to the Pete.
They also have a non-conference series with rival Louisiana Tech mashed into the conference schedule. All in all, very tough schedule this season for Southern Miss but nothing short of what should be an exciting season for baseball.
Pitching – Dima Mixon
Last season, Southern Miss's pitching staff was one of the best in the history of Southern Miss baseball. Ranking No. 2 in the country for most of the season, just behind baseball juggernaut Tennessee.
"Last year was the best staff in 38 years that I've ever been a part of as an assistant, as a head coach, I don't care. That was the most quality and the most depth of quality of staff that I've ever seen in my tenure of coaching at this level. So, you know, it's going to be hard to duplicate that in all honesty." Berry said at media day
"But certainly, we're not saying we can't. That's what we're trying to do." Berry added.
Last season, there were predominantly eight pitchers who pitched the most innings for Southern Miss; seven of those are not on the roster this season. The only one of those eight to return is preseason All-American RHP Tanner Hall. Last season, Hall posted an impressive 146 strikeouts last season, with just 14 walks allowed. Hall spent this past summer with Team USA playing in the Netherlands.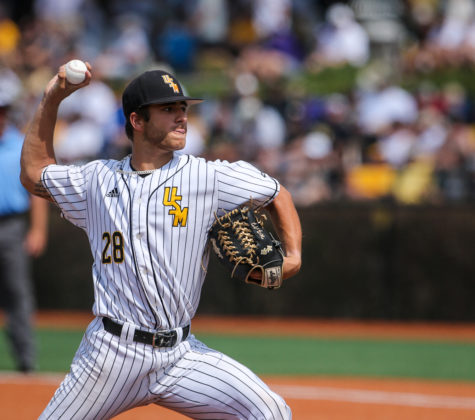 The rest of the room is full of talent but very inexperienced playing on this level. RHP Niko Mazza is one name that comes to mind. He came on last season as a freshman in the loaded pitching staff and did not see much playing time (only five innings pitched). At baseball media day, Berry and company frequently mentioned Mazza's name. Expect him to take a giant leap this season. His fastball ranges from a 92-96 range and an 80-mph slider.
Matthew Adams, a familiar name who saw a good bit of action last season, is looking to make huge strides this season.
"I've always been confident in my ability, but I have just been taking that to the next level and believing in myself and believing that my stuff is good enough," Adams said when asked how his game has developed in the offseason.
Last season Adams pitched 23.1 innings with a 32 to 6 SO to BB ratio. Many Southern Miss fans expect Adams to be a weekend starter this season with much more playing time. Adams gives you your typical 90-93 mph fastball. Along with a mixed changeup in there every once in a while.
Another familiar name for Southern Miss fans is LHP Justin Storm. Storm was inserted into the biggest stage last season against LSU in a must-win game for the Eagles, and he delivered a performance of the ages. Over five innings, he struck out seven with just one walk. He arguably saved the season for the Eagles, giving them a chance at a Super Regional Berth.
Storm was named a co-captain of the team along with third baseman Danny Lynch. Storm, like the others, has big expectations for the season.
"In my freshman year we fell short in the regional. Last year, we fell short in the super regional. Everyone knows what the goal is here. To make it to Omaha and not just make it, but to win the whole thing." Storm said.
The pitching staff also added several players via the transfer portal. Will Armistead and Holland Townes, who could be your weekday starters, are two Jucco transfers. Southern Miss also lost Chandler Best for the season due to a season-ending surgery. That loss leaves the bullpen low on left-handers. Nebraska transfer LHP Tyler Martin will have to be ready.
Of course, all this talent is being coached by one of the best to do it in pitching coaches, Christian Ostrander. Some call him the 'wizard,' He will need to potion something up if he wants this group to be at the level the staff was at last season. Ostrander has proven before that he can develop talent in this room, so anything is on the table. This pitching staff is still well-tooled and well-rounded to keep Southern Miss in games. It will not be able to save the lineup like it did several times last season, but it will hold off other offenses long enough for the lineup to get going.
Projected Weekend Rotation
Friday: Tanner Hall. There is not much I need to explain here. Preseason All-American, he has an insane strikeout-to-walk ratio and menacing mound presence. He will be your Friday guy.
Saturday: Matthew Adams. I think Matthew gets the start on Saturday, at least to start the season. It will be a battle, but he has the experience, and his development will be essential for the Golden Eagles' pitching staff this season.
Sunday – Niko Mazza. Mazza was being named repeatedly at baseball media day; he has made significant strides under Ostrander and will be their first Sunday starter guy. He might be a force to be reckoned with this season, not the weight of a Hurston Waldrep but close to a Hunter Riggins.
The pitching staff has to answer its questions, but it has the tools and the talent to do so. Oh, and they have one of the best assistant coaches in baseball with the keys. They will be just fine.
Hitting/Defense – Jackson Howell
Following a super 2022 season carried by excellent pitching, the Golden Eagles face a new challenge following an influx yet efflux of talent.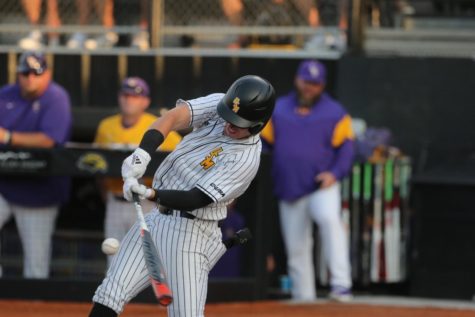 It comes as no surprise that the stellar arm talent of last season's squad caught the eye of pro scouts, as five pitchers were selected in the 2022 MLB Draft. In the starting rotation, Hunter Riggins graduated, while Hurston Waldrep left for Florida via the transfer portal, leaving two spots in the '23 rotation. This will mean that Berry will certainly have to rely on fielding and batting this year, but there are voids to fill there as well.
Two voids were left with the graduation of CF Gabe Montenegro and the transfer of 2B Will McGillis. Second base will be difficult for the Golden Eagles to fill, as no contender for the position has had the "wow" factor that has caught the public's attention. This could change once the season starts, but the current situation remains bleak.
"Losing McGillis created a void right there," Berry said at USM's Baseball Media Day Jan. 26. "We've had that battle through the fall, and that will continue for the next three weeks."
The void left in the outfield is hardly a concern, as D1 Baseball's top-ranked junior college transfer Matthew Etzel has the job locked down in his first season in Hattiesburg. Berry said Etzel will likely bat leadoff this season, which is something Etzel said he is accustomed to from his time at Panola College.
"He's one of the best center fielders [we've seen] having seen him play this fall compared to what we've had in the past. He makes it look easy," Berry said of Etzel, calling him a four-tool player. "I think he's going to surprise you a little bit and hit more home runs. He's going to hit a bunch of doubles because he's so quick out of the box… He's got one of the best strike zones awarenesses I think that we've seen in a long time."
The next battle comes in left field, but it is not due to an outgoing player. Reece Ewing is the incumbent left fielder, but a struggling bat down the stretch in 2022 has left him open to competition. The spot is being challenged by the incoming Tate Parker, the 2022 NJCAA Division II Player of the Year and National Champion. Berry said the competition is still ongoing, but that the starter might vary depending on the opposing pitcher since Parker is right-handed and Ewing is left-handed.
The usual suspects include Christopher Sargent at first base, Dustin Dickerson at shortstop, Danny Lynch at third base, Carson Paetow at right field and Slade Wilks as the designated hitter. The Golden Eagles seek to improve their batting average, as they made the Super Regionals despite hitting for a .276 average in 2022. (150th out of 293 in the country). With a lot of new faces, there should be enough depth to challenge opposing lineups, according to Lynch.
"There's been a bunch of guys that have really stepped up, and it's going to be a deep team this year," Lynch said. "It's going to be a tough lineup to crack."
Predicting the Opening Day Lineup
First Base is Christopher Sargent's job quite comfortably. He returns after a 2022 campaign where he led the team in home runs and RBIs while starting every game. The team may be deep, but his spot is secure.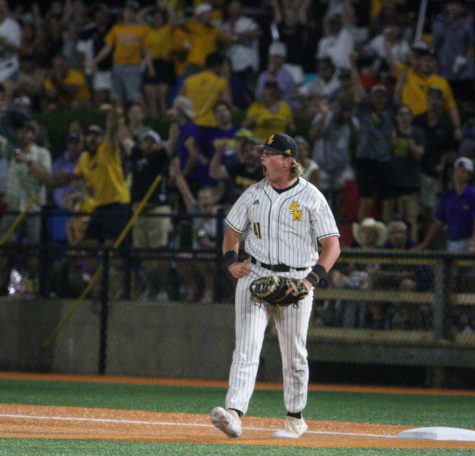 Second Base is a little trickier, as it is the one position that Berry has not hinted at all the players involved. Gabe Lacy, a transfer from Tennessee Tech and Gulfport native, might have a slight edge due to his experience. Lacy may be new to the program, but he is a senior who spent time at Jones College before batting .329 for Tennessee Tech in 2022. Other candidates include the speedy Brady Faust or possibly Creek Robertson, who is the backup shortstop. Lynch mentioned Nick Monistere and Matthew Russo as players to watch as well.
Shortstop is an easy one, as Dustin Dickerson led all Golden Eagles in batting average with a whopping .320 in '22. Berry announced Dickerson will pitch some as a reliever, so Robertson will take his place in that event.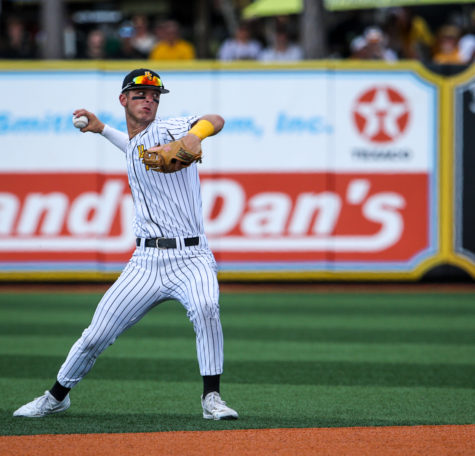 Third Base is another simple decision by Berry, as Danny Lynch returns as a now two-time captain. Lynch might just be the heart and soul of this team, and he enters '23 after starting every game last season.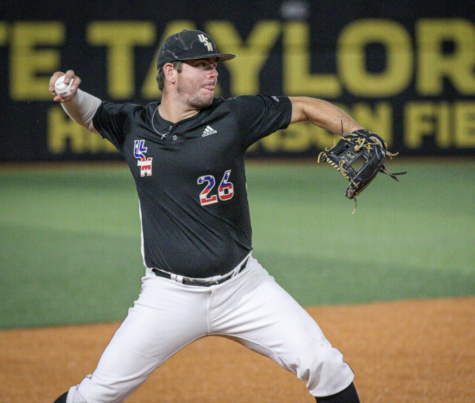 Left Field is a tricky one; as Berry said, it will depend on the matchup. Considering he is the incumbent, Reece Ewing very well may start on opening day. This could change depending on how Berry feels about the pitching matchup, but Ewing should comfortably start Opening Day whether the pitcher is a righty or not.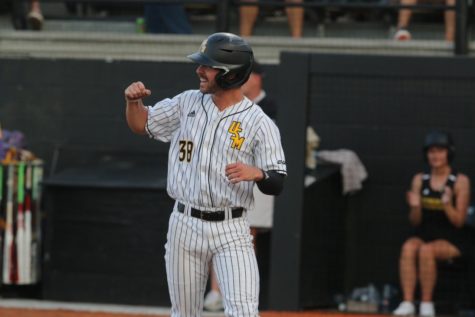 Center Field has been very clearly won by Matthew Etzel. The JuCo transfer has been heavily hyped, so Golden Eagle fans eagerly anticipate his debut.
Right Field is Carson Paetow's job to lose, though there is no competition. Paetow spent time batting leadoff in the back half of the '22 campaign and impressed the coaching staff. Big things are expected for the sophomore.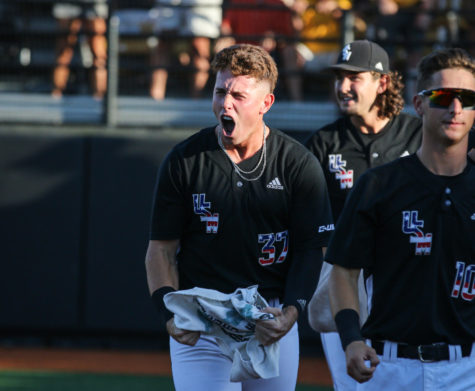 Designated Hitter belongs to Slade Wilks for the time being. This could easily be replaced by either Ewing or Parker depending on the left field starter. Wilks was second in batting average last season with .288.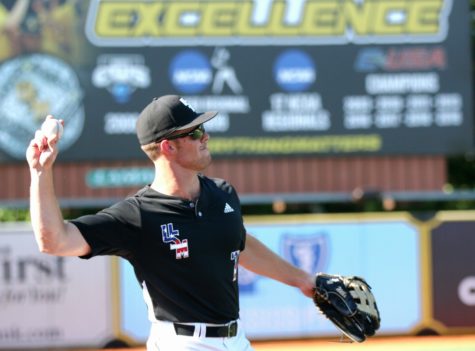 Catcher: The Golden Eagles have several options at catcher, including some new faces. However, for opening day, there is no reason not to go with Blake Johnson. Expect him out there behind the plate on February 17.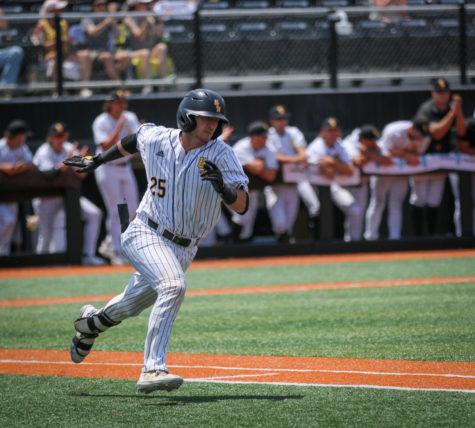 We know that Etzel will likely bat leadoff, and it would be a shock if Sargent does not bat cleanup. Other than that, the batting order remains to be seen as the highly anticipated Feb. 17 matchup against Liberty looms.
Staff Predictions- Dima Mixon, Austin Lindsey, Jackson Howell, Nathan Lee
Dima Mixon, SM2 Sportswriter: For the past two seasons, Southern Miss has watched as the Ole Miss Rebels dog piled in front of them, ending their season both times. This season, while maybe they don't have the pitching that they have had over the past few seasons, they have the bats. In the past seasons, it's been about what team is the hottest at the beginning of June. I think this season, Southern Miss has the tools necessary to taste that heat at the end of May. I predict they will win the regular season crown in the Sun Belt, and they will win the Sun Belt Championship and host another Regional. I think they'll win another Regional, but I think their run ends again in a Super Regional this season, as once again, they fall just short of Omaha.
Nathan Lee, SM2 Sportswriter: Southern Miss baseball finished the 2022 season with a 47-19 record and a 23-7 conference record. The Golden Eagles would go on to play into June when they hosted a Super Regional against the soon-to-be National Champion Ole Miss Rebels. The Golden Eagles are preparing for a new competition this season as they will now compete in the Sun Belt Conference. The Golden Eagles will be a formidable team for all the teams in the Sun Belt. This leads me to believe that Southern Miss will have a better conference record than last year. My final prediction for the Golden Eagles is that they will finish with a 49-17 regular season record. I see this team making another deep postseason run with a possible Omaha appearance if this team can hit closer to a .300 batting average.
Jackson Howell, SM2 Sportswriter: After hosting a Super Regional in 2022, expectations could not be higher surrounding the 2023 Golden Eagles. Despite losing key pitchers, the team retooled and is prime for another stellar season. With this being "the hardest schedule we've ever put together" according to Berry, the Golden Eagles will be challenged early and often, including early contests against Dallas Baptist, Ole Miss and Mississippi State. With this, Southern Miss may struggle out of the gate before getting hot down the stretch. Southern Miss will be a formidable team this season, but it will be hard to advance past the Super Regionals once again this year. If Southern Miss hosts a regional, then I believe they will advance to the Super Regionals – but not far after that. As soon as the Golden Eagles have to travel – whether it be against a team like Ole Miss and LSU – then I do not see USM overcoming that again.
Austin Lindsey, SM2 Sports Director: Coming off a season with numerous feats but falling short of Omaha to the in-state rival Ole Miss for the second straight season, it seems impossible for the Golden Eagles to repeat the fate three consecutive times. Does that mean Omaho? It is yet to be seen, but this team has the tools to get there. With the addition of touted transfers, the batting lineup is dangerous, which the lineup missed down the stretch in June.  What is a guarantee, though, is that this team is reaching another 40-win season. The Golden Eagles of 2023 will be a way better-hitting squad, with guys like Paetow and Wilks getting critical post-season experience. Also, veteran guys such as Danny Lynch and Christopher Sargeant are looking to get off to a hot start. The question will be how well the bullpen can perform, with most of the last season's guys choosing the draft and now Ostrander having to utilize lots of young guys. There will be growing pains early on for the pitching staff in the season in close games. Be prepped to see lots of offensive firepowers with late-game heroics and lots of Pete Taylor Magic. For me, it's simple for Southern Miss. Mississippi is the mecca of baseball. If they avoid the two northerners of the State, Omaha is theirs for the taking, but if there is another in-state regional, it could spell trouble for the Golden Eagles.
Leave a Comment
Your donation will support the student journalists of University of Southern Mississipi. Your contribution will allow us to purchase equipment and cover our annual website hosting costs.