Golden Eagles Fall to WKU, 73-62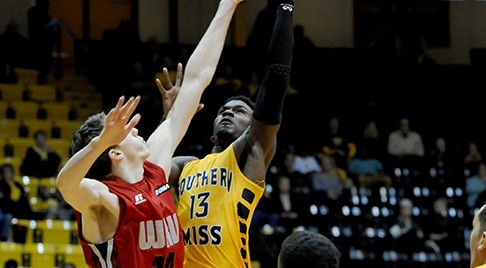 Redshirt senior Chip Armelin reaches for the ball against Western Kentucky player Ben Lawson as the Golden Eagles play Saturday night in the Reed Green Coliseum. The Eagles fall, 73-62.
Southern Miss' (6-14, 1-8)  struggles continued Saturday in a 73-62 loss to Western Kentucky (15-6, 8-1) and simply were just not as talented as the Hilltoppers.
The effort was there for the Golden Eagles, which is a good sight after an embarrassing stretch of blowout losses.
---
"I thought emotionally, we played as hard as we can play tonight," Southern Miss head coach Doc Sadler said. "From the tip to the end of the game, we couldn't do much more effort-wise. But, we have so many things to try to get caught up on, that the little mistakes end up costing us."
---
However, USM simply had no answer for WKU's senior guard T.J. Price. The Louisiana native tied a career-high with 30 points to go along with five assists and four steals. Price is firmly entrenched in the Conference USA Player of the Year conversation as he leads the league with 17.7 points per game while shooting over 46 percent from the field and from behind the arc.
George Fant also had a nice night for the Hilltoppers, scoring 12 points and corralling nine boards.
Despite losing by an 11-point margin, USM actually played fairy well and compared nicely to the Hilltoppers, but WKU was able to make more clutch shots when it mattered most.
For the game, USM shot 42 percent from the field while WKU shot just a tick higher with 43 percent. The Hilltoppers had a clear size advantage over the Golden Eagles and it showed in the rebounding department. WKU outrebounded USM 34-28 and was able to grab 13 offensive rebounds.
Chip Armelin continued to prove that he is USM's ironman as he played all 40 minutes, scoring 22 points while collecting nine rebounds and shot 8-of-16 from the field. Norville Carey's athleticism shined once again as he had a couple explosive dunks, adding 16 points, six rebounds and five steals.
Sadler's rotation was much deeper than usual as nine Golden Eagles played Saturday night, mainly because sophomore Matt Bingaya struggled mightily, scoring just three points while committing four turnovers in just 19 minutes. All nine Golden Eagles scored in the game.
With the departures of Jeremiah Eason and Rasham Suarez, Sadler and his coaching staff has been forced to adjust on the fly and attempt to play toward his current players' strengths more, straying from their usual offensive philosophy.
Suarez's departure has left the coaching staff with only one true point guard in Shadell Millinghaus, who just recently rejoined the team. Sadler said Thursday that he had no intentions of playing Millinghaus for the remainder of the season after he walked out on his teammates, but his hand has been forced.
"All of a sudden, you're asking a guy to go out there and switch everything up," Sadler said. "Offensively, it's totally different from anything we were doing. We aren't even close to doing any of the stuff that we were doing for six months and now we've completely tried to teach some things to control the basketball."
The Golden Eagles will try to get back into the win column when they begin a two-game road trip Thursday against Middle Tennessee State. Tipoff is at 7 p.m.
Donate to Southern Miss Student Media Center
Your donation will support the student journalists of University of Southern Mississipi. Your contribution will allow us to purchase equipment and cover our annual website hosting costs.