Lady Eagles Must Contain Jones & Parker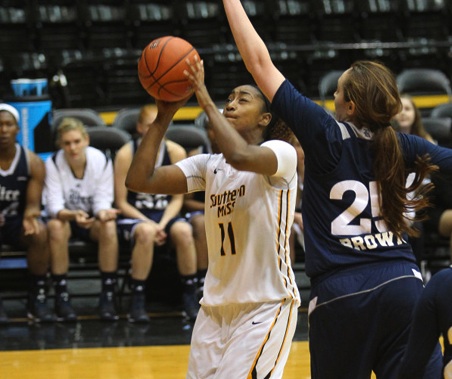 Senior Voche' Martin goes for the basket as the Lady Eagles play against Rice in January. Courtesy Photo/Joe Harper
Coming off an emotional, two-point win over Western Kentucky over the weekend, the Southern Miss Lady Eagles (13-7, 6-3 C-USA) have no time to rest as they host one of the better teams in the conference, Middle Tennessee State (14-5, 8-1 C-USA), Thursday.
The Blue Raiders have claimed sole possession of first place in Conference USA and have won 10 out of their last 11 ball games, which includes a current five-game win streak. They hammered UTEP 74-53 on Saturday and gave the Miners their first five-game losing streak since 2004.
The Blue Raiders also have two of the deadliest weapons in the conference. Cheyenne Parker recorded the program's first triple-double against UTEP and has been the front-runner for the Blue Raiders all season.
Parker is not the only threat for the Blue Raiders; sophomore guard Olivia Jones tacked on 31 points, five rebounds and four steals in Saturday's contest.
Jones has scored 30 or more points in three games this season and gone over 20 points in 11 games. Parker is the dominant force, snagging over 10.6 rebounds per game, but Jones is the silent killer, hitting shots from everywhere on the court.
There is a weakness for Jones: she has a tendency to take too many shots and not make many. Jones has jacked up over 20 shots in six games this season and a ludicrous 31 against UTEP.
If Jones has an off night and throws up 31 shot attempts against the Lady Eagles, MTSU could be in for a long night.
---
While USM does not have a dynamic duo like the Blue Raiders, it does have several scoring options that should worry the Blue Raiders. In their last game against Western Kentucky, the Lady Eagles had three players go over double-digit points.
---
USM has also won games based on its depth on the bench and has outscored other team's bench players several times this season, which could be a key factor against MTSU.
Voche' Martin will likely be the one guarding Parker as they have nearly identically height and skill sets. Parker is 6-feet, 4-inches and Martin is just an inch under her at 6-feet, 3-inches and it should be a war down low to see who can get the key rebounds.
While on the flip side, Brooke Rhodes might be the one who could equalize Jones and has one thing Jones does not at this point in her young career, leadership.
Rhodes is a veteran and a senior leader that will look to use her experience to cancel out the high scoring Jones. She could also use her quickness to frustrate Jones, as Rhodes is slightly smaller and quicker than her.
However, do not think Rhodes will only look to play good defense on Jones; Rhodes is also a sharp shooter and gets most of her points from behind the arc.
If Rhodes cannot slow down Jones, then the Lady Eagles could stick Tamara Jones on her and know they would find immediate success. The top rebounder on the team last year, Tamara Jones has a height advantage on Olivia Jones and would probably be the better option to play her defensively.
The Lady Eagles simply need to play as hard and as fast as they did against Western Kentucky which would allow them to pull the upset over the Blue Raiders.
Tipoff is at 6 p.m. Thursday at Reed Green Coliseum.
Donate to Southern Miss Student Media Center
Your donation will support the student journalists of University of Southern Mississipi. Your contribution will allow us to purchase equipment and cover our annual website hosting costs.