According to Politico, Bernie Sanders polls second to presumed Democratic front-runner Hillary Clinton.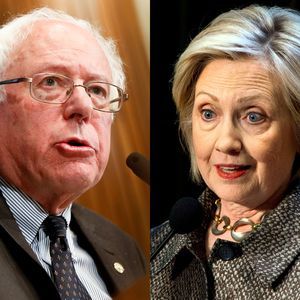 Second is not at all where many in the so-called "chattering class" of pundits, politicos and pollsters thought the second-term senator from Vermont would be less than six months away from the start of the primary elections.
His early rise in the polls has been a hot topic of the infant campaign season.
Several reasons stand behind Sanders's current success at the polls, but one of the keys to the upsurge is his popularity with college students.
Prior to Donald Trump's appearance in Mobile last Friday, Sanders was the frontrunner for drawing large crowds at appearances.
According to The New York Times, a rally at the University of Wisconsin drew 10,000 people.
At the University of Washington, Sanders rally drew 15,000 people. The people attending the rallies are not a diverse group; in fact, they are almost all college students.
Sanders's popularity is a result of two separate factors.
The first is simply that colleges, on average, tend to be very liberal environments, especially compared to the rest of the country, according to a survey commissioned by Newsweek as well as research conducted by Neil Gross, a sociologist at the University of British Columbia.
On average, both college students and professors tilt left, and Sanders's candidacy represents the far-left wing of the Democratic Party, especially when compared to the more center-left Clinton.
The second factor is his pitch, a significant part of which appears tailor-made to expose him to college students.
The very first policy statement in the senator's presidential announcement video is a promise to procure universal free college education at all public universities.
The second is a pledge to lower interest rates on student loans.
Additionally, Sanders is a big supporter of free universal healthcare.
As the popularity of portion of the Affordable Care Act, colloquially known as Obamacare, that allows students to remain on their parents' insurance plans until they turn 26 has demonstrated, this is an issue that many college students feel strongly about.
On-campus at the University of Southern Mississippi, many students have not heard of Sanders, and the ones who have appear pretty split on his candidacy.
Tommy Stephens, a senior English major, is a fan of Sanders.
"I like Bernie Sanders because throughout his career he has been consistent with his views.As a college student, his stance on lessening the burden of student loan debt is of great importance to me," Stephens said.
"Universal healthcare would mean our veterans and (others who are in need of medical care) could receive proper treatment." – Stephens
Others are not so impressed.
A junior Business major, who wished to remain anonymous because of the sensitive nature of political discourse on-campus, spoke for many conservative students thoughts regarding Sanders's economic policies.
"All his apparent success makes me realize is just how ignorant college students are about simple economics principles," anonymous said.
Unlike Clinton, who according to Politico has rolled out several detailed policy proposals, Sanders has yet to roll out any detailed policy proposals.
There is, however, something of a corollary to the popularity Sanders currently holds on college campuses, which is that this popularity is unlikely to be much aid in allowing the candidate to win the Democratic Primary.
Traditionally, college students are among the least likely of primary voters.
An over-reliance on the youth vote has proved ineffective to candidates on both sides of the aisle in recent decades, with candidates such as Howard Dean and Ron Paul drawing large crowds in college towns, but eventually being defeated by more mainstream candidates in the primary elections.
Donate to Southern Miss Student Media Center
Your donation will support the student journalists of University of Southern Mississipi. Your contribution will allow us to purchase equipment and cover our annual website hosting costs.