Sigma Phi Epsilon spices things up with Chili Cook-off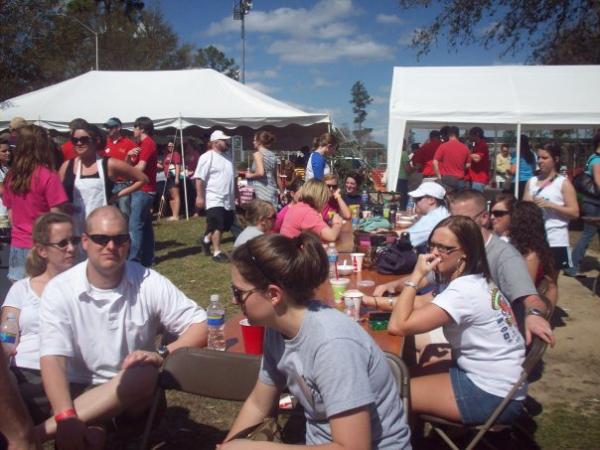 USM's Sigma Phi Epsilon held their 12th annual Chili Cook-off at The Pete Taylor stadium. All proceeds from the cook off benefit Hattiesburg's own Extra Table and The USM Eagle's Nest. For five dollars, chili-goers were able to get a wristband which gave them all access to chili, hot dogs and drinks. Each participant submits their chili which is judged by a panel of four that scored on overall flavor, consistency and recipe. Sororities such as Delta Delta Delta, Chi Omega and Phi Mu submitted their own chili recipes in hopes to come out on top. The event contained live music, dancing, cooking and fun. The fraternity also showed a live feed of the Southern Miss Eagles playing in Houston, so that Eagle fans would not miss out. A raffle was also held where the community could win various prizes such as a Yeti Rambler bottle, a personalized Brett Favre signed football and more.
Will Walker, the reigning champion, is the proud owner of the Manmeat Cave. He returned for a chance to claim victory once more.
"We like to make our Chili with simple ingredients, nothing too complicated or crazy," Walker said. "We love it. Even if we don't win this year, we were still able to come and help out; which is what is really important in the end."
Sigma Phi Epsilon is not new to philanthropic efforts. Last year the fraternity teamed up with Chi Omega to help raise $80,000 for the American Heart Association. Members of the fraternity are also avid volunteers in the Hattiesburg community. During the tornado that tore through Hattiesburg, Sigma Phi Epsilon members joined together in efforts to help clean up the destruction it caused. Southern Miss Alumni Tyler Akins took home the grand title of Chili Cook-off master and will return next year to defend his title. "I would like to thank my roommate for waking up with me and cutting onions at 2 a.m. We didn't expect to win. We just came because we felt that we were doing something good by giving back. So it all worked out in the end."
---
Donate to Southern Miss Student Media Center
Your donation will support the student journalists of University of Southern Mississipi. Your contribution will allow us to purchase equipment and cover our annual website hosting costs.