Superback Star: Frank Gore Jr. rises to the challenge at Southern Miss
The spotlight is expected for the son of one of the NFL's greatest running backs of all time, but any talk with Southern Miss' Frank Gore Jr. shows that he respects that limelight but is strictly about football.
Nothing could be more representative of that than Southern Miss' first game against Liberty.
With starting quarterback Ty Keyes out, Head Coach Will Hall turned to Gore Jr. to lead the offense as a "Superback".
If superback has to be defined to any unfamiliar football fan, the definition would be Gore Jr.
He finished the game with a career-high of 178 rushing yards, 48 passing yards, and a near victory against one of the premiere Group of Five programs in the nation. His heroics fell just short after Liberty stuffed him a yard short of the goal line on his 32nd carry in the fourth overtime of the game.
The superback had just turned in the heaviest workload of his career and arguably on any back in the country, but spent his time during the post-game interviews brushing off any concerns and focusing on the next game ahead.
"I'm a ball player. I've got to be prepared," Gore Jr. said. "I feel great. I can't feel any better."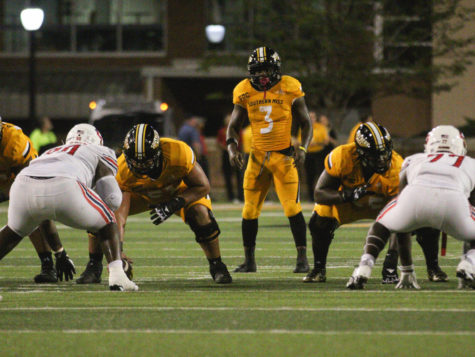 The sophomore running back begins his third season with the Golden Eagles, all of which have been everything but ordinary.
Southern Miss underwent two head coaching changes during his first season, and in Hall's first year, the offense ranked third to last in the nation after having more than ten players attempt a pass at the quarterback position.
Frank Jr. follows the legacy of his father Frank Gore Sr., who retired as the NFL's third-all time leading rusher with 16,000 yards and 81 touchdowns. While Sr. did not face the same exact struggles, he knows something about challenges after tearing both of his ACLs in college, and has helped guide his son through his college journey both on the field and off of it.
"My dad's like my brother, he's always there for me," Gore Jr said. "He's there for anything, like if I am having problems off the field, he'll tell me what he thinks because he's been through everything that I'm going through right now. He just tries to keep me level-headed and give me the right steps."
Gore has been through it all and all while receiving national attention, especially during his highlights at the Superback position, a silver lining in last year's 3-9 finish.
"The Superback was made on the fly. We were struggling and we needed something. I always told him [Hall] I was there for him no matter what- I was there for the team," Gore said. "One Monday, he called me up like, we know you played quarterback before, so we're going to need you to do it, and I was all for it because I know we'd have a great chance of winning with the ball in my hands every play."
He respects the attention he's gotten throughout his collegiate career, but says he is focused on his overall goal at Southern Miss.
"It's not pressure or anything really to it because coming here, I knew what my goal was. My goal was to win a Conference USA championship, but now it's a Sun Belt championship," Gore said. "We haven't been successful yet but I know we're taking the steps to it. I'm blessed to have everything going around me, but my main goal is to have my team win every game."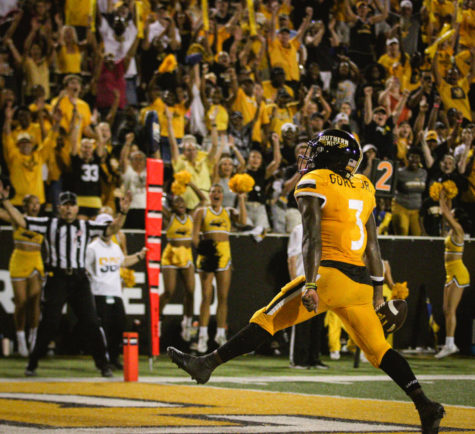 It's this determination that has set Gore as a leader on the offense and also a reflection of what Hall and his staff name as the team's "core values" in their team motto "Attitude is everything".
"I think he has a tremendous smile, kind of like Magic Johnson did…it's just infectious. He understands that he's Frank Gore, and he takes that responsibility very seriously," Hall said.
It will all come full circle for Gore Jr., who will travel with Southern Miss back to his hometown Miami, Florida to face the Miami Hurricanes in week two.
When asked about the matchup, Gore Jr. gave a smile but kept it strictly about football and his team.
"It's a blessing to always play but I feel like for not only me, but also my teammates, we've got a chance. They're ranked this year and they've got a lot of buzz going to their name- but we fear no one, so we're ready to go down there and give them our best shot," Gore Jr. said
Gore Sr. ascended to the NFL ranks from Miami and Gore Jr. is a Florida boy through it all, repping "CoCo Grove" in his social media bio and returning to the Miami neighborhood during the past offseasons to host a youth football camp with Hurricanes defensive back Gilbert Frierson.
Gore Jr. originally planned to stay near his hometown with a commitment to Florida Atlantic University before decommitting and switching to Southern Miss. The move from Miami to Hattiesburg was a transition, but something that Gore Jr. said was alleviated by the relationships with his teammates and especially through Hall's mentorship.
"That's my guy. He's with me through the ups and downs. He tells me when I'm wrong, he tells me when I'm right and he just talks me through everything," Gore Jr said. " I'm all the way in Mississippi with my family in Miami, so he's someone I can really trust now that I'm down here and I can call him for whatever. I feel like our bond grew throughout the first spring until now," Gore Jr. said.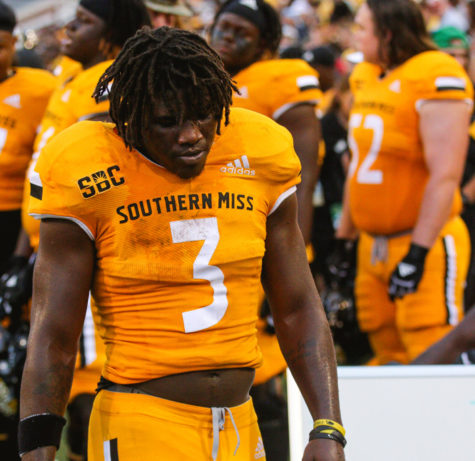 Gore Jr. switched numbers just like his father did in college and to the No. 3 that Gore Sr. wore in his last season for the Hurricanes. While there's many parallels and a pride Gore Jr. carries for his name, he has set a distinction in his game.
"I wouldn't say I play like my dad but I understand the target on my back and I understand that everyone wants a little shine off me, so I'm ready for it and they better bring their best shot coming at me," Gore Jr. said.
Gore's got more goals and objectives to accomplish during his collegiate career, but if his first two seasons and the first game of this season are any indicator, he's up for the task.
Leave a Comment
Donate to Southern Miss Student Media Center
Your donation will support the student journalists of University of Southern Mississipi. Your contribution will allow us to purchase equipment and cover our annual website hosting costs.