Southern Miss rings the bell in 27-24 win against Tulane
NEW ORLEANS, LA – Southern Miss has taken a ride down a bumpy road the past few years, but the feeling after the Golden Eagles beat Tulane on the road 27-24 Saturday was one of relief and clarity.
"The road has no pavement on it, it was gravel, and there were a lot of holes with some trees knocked down in it. It's been a really, really tough road, but it is starting to get clear and it's starting to get better," Head Coach Will Hall said. "We're a much more talented team, we've got a young quarterback who's got a chance to be a really good player, so the road is starting to get where we can drive a little bit faster on and that's on me. We've got to continue to coach and get better at the things we're not great at yet."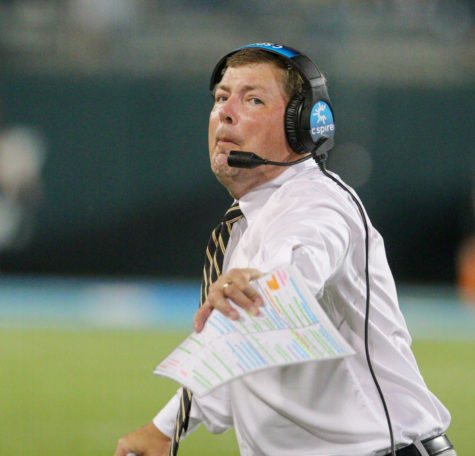 Southern Miss entered as double-digit underdogs but pulled off the program's first win against Tulane since 2010 after losing two straight in the series. Hall has reiterated each week that the program is growing, and for the players who have endured and trusted in the journey, it was all the sweeter of a moment.
"Being in the moment right there was just tears of joy because we've worked so hard," defensive back Natrone Brooks said. "Last week, we got to win, but everybody expected it and everyone counted us out this week. But we always knew we were cable of getting that win versus a rival."
"I feel like that game was strictly about Southern Miss," defensive back Eric Scott, Jr said. "We had to get back to our roots, our DNA and that's what this game was about. It was us against us. It was showing ourselves that we deserved and desire to be in this position. We desire to make the plays that we make and that's what happened."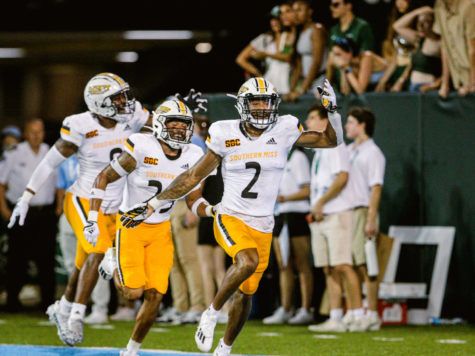 While the box score shows that Tulane dominated the yardage 451-253, Southern Miss pulled off with the win thanks to defensive stops and an all-around special teams performance.
The Nasty Bunch racked up four sacks and put points on the board from a momentum-shifting pick-six from Scott in the fourth quarter that put Southern Miss up from an insurmountable 27-17 lead.
Brooks, the Sun Belt Conference Special Teams Player of the Week last week, made his case for another award with his performance against Tulane. Brooks blocked a field goal in the fourth quarter that set a field goal for Southern Miss.
"My mentality on special teams is just to go hard because a lot of teams look at it as a play off. I look at it as an opportunity to go the hardest," Brooks said.
Perhaps underlooked from the star performers of the defense and special teams was the poise of true freshman Zach Wilcke in his third career start. Wilcke finished the game 17 of 25 for 194 yards and two touchdowns.
Hall praised Wilcke's performance and noted the difference between the first half and second half. Southern Miss started with a 14-0 deficit after an eight-yard touchdown and a 34-yard score from Tulane's running back Tyjae Spears before coming back into the game.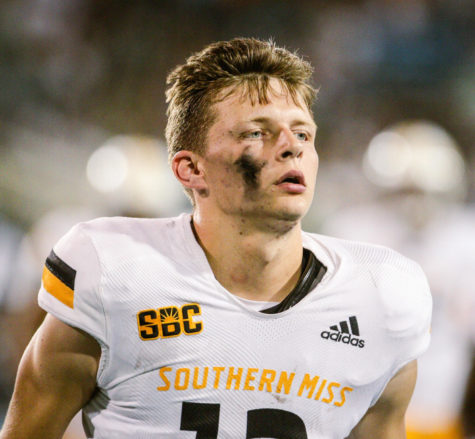 "He really grew up in the second half. I thought his eyes were right all game long and he really took some steps forward and we've got to continue to grow with it. We're going to be an explosive offense before this year is over…I hoped we could put two halves together like the second half and we didn't, but we're going to continue to improve," Hall said.
The Golden Eagles bounced back from the two-possession gap in the second quarter as Wilcke found Jason Brownlee for a 23-yard touchdown. The Golden Eagles made it 14-10 the next drive with a Briggs Bourgeois field goal and went into halftime down 17-10.
Wilcke's connection in the second half became apparent as he found Jakarius Caston for a 37-yard touchdown in the third quarter to tie the game at 17 apiece.
"In the second half, I felt calm and relaxed. The offensive line was giving me time and the defense did a really good job," Wilcke said.
Brownlee and Caston combined for 159 of Wilcke's 194 yards, with Caston earning a career-high eight catches for 91 yards and a score. Brownlee had three catches for 68 yards and a score.
"There's never a moment they're [Brownlee and Caston] not locked in and not wanting to play. They want to make the big play when it comes to them," Wilcke said.
Southern Miss pulled away with the lead from the fourth-quarter interception and finished the game with a three-point lead after allowing a late touchdown from quarterback Michael Pratt to Jha'Quan Jackson. The celebration followed for the Golden Eagles as they rang the victory bell and accidentally broke it from its platform. Quarterback Jake Lange lifted the bell and continued the celebration.
"We were ringing the heck out of it. If it did [break], there's a lot of great welders in Hattiesburg," Hall said.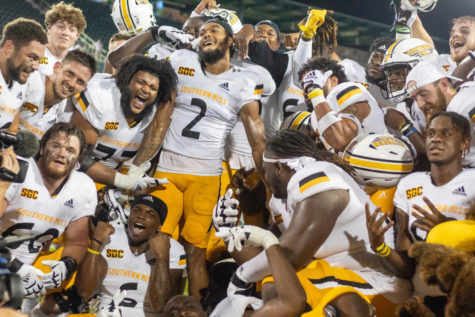 Southern Miss enjoyed the taste of victory with the Golden Eagles fans who made the trip to Yulman Stadium, something that Brooks said the team appreciated. "Our fans do a great job to support us wherever we're at," Brooks said. "We can go to Hawaii and you're gonna see black and gold. Our support is just amazing."
That support system will have to wait a week before the Golden Eagles make a road trip to Troy in a Sun Belt Conference showdown on Oct. 8.
Leave a Comment
Donate to Southern Miss Student Media Center
Your donation will support the student journalists of University of Southern Mississipi. Your contribution will allow us to purchase equipment and cover our annual website hosting costs.