Welfare Funding of Volleyball Center Is Bad News for USM, Former Athlete
The University of Southern Mississippi has been on the wrong end of a torrent of bad publicity for months after media reports, text messages, and court documents show that the USM allegedly received $5 million from federal welfare funds to build the volleyball gymnasium that opened in 2020. The alleged misspending also involves Brett Favre, the most famous former USM athlete. So far, the university has been silent on how it plans to respond to the scandal.
The Student Media Center emailed the University's spokesperson, James Coll, in hopes of finding out why no one is speaking on this matter.
"At present, USM does not plan to publicly discuss the matter in detail. I am sorry that I cannot accommodate your request at this time," Coll said in response to the Student Media Center's proposal. "Please do not hesitate to reach out again in the future."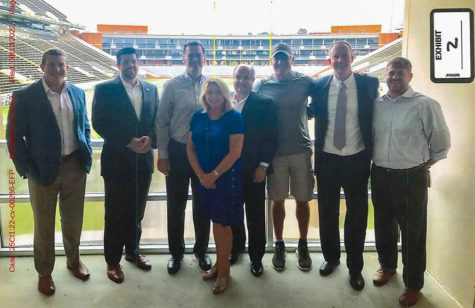 The Deal
In a press release from USM athletics dated Oct. 19, 2017, then athletics director John Gilbert announced plans to build a multi-purpose building that emphasized three ideas: Collaboration, creativity, and community. In the release, he noted their "masterful collaboration" with the Mississippi Community Education Center and that the project had the approval of the State Institutions of Higher Learning Board of Trustees. The release said, quoting Gilbert, "I am deeply impressed with the creativity and problem-solving skills of all involved … through funding models. The center will be funded through private giving and in partnership with the MCEC." The idea, according to the press release, was that the building would be used as the home of the volleyball team and as a place to "host camps and clinics, classes, community events, seminars, and group meetings," as they have the ability. 
The deal with the MCEC and approved by the IHL involved the USM Athletic Foundation as a conduit for the building funds. According to reports by reporter Anna Wolfe, a reporter for the nonprofit news organization Mississippi Today, the athletic foundation leased all athletic facilities. They then leased the Wellness Center to MCEC who paid them $5 million. 
The MCEC was funded by the Mississippi Department of Human Services, the public assistance agency that receives federal funds from the Temporary Assistance for Needy Families or TANF program. Nancy New ran MCEC and was also on the board of the athletic foundation.
According to the U.S. Department of Health and Human Services website, TANF funds provide states with funds for operating programs "designed to help low-income families with children achieve economic self-sufficiency." States are to use TANF funds to give monthly cash assistance payments to low-income families with children, among other specific services. TANF rules strictly forbid the use of funds for construction projects.
According to IRS Form 990s filed by the USM Athletic Foundation, they received exactly $1,064,280 in "rental property income" for the years 2020, 2019, and 2018, which accounted for 12% -14% of their total annual revenue. They had no rental income in previous years. 
New has pleaded guilty to 13 felony counts of misspending federal and state welfare funds. John Davis, the former director of the Mississippi Department of Human Services is still currently awaiting trial on 20 state and federal counts.
The Cast of Characters
An iconic Southern Miss Alumni and Pro Hall-of-Famer are now at the forefront of the biggest public fraud case in Mississippi history. The head of a non-profit organization and a former Mississippi governor are tailing behind him. It all stems from the non-profit organization that was made to help low-income families in Mississippi, and how money from this organization was used to build the Wellness Center on campus and dole out tens of millions of dollars to politically connected people according to media reports. 
But with so many people either denying involvement or facing criminal charges, questions are still left unanswered. Many politically connected and elite Mississippians have been revealed to be directly related to the scandal. The scandal involves familiar faces to the USM campus.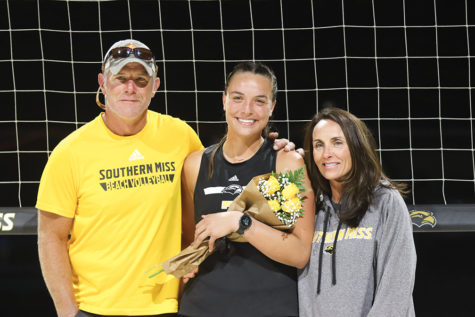 The Quarterback
Brett Favre had a storied football career at USM from 1987-1990, setting records, winning games, and preparing for an NFL career. He ended up being one of the most sturdy players in history by playing in nearly 300 straight regular season games and setting a pile of records. He played for 20 seasons and made $137 million in salary according to spotrac.com. 
His youngest daughter, Breleigh, was an acclaimed high school volleyball player who graduated from Oak Grove High School in 2017 and signed to play at USM that year. She played on the USM Beach Volleyball team for four years, 2019-2022. She transferred to LSU this summer as a graduate transfer.
According to a timeline published by Mississippi Today, on April 20, 2017, Favre contacted then-Gov. Phil Bryant about raising money for a new volleyball gymnasium at USM. According to a text exchange from Favre and Bryant obtained by Mississippi Today, Favre said, "Deanna (Brett's wife) and I are building a volleyball facility on campus and I need your influence somehow to get donations and or sponsorships. Obviously Southern has no money so I'm hustling to get it raised. We want to start this summer and finish in a year or less." "We will have that thing built before you know it. One thing I know how to do is raise money," Bryant responded.
In July 2017, Favre met with Nancy New of MCEC and John Davis of the Mississippi Department of Human Services to fund the construction of a new volleyball stadium at the university—now known as "the Wellness Center." At the proposal meeting, Favre met with USM athletics officials, Davis, and New, according to Mississippi Today. At some point, Favre also received $1.1 million from MCEC for promoting their programs with personal and media appearances. He has returned this money to the state.
Lately, Favre has come under harsh criticism from former NFL players, sports commentators and media outlets for his involvement in the gym funding. Just last week, it was reported that his foundation, Favre 4 Hope, gave USM donations for the gym construction, including $10,000 in 2017 according to their IRS Form 990, when the mission of the foundation, according to their IRS 990 form, is, "To support charitable organizations whose focus is to provide support for disadvantaged children who reside in Mississippi…"
According to Mississippi Today, Bud Holmes, Favre's local attorney, claimed that Favre was unaware that the money he received was from the welfare fund. "Brett Favre has been honorable throughout this whole thing," Holmes said during a recent interview.
Nancy New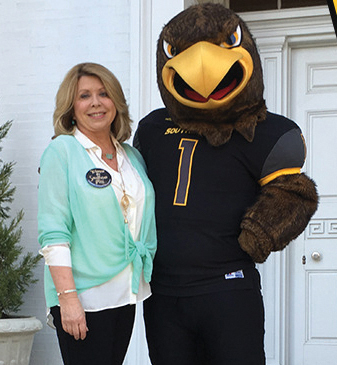 Nancy New received her degree in education at USM in 1974, according to a press release about her published on the athletics website in 2016. She served on several university-related boards including the Education and Psychology board and the USM Athletic Foundation board from 2014-2018. New is no stranger to the USM Foundation also. She currently has an office in College Hall named for her and two active scholarships in her name. 
She founded MCEC in 1992, according to incorporation documents from the Mississippi Secretary of State's office. Their IRS Form 990 states that their purpose is "for the promotion, improvement, and expansion of community education through training seminars, consulting services, and technical assistance."
She also started New Summit Schools, a private school for nontraditional students with learning difficulties, which included a branch in Hattiesburg. The school closed in 2021 after her federal indictment leaving students and parents in a lurch. 
According to Mississippi Today reports, she started communicating with Brett Favre in July 2017. In August, Favre asked New, "If you were to pay me is there any way the media can find out where it (the $1.1 million) came from and how much?" She responded, "No, we never have had that information publicized. I understand you being uneasy about that though." 
Former Governor Phil Bryant
Phil Bryant graduated from USM in 1977 with a degree in criminal justice and served as governor from 2012 to 2020. Bryant's texts and emails, obtained by Mississippi Today, show his keen interest in getting the Wellness Center funded.
The USM Athletic Foundation
The USM Athletic Foundation is at the center of the use of welfare money to build the volleyball center. During the time of planning the Wellness Center in 2017, its members included community business leaders and former athletes. They were Abb Payne, Al Gordy, Aubrey Collum, Cathay Sessums, Evan Dillard, Nancy New, Grant Dyess (president), Jim Warren (treasurer), Kami Wert, Krandall Howell, Larry Davis, Leigh Breal (vice-president), Lisa McMahon, Mack Grubbs, Mickey Hudson, Mike Arrington, Mike Landrum, Richard Johnston, Robot Dews, Ron Savell (secretary), Spencer Adams, Tom Milam, Vic Roberts, Wade Walters, Wren Hood, Former athletic director Jon Gilbert, former athletic director Bill McGillis, Brian Bledsoe, Jerome Brown, Forest Roberts, Alan Lucas, Poncho James, Charlie Sullivan, and Chief Financial Officer Christi Holloway according to the their 2017 IRS Form 990.
The $1 lease of campus athletic facilities by the USM Athletic Foundation in May and June of 2017 started the plan to build the gym. According to Mississippi Today, the IHL's David Buford explained the plan to an insurance professional who had questions, "USM leases the grounds (which is a vacant space and a parking lot next to a USM-insured building) and the Foundation gets financing, builds a new building, and gives the new building back to USM." There is no evidence that the foundation knew the actual source of the grant, according to Mississippi Today.
Campus Reaction
While the university has had no comment about the volleyball gym being allegedly built using $5 million in welfare funds, students and faculty members have had plenty to say.
Last month, Denis Wiesenberg, professor of marine science and the Faculty Senate president, told the Student Media Center, "How our volleyball arena was funded has really tarnished the reputation of the university. (Interim) President Paul is working on the problem of restoring our reputation pretty much every day." 
Bob Press, a member of the faculty senate welfare and environment committee said that the university should give back the $5 million and also open athletic facilities to community organizations as originally promised. He also hoped to be a part of the remedy. He said that they asked the president's office that when they craft a solution, the faculty senate through our welfare and environment committee could help participate in the implementation.
USM student Cameron Whiting, said that he's been following the story and had this blunt opinion about Brett Favre. "He stole a lot of money," said Whiting.
Leave a Comment
Your donation will support the student journalists of University of Southern Mississipi. Your contribution will allow us to purchase equipment and cover our annual website hosting costs.