Southern Miss overcomes slow start, uses strong second half to beat William Carey 75-42
HATTIESBURG, MS – Southern Miss looked like two completely different teams in the first and second half of its opening contest against William Carey. After a sluggish start, the Golden Eagles relied on a 23-0 run in the second half to beat the Crusaders 75-42.
"I was so proud of our guys, [for] really two games in a row. They play with tremendous effort and intensity on the defensive end and eventually, we talked about it at halftime [and] we did a better job of getting control on offense," Head Coach Jay Ladner said.
Despite the quick pace of the opening minutes, neither team could generate much offense. The Crusaders led 8-4 at the first media timeout. The only thing they were doing better than Southern Miss was shooting the ball. They were 50% from the floor, and USM was 29%.
"They did some things on defense that we weren't quite ready for, and it took us a little while to adjust to it. They had not played [and] they had basically a new team, so that had a lot to do with our offensive struggles," Ladner said.
In the next several minutes of the contest, neither team could get any momentum on the offensive side of the ball. Southern Miss tied the game at eight with ten minutes left to play in the first half. Neither team could consistently score the basketball, and there were more turnovers and shot clock violations than shots made in the final few minutes of the first half.
"They were mixing their defenses up. They were in one-three-one that we weren't ready for. But, of course, you have got to give them credit. When they were in one-three-one, they did a great job. They caught us off guard, but I thought at halftime, we were able to change and do some things on offense that were able to be more effective against what they were doing," Ladner said.
The Golden Eagles could not hit a three-pointer in the first half in comparison to the four three-pointers made by the Crusaders. Southern Miss led 27-22 at the end of the first half as Denijay Harris led with eight points.
Both teams were shooting just 36% from the floor. You could make that out to be nerves, with it being the first game, but Southern Miss seemed to be just about to explode.
That explosion happened in the second half. Austin Crowley hit a three-pointer early in the second half, which sparked a 6-0 run for Southern Miss to push the score to 33-27. From then on, Southern Miss never looked back.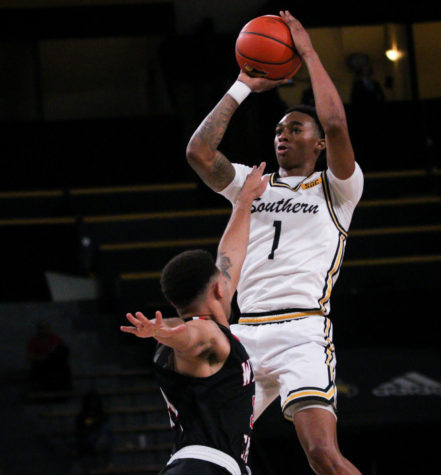 "We just fixed our energy, like we knew mistakes were going to happen throughout the game. In practice, we make the same mistakes but don't fix it. And throughout the game, we came together and said we're going to fix it as a team," Harris said.
The difference in the second half was that the defensive pressure generated was now being translated into offense. To exemplify this, Southern Miss got two quick baskets off turnovers, which pushed the score to 38-30. One of these baskets was Neftali Alvarez hitting Harris for a pretty alley-oop.
"Overall, I thought our defensive effort was really good. We didn't get into a flow of offense until the second half. When we did, a lot of that was caused by turnovers, deflection, and things like that that we got going," Ladner said.
After this, Southern Miss locked in and played lights-out basketball. They held William Carey scoreless for almost nine minutes of playtime. That drought of offense for the Crusaders led to a 23-0 run for Southern Miss to blow the game wide open.
"I think [our defensive] performance was really, really, good. That's one thing to really take heed. We had 14 straight stops. That's something Coach Juan [Cardona] is huge on. You can see his energy off the bench, always a defensive mindset," starting guard Austin Crowley said.
Crowley was 7-12 with 15 points for the Golden Eagles tonight, which led the team in scoring. Southern Miss opened an almost 30-point lead before William Carey finally hit another shot with five minutes left in the contest. Southern Miss beat William Carey in field goal percentage (47%-31%), turnovers (14-30), points off turnovers (30-5), and rebounds (41-32.) Southern Miss also dominated the paint with 50 points in the paint compared to 12 points for the Crusaders.
"I thought we did a better job [in the second half], but of course is that going to be good enough toward the end of the year to help us win our league? You can correct rebounding; we've got good size and athleticism. We will get it straight in practice. I can promise you that," Ladner said.
Southern Miss (1-0) now takes the road to play Vanderbilt (0-1) on Friday at 6 PM.
Leave a Comment
Donate to Southern Miss Student Media Center
Your donation will support the student journalists of University of Southern Mississipi. Your contribution will allow us to purchase equipment and cover our annual website hosting costs.