Lady Eagles extend four-game winning streak with 74-42 win against Mississippi College
Southern Miss (5-2) improved to a four-game winning streak after taking care of business at home against the Mississippi College Choctaws (2-5), thanks to a dominant third-quarter performance.
The tale of third-quarter turnarounds continued for the Lady Eagles. After scoring just 29 in the first half, the Lady Eagles erupted for 24 in the third quarter on 46.7% shooting and nine free throws made, outscoring Mississippi College 24-8.
Before the game, Southern Miss had scored 137 points in the third quarter alone compared to just 156 points in the first half of each game combined.
"I'm glad there's the third quarter for Lady Eagle Basketball," Head Coach Joye Lee-McNelis said. "That's been the quarter that held us together all year. I thought Lani Cornfield ignited our defensive run and then Dom [Domonique] Davis jumped on with her, but Lani was super aggressive and gave them some havoc that created opportunities to get buckets on the run. That was the game-changing part is our define generated our offense."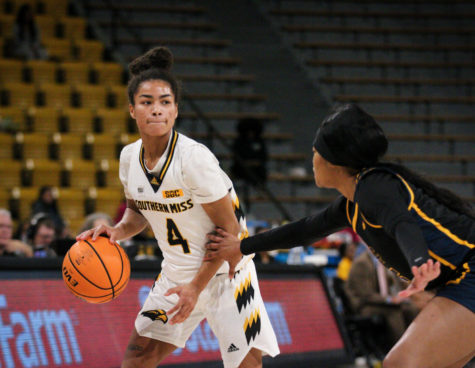 Cornfield led the Lady Eagles in their defensive effort as the team thwarted the Choctaws' opportunities throughout the game. Southern Miss held Mississippi College to just 26.4% on the game and forced 33 turnovers due to consistent pressure on presses that forced errant passes and lost balls.
"That's our defensive player right there," Davis said about Cornfield. "She sparks it for us and it's no secret that defense isn't my favorite part, but I got to play it and when you're on the court with Lani, she makes you want to play it. That's something we enjoy- getting easy buckets off those steals."
The Lady Eagles capitalized on transition plays, scoring 27 points from turnovers and 20 points on the fast break.
As Lee-McNelis said, Davis was able to capitalize on that generated offense, taking the ball in her hands in the third quarter. Lee-McNelis said that she talks with Davis at the end of every halftime, encouraging her to take over in the next half.
"Sometimes when she tries to do that early in the game, she gets frustrated if she misses shots and then gets in her head…She took a lot of shots early and missed them and doesn't want to shoot," Lee-McNelis said. "She and I had the conversation at halftime in that game [vs. Nicholls] and I said that you still need to play aggressively. I think she's still searching for that level of when I have to pass, when I need to shoot, and taking control doesn't always mean you have to score the ball."
Davis scored 14 points in the third quarter and finished with a team-high 24 points, six steals, and three rebounds and assists. Lee-McNelis said the team made adjustments based on how they were guarding Davis and ran sets designed for her, but the change in confidence and stride on offense was evident.
"The third quarter is our quarter and my quarter, but if we could get that going earlier, that would be great," Davis said. "We want to be aggressive with teams early, but if we do get in situations where we're not, the second half is where we pick it up and people are more comfortable. But it's definitely been addressed and we definitely want to get there earlier. We're still trying to figure out what exactly that is."
While the 29-21 first-half start was not the way the Lady Eagles wanted it, they were able to pull away comfortably with the win at the end of the night. Lee-McNelis said that the players are still trying to find the flow with each other early in the season, especially with the injuries that the team has suffered early on.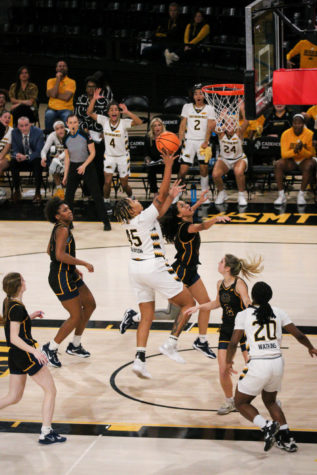 There were signs of growth, though, as star forward Melyia Grayson scored a season-high 19 points on 8 of 11 shooting in just her third game of the season.
"We've missed Melyia. It's shown in our past games, so her being back is a big plus. Y'all know what she can do and we know," Davis said.
Lee-McNelis said that Grayson is still getting back into conditioning for the season after suffering injuries on and off through the last seven weeks.
"It's been tough sitting on the sidelines watching them play, but I've just got to get back in that rhythm that I was in before," Grayson said.
Femi Funeus has also started to ramp up her minute production coming back from an injury. She played a season-high 15 minutes, scoring five points and grabbing four boards. She is another piece that the team is glad to have back in the equation.
"I think it's excellent because she says rebounding is something that she can control and that's what she's going to do every game no matter what and she can run, so I think that's going to be a huge plus for us in our transition game," Grayson said.
Southern Miss will look to build their chemistry and flow with a road test against Samford on Dec. 3, before returning home for a matchup against Alabama on Dec. 11.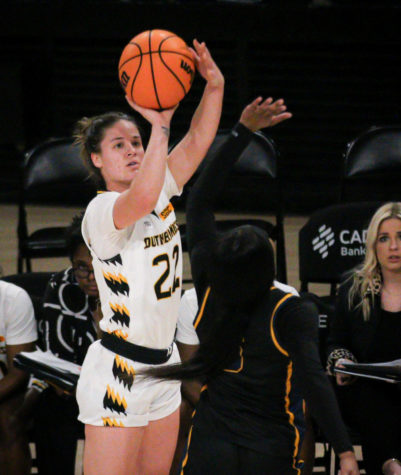 Leave a Comment
Your donation will support the student journalists of University of Southern Mississipi. Your contribution will allow us to purchase equipment and cover our annual website hosting costs.