Frank Gore Jr's historic performance lifts Southern Miss past Rice in LendingTree Bowl
Photos courtesy of Jesse Johnson, PINEBELT Sports
MOBILE, Ala – Frank Gore Jr ran for a career-high 329 yards on 21 attempts and two touchdowns to carry Southern Miss to a 38-24 victory over Rice in the LendingTree Bowl. Gore Jr carried his team to the first bowl win since 2016 and the first winning season since 2019. Gore Jr's 329 yards is the single most rushing yards in a game in Southern Miss football history. It is also the single most rushing yards in a game in NCAA Bowl Game History.
"He's a special guy. He really has learned to be a leader. He's really learned how to handle the responsibility of being Frank Gore Jr. and he has embraced that. He's really embraced the whole deal of to much is given, much is required. These other kids will tell you he brings it every day. He has an infectious smile." Southern Miss football head coach Will Hall said.
The last player to hold the rushing title for Southern Miss was Sam Dejarnette vs. Florida State in 1982 with 304 yards. Gore Jr now owns the top spot. He has had 528 rushing yards in the final two games this season, coming up with 199 yards vs. ULM on November 26.
"I'm thankful for my offensive line. They opened up a lot of good holes where I went through untouched. Like Coach Hall said, the first person can rarely tackle me. If they let me get through untouched, then that will lead to the first person missing and lead to a big play." Gore Jr said.
Gore Jr finished the season with 1,382 yards, the sixth-highest rushing season in Southern Miss history. The Golden Eagles achieved 361 rushing yards on the night, most since compiling 322 versus FIU last season.
"I'm more proud of my teammates. You know, what we've been through a lot and to be honest, who knew that we would be here? We fought the last week of the year to get to six wins, so that we could be here. Once we got here, I told myself I couldn't let my team down. I had to win this for them." Gore Jr. said.
You can watch this game for a lifetime, and you will see very few performances like what you saw from Frank Gore Jr tonight; genuinely remarkable. There is nothing to describe it. Southern Miss got the ball to open the game, and they drove through the Owl's offense like butter through bread. They drove 75 yards in three plays in just under three minutes. Starting quarterback Trey Lowe would find Jakarius Caston for a 19-yard touchdown pass to go up 7-0 early.
After exchanging punts, Rice fumbles on their second possession of the game. Malik Shorts recovered the fumble. However, the Golden Eagles could not do anything with the fumble and had to punt it back to Rice. Early in the second quarter, Gore Jr would cash in his night's first touchdown. A casual halfback counterplay went for 64 yards after a great block by freshman Kyron Barnes. The 64-yard touchdown rush was Gore's longest rush of his career and his eighth touchdown.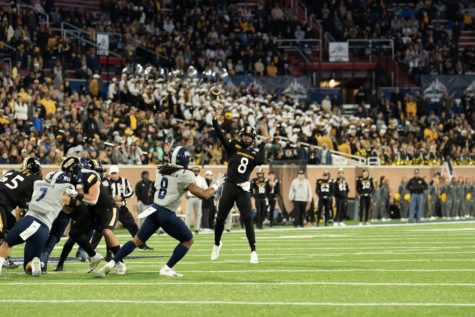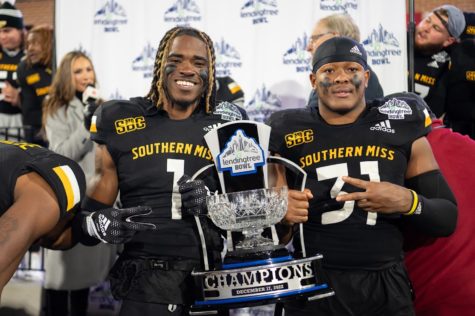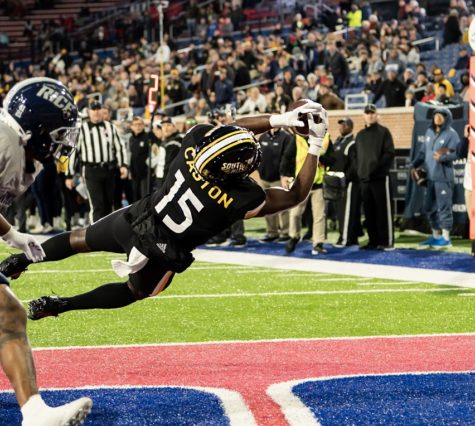 "I'm extremely proud for my teammates, you know before the game I was thinking just to myself some of these guys will never play football again. And they were out at 6:30 with me, they were up at 6:00 with me. They work just as hard as me. I wanted them to reap the benefit of their work. Once I thought about that, I couldn't let my guard down and I had to pull us through." Gore Jr. said.
Southern Miss and Rice would like both tack on field goals to end the half with Southern Miss only up 14, but it felt like they were way more. The Golden Eagles led 272-138 in total yards and 146-50 in rushing yards, averaging 9.1 yards per play. It felt like Rice would have to do something incredible to get back in the game, which is precisely what they did.
Compiling a seven-play, 80-yard drive to open up the half, Rice starting quarterback AJ Padgett found Isaiah Esdale wide-open for a 26-yard touchdown grabs to bring the score to 17-10. Lowe fumbled the ball on the ensuing Southern Miss drive, and Rice recovered. To which Padgett and Esdale would connect again, this time for a 32-yard touchdown reception to tie the game at 17 in a stunning way.
"I thought we came out and played a dominant first half, defensively, offensively and in the kicking game. And in the third quarter they came out and drive the ball and scored to start the second half which is what good team do. Then we had a bad turnover, and they were able to score in one play and boom it's tied. But our kids are used to it, that's just what we do we play tough, close games."
Rice was able to score another touchdown this time. Padgett would find Bradley Rozner for an 18-yard touchdown to take the lead at 24-17. The Golden Eagles rightly responded after that. Gore and company led the Eagles down the field after that on a four-play, 68-yard drive capped off by a Gore Jr passing touchdown, his lone of the night to Ty Mims from 18 yards out.
After forcing a Rice punt, Lowe and Gore would lead Southern Miss down the field on a five-play, 98-yard drive, led mainly by Gore but capped off by Lowe with a pass to Jason Brownlee for a 26-yard touchdown pass to put the Eagles in front for good.
Brownlee is a veteran among this group, having chosen to stay when the program was in turmoil.
"I had the opportunity to go somewhere and play somewhere else. But the relationship that I got the guys on the team, I can't break that bond with them. I trusted them and I just believed that we were going to get everything fixed and that were going to turn everything around." Brownlee said.
At this point in the game, the defense showed up and showed out, but Daylen Gill started playing like a maniac. He won the defensive MVP of the game and finished the game with 2.5 sacks by himself to flatten any hope that the Owls had to try and tie the game. He finished the game with 11 tackles, four solo tackles, and three sacks.
"He embraced our culture. As quick as any player I have had to play for me in a year. I'm really proud of him and his growth." Hall said about Gill.
However, who else would seal the game if not for the LendingTree Bowl MVP Gore Jr? He capped off his historical with a 55-yard touchdown rush with under three minutes to play, where he busted off tacklers into the endzone to make the score 38-24.
Hall inherited a program that had not won a bowl game since 2016, and he won one in year two.
"I don't judge myself on what others think of mem you know, especially people I wouldn't take advice from." Hall said.
Hall is now 7-1 when Southern Miss scores over 24 points.
"Just a special night for everyone who is affiliated with our program, from our fans to our coaches, to our wives, to our players. We got to keep working and building. We came here to win championships. This is a step in the right direction, and I'm so proud of these kids." Hall said.
So as a final bow on the season, Hall gave the fans some optimism… that the best is yet to come.
Leave a Comment
Donate to Southern Miss Student Media Center
Your donation will support the student journalists of University of Southern Mississipi. Your contribution will allow us to purchase equipment and cover our annual website hosting costs.