Southern Miss fans pour into Reed Green Coliseum as Golden Eagles remain unbeaten at home
HATTIESBURG, Ms – Southern Miss Men's Basketball is undefeated at home and the impact of the home court advantage in the Reed Green Coliseum is growing with the program's turnaround.
The Golden Eagles won both of its conference games this past week against South Alabama and James Madison, which each set records for attendance.
4,128 fans came to see Southern Miss Thursday against the Jaguars, which was the highest number in Head Coach Jay Ladner's tenure. That did not stand for long, as 4,318 fans came into the arena Saturday. It's something that Hattiesburg has not seen in a long time and even reminds Ladner of his playing days as a Golden Eagle.
"It feels like 1987 in there," Ladner said. "There were a couple of times when I was on the sidelines that I had goosebumps, and I have them now, just thinking about it. I was so honored to live it back then and just to feel that energy that happens in there makes it really neat and I'm glad our guys are getting that opportunity."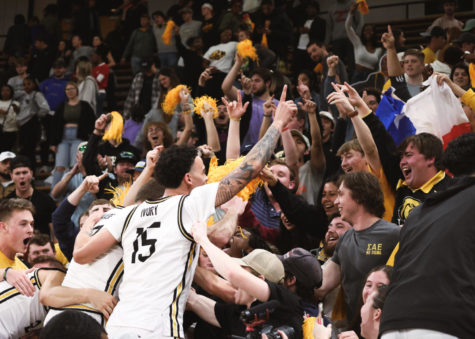 The crowd drawing comparisons to 1987 is quite the feat for a team coming off of a 7-26 season, in which the Golden Eagles won only one conference game and suffered the second worst losing streak in program history.
Senior DeAndre Pinckney has gone through some of the toughest times with the program, but he says that the team's hard work and trust in each other is starting to pay off. He's seen plenty in his time as a Golden Eagle, but never 4,000 people in the stands.
"I've been out there and seen nobody in the stands in this place and to see it go from 100 people to 4,000 people is big because we know that we've put in the work and the coaches trust us," Pinckney said. "Big shout out to the fans and I thank them for believing in us because I know for a fact that a lot of people didn't believe in us simply because we were 7-26 last year, but the past is the past. You can't dwell on that. All you can do is focus on the future."
Having a couple more thousand fans isn't just a feat to throw out as a number, but it's a stat that has an on-court impact. Southern Miss prides itself on its top-ranked defense in the Sun Belt, something which feeds energy to the crowd and to the players themselves.
"Defense is about effort and intensity and playing with pride," Ladner said. "Having a great crowd fuels our players. It makes them play a little bit harder and with more spirit."
Guard Neftali Alvarez is such a player that prides his game off of defensive hustle. Ladner even said that Alvarez models his game off of Puerto Rican NBA player Jose Alvarado, who is infamous for his "GTA" steals and known for bringing such energy to a game.
"When I saw the crowd like that, I was like, 'hey, I know I've got to go crazy tonight," Alvarez said. "I feel like for every player, when you see the crowd like this, you're going to get excited and you're going to play better. You go out there and you want everything to go right."
And players have picked up on what's going on in the stands, greeting and thanking fans on the court and going to the student section after the final whistle.
Just as the Argentinian flag flies in the Roost during baseball games for the Montenegro brothers, fans have started flying Chile's flag in the stands for Chilean natives Felipe Haase, Nico Aguirre, and Marcelo Perez.
"It's awesome. Coming to other countries and seeing your people- I know that's my people," Haase said. "I'm just happy to see that. I saw it when I was walking on defense and it gave me a little lift. It's a great energy out here."
With Southern Miss having two more games in Hattiesburg during its homestand, and a potential battle for first in the Sun Belt near the end of the season, that attendance number and impact is almost certain to grow, something that guard Austin Crowley is hopeful for.
"We're just happy to now see the Reed Green coming along with us," Crowley said. "It's been a long time coming. My first game here wasn't that packed, but now, you can hear it. It gets a little louder every game, and once it gets to the end of the season, hopefully we can sell one out."
View Comments (1)
Donate to Southern Miss Student Media Center
Your donation will support the student journalists of University of Southern Mississipi. Your contribution will allow us to purchase equipment and cover our annual website hosting costs.