Southern Miss holds off Texas State, advances to 12-0 at home
In a physical battle to the very end, Southern Miss prevailed in a 68-57 war with Texas State to advance to 12-0 at home. 
The goal for the team prior to the season was to be .500 or better at home according to Southern Miss head coach Jay Ladner. With an undefeated home record and just three games at Reed Green Coliseum remaining, the worst Southern Miss can finish at home is .750. The Southern Miss faithful have let the team hear it, as the attendance eclipsed 4,200 in each game of this four-game homestand.
"That's four-straight games we've had 4,200 (fans) or better which I think is the top attendance we've had in the last nine years. The crowd… you can't even get off the floor because of the community involvement and so-forth," Ladner said. "I'm thankful and grateful for our crowds. They've been outstanding, and our players have been feeding off that."
It was a contest where Southern Miss failed to play their cleanest game, but they still managed to come out with a nine-point victory thanks to strong defense down the stretch. The Golden Eagles ended the game on a 14-3 run before putting away the game Bobcats.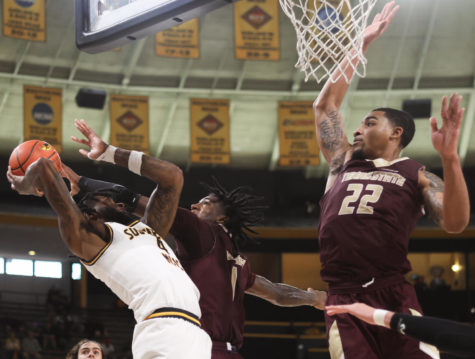 "We got guys that can rebound and guys that can defend at a high level, no matter who it is – big or small," Guard Austin Crowley said. "Coach Juan [Cardona's] attitude makes us want to play more defense. In the last couple of minutes, we locked in and played the best."
"In the past, if it came down to that, we probably would have folded and lost by 20. We would have disappointed all the fans and never had another fan in there," Forward Deandre Pinckney said. "One thing I can say about this team is that we are mature. Even when we are losing at halftime or something, we don't get down on each other.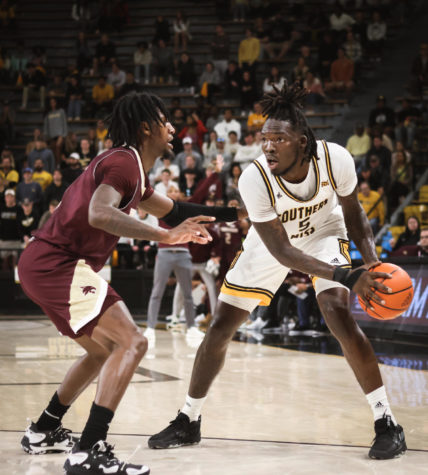 The game started out tight with the only difference being three-pointers in favor of Southern Miss. The two squads went to the first media timeout with three field goals apiece – three layups for the Bobcats and two three-pointers and a layup for the Golden Eagles. Southern Miss led by as many as eight before Texas State embarked on a 6-0 run, including a 6:45 field goal drought by Southern Miss.
A three-pointer from Felipe Haase ended the skid, and the Golden Eagles carried a 34-27 lead into the half. Southern Miss shot 45.8% from the field compared to Texas State's 38.5, with the Golden Eagles landing four threes compared to Texas State's two.
That would not be the only field goal drought for Southern Miss, as they failed to hit one until 13:02 in the second half. Texas State brought the score to within one, but a Deandre Pinckney fast-break dunk woke up both the players and fans alike. 
"They were [taking] good shots, but they just weren't going in. I would be more concerned if it was shot selection," Ladner said of the two scoring droughts. "The ball has to move for us. We talk about the ball having energy and it having to move. That's our game, and we were trying to take advantage of mismatches in the post off switches too early. It disrupted the flow and what we were trying to do, but Texas State had a lot to do with that."
The game went back-and-forth in a physical affair, including a technical foul on Cardona from the bench. It occurred when Cardona told the players to "get back" following what was a borderline foul call, so the officials issued a technical according to Ladner. Texas State landed both free throws and managed to take the lead with 3:23 left in the game – their first lead since 14:10 in the first half. The lead would not last, though, as Haase landed a huge three-pointer to reclaim the lead 25 seconds later. This started Southern Miss' 14-3 run, and the play that might have sealed it was a steal by Crowley with 18 seconds remaining. He made the ensuing layup along with the and-one free throw, giving Southern Miss a three-possession lead. Unrelenting defense down the stretch was the difference, as the Golden Eagles held on, 67-58.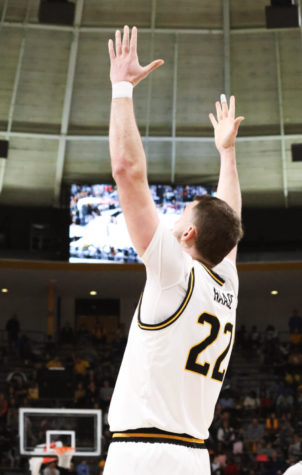 "I thought the reason that we won tonight was our defensive effort. We held them to 34.5% [shooting], which is outstanding, and we again held them to under 60 which is one of our defensive goals," Ladner said. "I knew they were one of top three-or-four [preseason] in the league, so we knew that they had an outstanding team."
Southern Miss goes back on the road next week, featuring two contests against teams .500 or below in conference play. The Golden Eagles face 9-12 (2-7) Georgia State next Saturday, but their next matchup comes against 13-10 (5-5) Troy Thursday. Tip-off from Troy is slated for 6p.m. with a livestream on ESPN+.
Leave a Comment
Donate to Southern Miss Student Media Center
Your donation will support the student journalists of University of Southern Mississipi. Your contribution will allow us to purchase equipment and cover our annual website hosting costs.