USM Basketball's historic turnaround turned Jay Ladner into Hattiesburg's favorite son.
It seems unthinkable. Improbable. Impossible. Yet, here we are. A team that went 7-26 last season sits at 23-4 and holds a two-game lead in the Sun Belt. How did we get here? 
The buck stops with Jay Ladner. The Southern Miss Men's Basketball head coach faced immense backlash entering this season, as his squads had seven, eight and nine wins in each of the last three seasons, respectively. Despite the dismal three seasons, Ladner received a vote of confidence from USM Athletics Director Jeremy McClain. The Hattiesburg native knew his back was against the wall, though, and he immediately went to work.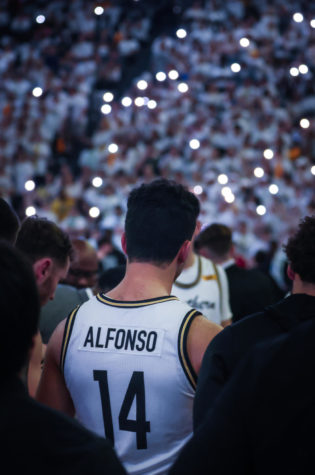 In potentially the most impactful hire of the 2022 offseason, Ladner brought assistant coach Juan Cardona to Hattiesburg. Cardona, whose only collegiate coaching experience came in a two-year tenure at Mercer, was out of coaching and looking for a new home. A hidden gem doesn't begin to describe it. Cardona brought an intense energy to Southern Miss, and he brought that in spades into the locker room. Ladner said in the preseason that he met Cardona on a recruiting trip in Miami, where Cardona was the coach of Miami Christian High School. The pair went to Hooters – yes, Hooters – after a practice to talk basketball, and the two formed a bond that would pay dividends years later. 
 With Cardona came transfers Neftali Alvarez and Felipe Haase. The latter is arguably the team's heartbeat, while the former is a do-it-all guard who can do anything and everything on the court. Cardona coached the two at Miami Christian, and Haase and Alvarez both consider Cardona a father-figure. Naturally, the duo followed Cardona to Southern Miss.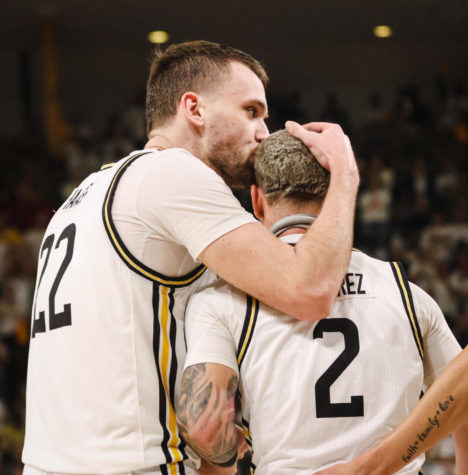 "Without Juan, none of those guys would be at Southern Miss," Ladner said. 
 Without Ladner, neither would Cardona. 
 Another player that followed an assistant coach was Austin Crowley, following Nick Williams from Ole Miss. The trio are just the tip of the iceberg of how Ladner's team turned around. 
Team chemistry was the main talking point by Ladner leading up to the 2022-23 campaign. Chemistry seems to be a buzzword in sports these days, but you can tell that there is something different about these Golden Eagles. Ladner quipped about all the Spanish being yelled at on the court between Cardona and the newcomers. Between them and the established players, Southern Miss has turned into a melting pot of greatness.  
Speaking of the returning players, senior Deandre Pinckney leads the bunch. He's been as efficient as his nickname says, and he's seen plenty of lowlights at Southern Miss leading up to this year's highlights. He is third on the team in scoring, with 39 points coming in the team's two most recent games against Louisiana and Louisiana-Monroe, respectively. Mo Arnold provides great defense and stability as a starter, while Tyler Morman makes his presence felt defensively as well. Morman was one of the unsung heroes for the Golden Eagles against Louisiana by locking down Jordan Brown – this year's preseason Sun Belt Player of the Year averaging nearly 20 points per game. 
Prior to this season, Ladner said that he wanted his team to look like the Golden State Warriors. He was talking about the offense, but the main similarity has come in the form of winning. Nobody could have predicted this; with four games remaining, the Golden Eagles have a chance to make history. If Southern Miss wins three out of the final four regular season games, they will have increased their win total by 19 from the previous season. If they win their final four games, they will have achieved history with a 20-win improvement. The current record is a tie between 1979 Murray State and 1998 Ohio State with a 19-win improvement. 
Excluding vacated wins, Ladner's .270 win percentage during his first three years was the worst in program history. What's worse is that he only went .189 in conference play over that span. Last year, his team only won one conference game. With a 23-4 record to date, Ladner has already boosted his win percentage at USM to .405 in the blink of an eye. Southern Miss is 14-0 at home this season while potentially having a chance to clinch a double-bye in the Sun Belt Conference Tournament with a win at South Alabama Thursday.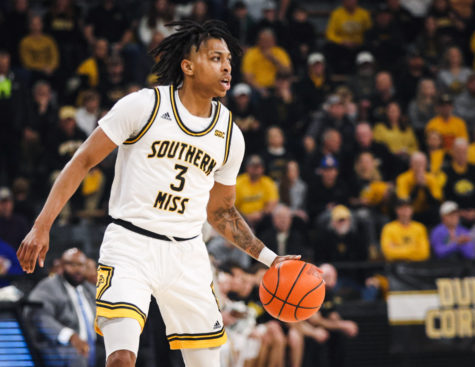 For Ladner, relief might not be a strong enough word. "It's a whole lot better than losing. I can promise you that," Ladner said. 
 The turnaround has to be extra special for Ladner. He practically went from one of the most hated men in Hattiesburg to one of the most beloved. That's the nature of the business. As someone who grew up in the area, he knows this, too. Both of his parents worked at USM. He talks about how he grew up running around at the old gym on campus. He watched as the Golden Eagles joined Division I, and he watched as the program joined the Metro Conference before ultimately winning the 1987 NIT in the conference as a player. He watched from afar as the head coach at St. Stanislaus High School when USM joined Conference USA, and he helped the Golden Eagles join the Sun Belt with an exclamation point. 
 The contrast between the beginning of Ladner's USM tenure to now could not be starker. Even the contrast between the first home game of the season to this month is eye-opening. Reed Green Coliseum seated 2,350 fans – 29% of the arena's capacity – on Nov. 14 as Southern Miss defeated Loyola (LA) 86-62. Feb. 9, 8,097 fans among a sell-out crowd witnessed the Golden Eagles topple Louisiana to undisputedly claim first place in the conference. Saturday's final home game has been announced to be a "gold-out." If it's anything like the "white-out" against Louisiana, then the Coliseum will be a madhouse once again. 
 The old saying is "Build it, and they will come." Ladner exemplified that this year. 
Leave a Comment
Your donation will support the student journalists of University of Southern Mississipi. Your contribution will allow us to purchase equipment and cover our annual website hosting costs.