Southern Miss shows off talent in spring scrimmage
Southern Miss Football completed its first scrimmage of spring camp Saturday, turning the page to Head Coach Will Hall's third season with the program.
The team looks to develop its returning players and is addressing a position battle in the quarterback room and a need for increased production after losing several key veterans from last season. But Hall feels comfortable and hopeful of the progress that the team has made so far.
"We're in a better place than any time we've been here with our ability to execute, our o-line room, quarterbacks, and we're finally able to put our best foot forward there, so we're excited about that," Hall said.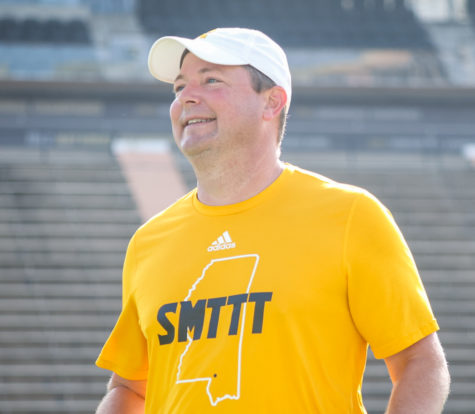 QB Room
There is plenty of attention around the quarterback room, which has been an inconsistent part of the offense in Hall's first two seasons with the program, and an area he and the staff have highlighted by bringing in two transfer quarterbacks.
With the departures of Ty Keyes and Trey Lowe, Clemson transfer Billy Wiles and Houston transfer Holman Edwards have entered right into the conversation to be the Golden Eagles' starter come fall, along with returning quarterback Zach Wilcke.
Wiles played reps with the "ones" and Edwards played with the "twos", but there's been constant rotation throughout camp, and there's no decision made on who's the starter just yet. Wilcke battled outright with the competition for an overall impressive showing for Southern Miss' quarterbacks.
"I thought they looked good," Hall said. We made some explosive plays and our eyes were right. We made throws that are hard to make. Holman and Wilcke played well early on…we're playing
at a high level right there on things that you don't always see as well with checks and protection calls and things like that. We've got great competition in that room."
Each quarterback got on the scoreboard through the air, spreading the ball out to different receivers.
Wilcke showed a connection with receiver Zay Franks on one drive, completing three straight passes to him, including a goalline touchdown.
Edwards scored on the ground one play and found Jakarius Caston over the top of the secondary for a touchdown on what was perhaps the play of the day.
Caston noted that there's a sense of comfortability in the quarterback room this offseason.
"None of them [quarterbacks] are nervous. Last year, you had some that were nervous or scared to make some throws, but this year, they're going to let it go," Caston said.
Skill Players
As Hall put it, "Frank [Gore] is Frank", but what other weapons will Southern Miss utilize in their offense?
Southern Miss' returners have shown a lot of promise, especially in the receiving room that will have to step up in the departure of star receiver Jason Brownlee.
Caston is one receiver to keep an eye on as he says he feels fully recovered from a hamstring injury that limited him last season. Also, Tiaquelin Mims says he is embracing the challenge of competing as a starter in practice.
Both showed their experience in the scrimmage and stood out as the top receiving threats for the team. Mims also returned a punt for a touchdown.
And a new name in the receiving room that saw plenty of targets from Edwards is Co-Lin Community College transfer Tyquan Henderson. Latreal "Frog" Jones and Franks also produced in the scrimmage.
It's a position room that has had its competition in spring camp.
"It's a lot of competition. One day, if you're not on your stuff, it's next man up. Every day, you've got to come with the same mentality. Everyone's competing and learning from each other," Caston said.
And behind an all-conference player in Gore Jr., the running back room looked the part Saturday. Antavious Willis and Memphis transfer Dreke Clark each had explosive touchdown runs, going the distance after breaking initial contact.
"Frank is Frank but Kenyon Clay, Dreke Clark, Chandler Pittman, and Rambo [Antavious Willis] have had lights-out spring training," Hall said. "We've got a lot of talent right there. We've recruited well and Coach Greg [Meyer] is doing a great job with them."
O-Line
The unit allowed a couple of sacks in the scrimmage but played clean and gave time for some plays to develop, which elevated the successful quarterback play.
It's an area of the team that Hall says has taken time to develop during his tenure at Southern Miss, but a group that he sees improvement from.
"To be good in Group of Five at o-line, you have to develop, and to develop, you have to have time. We've developed well over time, had three recruiting classes, and those guys have just had a great spring. They've got to continue to improve, but I'm proud of the progress they've made."
Defense
The defense lost lots of its star power from last season in Daylen Gill, Eric Scott Jr., Malik Shorts, Dominic Quewon, Santrell Latham, and Tylan Knight, along with defensive coordinator Austin Armstrong. And while that has been an adjustment, Hall says that nothing has changed too much in what the identity of this defense will be in the 2023 season.
"It doesn't feel like a lot of changes. Defensively, Dan [O'Brien] has been here and he's been integral in what we've done. The terminology hasn't changed much. I know what we're doing and we're going to play Southern Miss Will Hall defense," Hall said. "Dan is the fourth defensive coordinator I've had as a head coach and we've been good on defense everywhere we've been, so we're going to continue to do it that way. I'm excited about what Dan brings to the table."
Saturday may not have provided the best sample for analyzing where the defense is at as Hayes Maples, Swayze Bozeman, Josh Carr, and T.Q. Newsome were out of practice at the linebacker position, and Jalen Williams was out at the defensive line.
The unit showed some flashes with a few tipped passes in coverage, and even an interception by Josh Ratcliff on a tip by Quentin Bivens on the second play of the game.
However, missed tackles were the problem as the running backs shed contact and broke for big runs.
The injuries have allowed some younger players to step up and earn reps in the spring schedule.
"We've got to continue to tackle better, but I like our talent right there and the growth potential," Hall said.
The scrimmage marked Southern Miss' tenth practice of its 15 practices on the spring schedule. The team will host another scrimmage on Saturday, April 1.
Leave a Comment
Your donation will support the student journalists of University of Southern Mississipi. Your contribution will allow us to purchase equipment and cover our annual website hosting costs.