Slade Wilks and Christopher Sargent both homer twice to power Southern Miss past JMU 15-2 to complete sweep
HATTIESBURG – Southern Miss swept James Madison in the weekend series. Here are the three-game recaps:
Game 1
Southern Miss was outhit, committed three errors, and still found a way to hang on to beat James Madison 7-6 to open the weekend. 
"Any win is a great win. It's not easy to come out and win baseball games. A whole lot of people think it is, but you have to come out and do a lot of things well. Sometimes when you don't do everything well you're fortunate enough to do enough to get the win." Southern Miss head coach Scott Berry said. 
James Madison, a team which sits 156 in RPI came into the Pete with no fear against the Sun Belt preseason favorites. In the top of the first inning, James Madison was able to get something going against Southern Miss. After starting USM pitcher Tanner Hall got the first two outs, Fenwick Trimble got a single and then Kyle Novak `batted him in with a single, and the first error on Southern Miss to take a 1-0 lead. 
The Golden Eagles were able to respond quickly in the bottom of the first inning. After and Matthew Etzel single, and Slade Wilks reach, Danny Lynch bat them both in with an 2RBI-double to give Southern Miss the lead for good. Rodrigo Montenegro added another Golden Eagle run with an RBI-single to score Lynch. 
"Credit our guys. Especially there in the bottom of the first when we were down 1-0 to come back and to hit them with three runs right there, I felt like that made a statement with our guys and momentum." Berry said. 
The Golden Eagles added two more run in the next frame, thanks to Dustin Dickerson's RBI-double, and Christopher Sargent's RBI-single. These two runs gave Southern Miss the lead 5-1. 
The Dukes drew a little closer, never going away throughout the game. They added three runs in the top half of the fifth to make it a one run ballgame. The momentum didn't last long in their favor as Sargent blasted his fourth home run of the year to give Southern Miss a two-run lead again 6-4. 
"The pitch before he threw me a changeup and I fouled it off. It was right down the middle and I was upset with myself, I had to take a breather. The next pitch, he threw the same exact pitch in the same spot and I didn't miss it." Sargent said. 
The Dukes again responded, by putting up a run in sixth. Southern Miss responded with a run of their own in the sixth thanks to an Etzel RBI-single. 
JMU had one more opportunity to get back in the game, and they actually had the tying run on third in the top of the ninth after scoring a run. But Justin Storm fanned the final batter, and Southern Miss hung on. Southern Miss got the responses when they needed to, got the hits when they needed to and found a way to outlast the Dukes even while being outhit 15-9. 
The biggest moment in the game was in the sixth inning. Hall didn't have the best day at the office for Southern Miss, allowing 12 hits which is the most he has allowed in his career. The bases were loaded, and the Golden Eagles turned to freshman Kros Sivley to come in and get out of the jam. 
"When Kros comes in it's lights out. We know he's going to throw strikes….we have the most confidence in him." Sargent said. 
Sivley came in and on the second pitch almost forced a double play, but after review it ended up being a fielder's choice RBI. But the next batter, he got the out he needed. It's remarkable what he's done as a freshman coming in these game changing moments and he has seemed to deliver each time. 
"I listen to music before each game and really get my mind right. In the pen I don't really talk to anybody. I just throw my pitches to get in the zone." Sivley said. 
Kros Sivley pitched a gem in relief to lift Southern Miss past JMU tonight.

He said after nights like tonight he goes home and eats. I asked what his favorite thing to eat was….here was his response. pic.twitter.com/Z5qvSg06SG

— Dima Mixon (@dima_mixon) April 15, 2023
His mind was right tonight. Going for a line of 3.1 IP, 3 H, 1 ER, 4 K. 
"We played just well enough to come out with a win. But when you look at the numbers it may not seem as if we should have won. But that's how baseball plays out sometimes." Berry said. 
Southern Miss goes to 20-12, 8-5. Also, they moved up to No. 20 in RPI. 
These two teams play again tomorrow at 11 AM for Game 2 of this weekend's series. 
Game 2: 
Southern Miss and James Madison played for about an hour and a half, then endured a four-hour and 10-minute rain delay before the first runs were scored. Dustin Dickerson drove across the game's first runs in the bottom of the seventh, which led to a 7-1 Southern Miss victory over James Madison to win their fourth straight Sun Belt series.
"It's a tale of two games today. The first part of it, the six innings before the rain, neither team scored. I told our guys before the game, if you can't put runs on the board than you better keep them off the board, and that's exactly what Billy Oldham and the defense did. Then we came back and obviously exploded in seventh." Southern Miss head coach Scott Berry said.
Yesterday, James Madison got the most hits off preseason All-American Tanner Hall in his career. Today, starting pitcher Billy Oldham held the Dukes to a no-hitter through four and a half innings.
Oldham, a transfer from Eastern Connecticut State, has come on for the Golden Eagles this season. Pitching solid as the midweek starter but has now had to shift to the weekend because of how good his outings have been.
Oldham today was dealing through six, posting a line of: 6.0 IP, 1 H, 1 BB, 8 K, 73 TP's. With how he was dealing, he might have been able to complete the game and save the bullpen for Sunday's game if not for the weather delay.
"Man, he was really good. Threw pitches for strikes, kept his pitch count down. I hate that the delay interrupted his outing. Because he really could have gone through eight, may have even been able to complete game that thing." Berry said.
To give you a snapshot at how good Oldham's outing was, here were the decisions his first time through JMU's lineup: groundout, groundout, foul out, groundout, strikeout, strikeout, strikeout, strikeout, strikeout.
"Yesterday they were putting balls in play. Nothing too hard, we knew they didn't have a lot of power as a team, so they were just going to hit singles. I knew if I attacked them, they weren't going to hurt us with homers and stuff." Oldham said.
Even with Oldham's impressive outing, the Golden Eagle offense could not muster anything. Only being able to come up with four hits as a team through the first six innings. However, after the rain went away, the hitting shined, and the Golden Eagles just exploded on the offensive side of the ball.
"It all started in the seventh inning with a one out walk by Monistere." Berry said.
Nick Monistere, a guy Southern Miss fans have only come to know as a pitcher before Sunday's game against Old Dominion when Berry put him in at second base. Since then, Monistere has given Berry "no reason" not to put him there.
Today, he started things in the seventh with his walk, followed by a Blake Johnson single and Matthew Etzel's walk to load the bases. Then Dickerson came through with a one-out, two-RBI hit to give Southern Miss a 2-0 lead.
Slade Wilks then came to the plate and blasted a 423-foot three-run home run past center field for his 12th of the year, and USM took a 5-0 lead. Wilks has come through in spots where the team needs him, and he keeps delivering.
"I just try not to do too much. I just try settle in myself and just relax." Wilks said.
After Wilks's homer, the next inning JMU was able to scratch across a run. USM answered instantly behind Monistere's first home run of his college career. It was a 417-foot blast to left field that scored two runs. It was a moment every young player dreams of, getting their first home run in college baseball.
"It was amazing. I have never felt anything like it. Growing up as a kid, you always want to hit your first college homer, and it was the best experience I have ever had in my life." Monsitere said.
Nick Monistere (@MonistereNick) completed today what every kid dreams of…his first collegiate home run.

"Growing up as a kid you always want to hit your first college homer, and it was the best experience I have ever had in my life"

WATCH 👇 pic.twitter.com/B7JlwJaMTU

— Dima Mixon (@dima_mixon) April 16, 2023
Southern Miss moves to 21-12 and 9-5 in conference play. Their RPI also moves up to No. 16.
They go for the series sweep at 11:30 AM on Sunday.
Game 3: 
Slade Wilks and Christopher Sargent homered twice to power Southern Miss past James Madison to complete their first-ever Sun Belt series sweep. Wilks had a grand slam, a three-run shot, and a sac fly to produce eight RBIs, which tied a school record.
"I just go down to the cage to get my swings in. I just want to keep doing what I'm doing," Wilks said.
Yesterday before the rain, Southern Miss could not muster any runs across. After the rain, the bats shined. Today, the Golden Eagles batted around in the opening frame. Matthew Etzel led off with a single, Dustin Dickerson followed with a single, and then Wilks drove across his first RBI of the game with a sacrifice fly to give Southern Miss a 1-0 lead.
"He's [Slade Wilks] really seeing the ball well, and not missing his pitch…when you lock him in you have a chance to get hurt." Southern Miss head coach Scott Berry said.
Rodrigo Montenegro followed with an RBI walk, and then Nick Monistere came up with an RBI single for three runs in the opening frame.
The next inning, Southern Miss's bats were still hot. Dickerson, Sargent, and Ewing drove home runs to give Southern Miss a commanding 6-1 lead.
The top came off in the third. After two quick outs, the Golden Eagles just kept battling. Etzel and Dickerson singled, followed by Wilks's first home of the day. A two-out, three-run shot to RF to make the score 9-1. Sargent followed him on the next at-bat for a solo shot of his own to make the score 10-1.
After a couple of zeros on the board by both teams, Southern Miss extended the lead even further in the fifth.
After three straight singles, Wilks destroyed a ball to RF for a grand slam, the first for any Southern Miss player this season. Interestingly, both of Wilk's home runs were 3-0 counts. Also, Wilks could claim the single-season record for most home runs at Southern Miss. The current record is 23; Wilks has 14.
"I like the chances there. A lot of times with 3-0 counts they aren't going to try and walk you. They are going to come right after you." Wilks said.
After Wilk's slammer, Sargent drove another solo shot to right field. It was a moment Southern Miss fans have been wanting all season. The three- and four-hole hitters are coming through with the power that they have.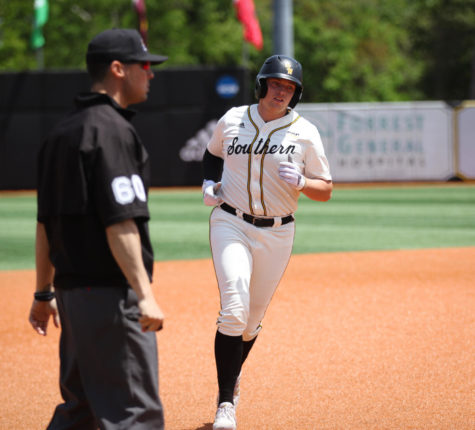 "I can't be more proud of this team. We have been trying our best to come out and play well. It's really clicking for us now. This lineup is going to click. We need to build off all of this." Sargent said.
That made the score 15-1, and due to the run rule in effect, ended the game after seven innings.
Sargent homering both times after Wilks has to be a sigh of relief for Golden Eagle fans, knowing that this lineup can produce how it was advertised at the beginning of the season. Today, they displayed how the lineup is supposed to work and how scary it can be when it is clicking.
"I was glad to see Sarge step up in both of those times and go back-to-back. If we can get him going, we need to get protection for Slade and what he's doing, and if Sarge can continue to do that and Dicky on the front side than we will be doing what we need to do." Berry said.
The one-through four-hole hitters went 12-16 with 14 runs and 12 RBIs in the contest. That is ridiculously scary for opposing pitchers.
"That's why they are up there at the top. We want them to get as many at bats as they can because they have the ability to influence the outcome of an inning or the outcome of a game." Wilks said.
Seven of the first ten runs for Southern Miss were with two outs.
On the bump, Niko Mazza was back with the start. He had been taken off the mound after he had struggled over the past couple of weeks. But today, he displayed his ability with a final line of 5.0 IP, 3 H, 1 R, 3 BB, 5 K's on 84 TP's.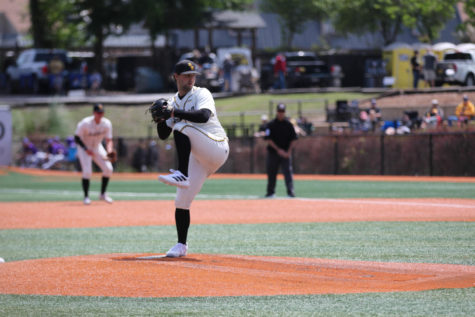 "Thought he was outstanding. The last three outings we had him in the pen his last appearance." Berry said. "I was glad to see him come back out and kind of show us the old Niko."
With the win, Southern Miss moves to 22-12 and 10-5 in the Sun Belt conference. They go on the road next weekend to take on Coastal Carolina in a series with huge implications.
"I don't look at it in all honesty. My whole career I've tried to stay with one game at a time." Berry said.
Before Coastal, Southern Miss gets Louisiana Tech in Ruston on Tuesday.
Leave a Comment
Your donation will support the student journalists of University of Southern Mississipi. Your contribution will allow us to purchase equipment and cover our annual website hosting costs.