Monistere's grand slam sparks offense past Tulane 10-5
Nick Monistere did not have the best three at-bats before the sixth inning. He was 0-3 and visibly frustrated. However, in the sixth, the first pitch he saw, he slammed for a grand slam to give Southern Miss their first lead of the night, and the offense followed suit to beat Tulane 10-5.
"Thought we kind of started off slow, maybe that was the Tulane pitcher. Sometimes you have to tip your hat to that. I thought Mazza came out and had a nice start." Southern Miss head coach Scott Berry said.
Last week against Tulane, the offense needed a late spark to steal the win on the road thanks to a Slade Wilks homer. Tonight, a Monistere grand slam sparked the offense to four straight innings where runs came across to score.
Tulane jumped out to an early lead in the top of the first. Brennan Lambert got the Green Wave going with an RBI single to jump out in front 1-0.
However, the Golden Eagles tied it quickly in the bottom of the first. After Matthew Etzel led off with a double, Dustin Dickerson got an RBI single to tie the game up. However, Southern Miss left the bases loaded stranded.
They would do this two more times before Monistere's grand slam. It seemed they could not get anything going until the fifth inning. Tulane had taken a 4-1 lead going into that fifth inning, and Berry brought the team together and shifted the game's momentum.
"I just challenged them. We have been playing to good, and we're not good enough to win six games and just show up and think we are going to win. I didn't feel like we were competing at the plate like we needed to compete." Berry said.
Right after that, Monistere blasted a grand slam in the sixth to give Southern Miss the lead for the first time and for good 7-4. It was a strangle play because the play was still going on. After all, the ball bounced off the scoreboard. But Monistere knew it was gone.
"I knew it felt good off the bat. I thought it went over. When I was coming around first I saw the outfielder playing it as a double so I didn't know what was going on. I knew I hit it good, and thought it was a homer." Monistere said.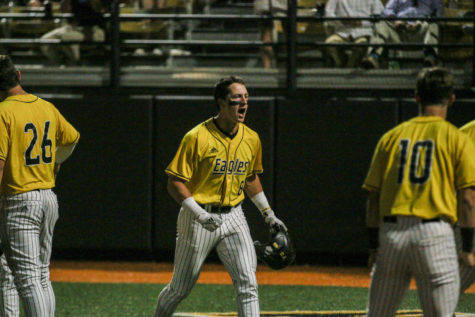 In the seventh, Southern Miss got a run via balk and an error for two more runs. Finally, in the eighth, Etzel got himself an RBI double to left to bring home Monistere to make the score 10-4 before the Green Wave got a single run in the top of the ninth.
As the starting pitcher for Southern Miss, Nikko Mazza had an excellent outing on the mound. Despite his struggles throughout the season, he is returning to looking like himself. He went for: 5.1 IP, 8 H, 4 ER, 1 BB, 6 K, 93 TP
"I definitely feel back in rhythm. And finally gotten through that wall." Mazza said.
Things are looking bright for Southern Miss as it inches closer to postseason play. They have won seven in a row, and the lineup has been on fire.
"You want a balanced game in the three phases of the game. Tonight we saw the hitting and pitching take over." Berry said.
Southern Miss improves to 29-15, 14-7.
They welcome South Alabama to the Pete this weekend for a three-game set.
Leave a Comment
Your donation will support the student journalists of University of Southern Mississipi. Your contribution will allow us to purchase equipment and cover our annual website hosting costs.