USM baseball coach Scott Berry announces retirement at end of 2023 season.
On Tuesday, Southern Miss baseball head coach Scott Berry, the winningest head coach in Southern Miss baseball history, announced his retirement at the end of the 2023 season.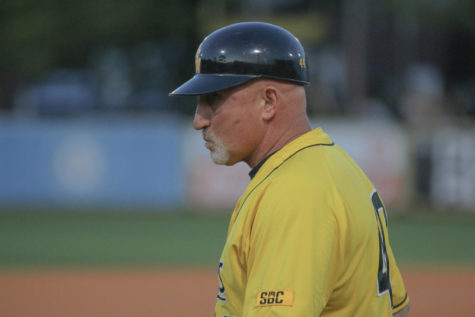 Berry has been head coach for Southern Miss for the last 14 seasons and has been a part of the program for 23 years. He joined the staff as an assistant coach under Corky Palmer in 2001. Berry is one of only four coaches to lead the program since 1959.
Throughout Berry's tenure, he compiled a 517-271-1 record entering the final stretch of this season. He has led the Golden Eagles to five regular season conference crowns, four league tournament titles, and eight NCAA Tournament berths. Of those berths in the tournament, two regional hosts and one super regional host.
He has led Southern Miss to a nation-leading six 40-plus win seasons and a nation-leading most consecutive 30-plus win season with 21.
Here is Berry's statement per the USM release:
"To the Southern Miss Faithful,
I could coach baseball forever; however, life continues to remind me our time is precious.
For the past 23 years, it has been my honor to work at The University of Southern Mississippi. The 2023 baseball season will be my final season as Head Baseball Coach. Our program has a solid foundation for this transition in leadership. I am sincerely grateful and humbled by your support for me and this program. Throughout my career, I have recognized that no one can do anything alone. I am grateful to all the staff, players, coaches, and Administrations for everything they have done to build our program.
I want to thank my family publicly. Laura, Kathryn Grace, Garren, and his wife, Macie, have sacrificed and arranged their schedules for mine. When my daughter was little, I was working on the baseball field, and she asked me if this was my garden. Over the years, I have often reflected on her profound, innocent observation of my coaching career.
Yes, Pete Taylor Park/Hill Denson Field has been my garden. Hopefully, you will agree we have grown and tended to many young lives and have thoroughly enjoyed a game that is truly America's and SMTTT's favorite pastime. Every walk has an end, and each step makes a memory. Thank you, God, for everything; I will hold your word in my heart.
Thank you, Southern Miss Faithful; it has been a blessing to me to serve as your Baseball Coach."
Southern Miss takes on Louisiana this weekend, and Friday night's game will be called "Scott Berry Night."
Southern Miss has yet to announce a replacement for Scott Berry.
 This story will continue to update with more information.
Leave a Comment
Your donation will support the student journalists of University of Southern Mississipi. Your contribution will allow us to purchase equipment and cover our annual website hosting costs.