Danny Lynch delivers the final blow, Southern Miss walks off Troy in thriller to advance to semifinals.
Like so many times in his long career at Southern Miss, Danny Lynch delivered the final blow with another clutch at bat. His RBI single in the bottom of the ninth to beat Troy 7-6 sends Southern Miss to the semifinals without a loss, meaning they will have to be beaten twice to be denied a championship game berth.
"I went up there looking for a fastball. I knew he was going to try to get ahead because he didn't want to walk me. Nick has been doing a really nice job behind me and he didn't want to pitch to Nick. I was looking for a fastball. It was kind of a sinker and I was just trying to hit the ball in the air. I was able to hit the ball on a line and it went." Lynch said.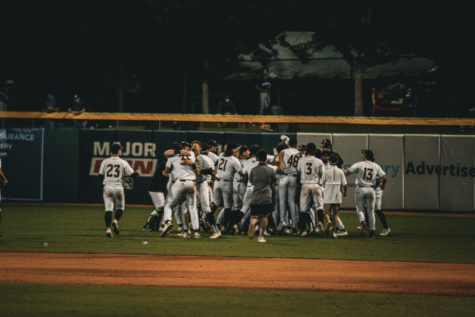 Lynch's legacy at Southern Miss continued in a game that was as back and forth of an affair as you could ask for in a winner bracket game. The lead changed five times throughout the contest, and it all came down to the Southern Miss captain, and he delivered.
If there was ever a player that deserves a statue at Pete Taylor Park, it is Danny Lynch. Southern Miss head coach Scott Berry agreed but struggled with what stance Lynch would be in the statute.
"We sure are [going to need a statue]….as far as what position he will be in…I have no idea." Berry said.
Scott Berry was asked if there would be a Danny Lynch statue.

He replied: "We sure are….what position he will be in I have no idea."

WATCH: pic.twitter.com/UKngQRs4RR

— Dima Mixon (@dima_mixon) May 26, 2023
Lynch was 0-4 coming into the final at-bat, and the middle of the lineup was 0-6, but they never panicked. Lynch even told the dugout prior to his walk-off to stay calm.
"I said it going into the last inning. It's not really about how you have done up to this point, it's about this. The game is tied at six, we did a good job about keeping it in the middle of the ring. Slade got us going, and he was 0-4 too going into that at bat. Sarge had another walk…it's just about staying in the middle of the ring." Lynch said.
All season, Berry has talked about grit and how his team responds to adversaries, and tonight, they showed what they were made of.
"It was a hard fought, tough test with a really good Troy team…..our guys were just resilient. They weathered the storm. There were a couple of innings where we scored and didn't get the shutdown, and credit Troy for that. But at the end of the day it was there at the end of the game where some guys who have had some rough games…prior at bats not being what they wanted. But we talk all the time about your last at bat being most important." Berry said.
Billy Oldham started on the bump for Southern Miss and gave up an RBI single in the top of the second to put Troy up 1-0. The Golden Eagles responded in the bottom of the third by plating two thanks to RBI singles from Matthew Etzel and Dustin Dickerson to put the Eagles up 2-0.
Troy tied it in the top of the fourth on a wild pitch. But then, Dickerson gave Southern Miss the lead with another RBI to put the score at 3-2. In the sixth, Troy tied it on an RBI fielder's choice at three a piece. Southern Miss scored three in the sixth, with Blake Johnson coming up with a 2RBI-double and Etzel following him with another RBI of his own.
It got ugly at the top of the eighth for USM. Troy would tie the game thanks to two throwing errors, and all of a sudden; it was a 6-6 contest. However, Southern Miss punched back in the bottom of the ninth with Lynch's walk-off single.
"In that eighth inning we self-destructed, and Troy took advantage of it getting the three runs back. But at the end of the day, we got up off the mat or off the ropes however you want to call it, and able to deliver that last blow." Berry said.
Southern Miss looks to continue throwing blows on Saturday in the semifinal, where they await the Appalachian State and Troy winner.
USM moves up to No. 23 in RPI and would be in a prime position to host a regional if they made it to the championship game. For sure, if they won the whole thing.
But as Berry says, one blow at a time.
The next boxing match is Saturday at 9 AM.
Leave a Comment
Your donation will support the student journalists of University of Southern Mississipi. Your contribution will allow us to purchase equipment and cover our annual website hosting costs.