Southern Miss weathers and brings the Storm, wins two straight to reach Auburn Regional Championship
AUBURN, Ala – It is safe to say that Southern Miss weathered and brought the Storm today. In a long day of baseball, Southern Miss gutted out two gritty wins to force a deciding game seven of the Auburn Regional. The Golden Eagles came into the day needing to win two games to force a deciding game, and they rose to the challenge.
"It's been a long day. Two grueling baseball games. I'm real proud of how our young men responded knowing that their back was against the wall and taking it one game at a time. I think that was the most important thing I saw today." Southern Miss head coach Scott Berry said.
In the first game, Southern Miss beat Samford 9-4. In the next game, Southern Miss beat Penn 11-2. Both games were gritted out, with gutsy performances from key players. Throughout the season, it has been about who will step up when needed most in a regional; today and all weekend, the Golden Eagles have answered that question.
It started in the first game against Samford. The Bulldogs beat Southern Miss in extra innings on Friday, which sent the Golden Eagles to the loser's bracket and had a chance to eliminate them. After the first few innings of feeling each other out, a storm appeared in the area, and the teams had to pause play for over two hours.
Southern Miss was leading 2-1 in the top of the third heading into the delay, and coming out of the delay; the Bulldogs claimed the lead in the bottom of the fifth inning at 4-3.
Then, potentially one of the more significant moments of the day happened when right fielder Carson Paetow made a circus catch in RF with two outs to strand two Bulldog runners who would have scored if he had not made that catch.
In the next inning, freshman Nick Monistere came up with a massive hit with a 2RBI-double to give Southern Miss the lead at 5-4. USM never lost the lead after that, driving in four more runs. If Paetow would not make that play and Monistere would not make that leaping grab, today might have looked different.
After Matthew Adams, Southern Miss's starting pitcher, came out of the game, freshman Kros Sivley came into pitch. He gave Southern Miss a solid outing in relief to help secure their victory and continue their season. He went for a final line of: 4.0 IP, 6 H, 1 R, 1 BB, 5 K's
"Outstanding job by our team overall. We played all phases of the game really well. We pitched well and used three guys. I'm real proud of the way they came in and played their roles. Offensively, we continued to get the big hits that we needed. A lot of momentum swings and good defense." Berry said.
But Southern Miss's Day was not done. They had to face the Pennsylvania Quakers in another elimination game just over an hour after beating Samford. Penn is the team that came out of the winner's bracket and must be beaten twice for Southern Miss to make a super-regional.
Southern Miss did not stop the energy from the earlier game, gritting out eight innings of really close baseball before blowing the doors open in the eight innings. They were lifted once again by the incredible pitching of Justin Storm. Storm recorded his season-high strikeouts and worked an almost identical outing to last year's regional final game against LSU.
"Tonight, my best pitch was my slider. I was using it in any count, it felt really good, and I had a lot of confidence with it. Coach Oz kept going back to it, 0-0 counts, 0-1 counts, even hitters counts. I was playing the slider and the fastball off each other, trying to keep hitters off balance, is what I had most success with.' Storm said.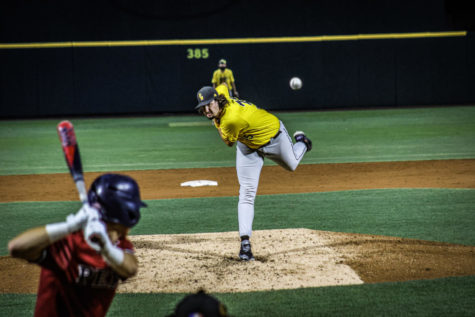 Storm line went for 5.2 IP, 1 H, 0 BB, 10 K's in 61 TP—video game numbers for Storm in the biggest game of the year up until that point. Even Penn head coach John Yurkhow said he "was still trying to figure it out" what Storm was doing to the Quaker's lineup.
"He retired the first 16 hitters that he faced. 16 of 18 total, so total dominance. I'm not exaggerating, that's some of the best stuff I've seen in a long time. That's stuff that you see on TV in the big leagues in all honesty. He was dialed in tonight, thankfully for us." Berry said.
Even with the solid pitching from Southern Miss in the game, Penn kept Southern Miss honest by keeping their offense off balance.
Penn took the early lead 1-0 on a first-inning home run. Southern Miss tied it in the second with a sac-fly RBI by Monistere. Penn took the lead in the bottom of the third at 2-1. Arguably, the game's biggest moment came in the bottom of the fourth inning. The Quakers loaded the bases with one out; the Golden Eagles brought in Storm. Storm gets a strikeout, and then on a full-count pitch, Penn is called for a clock violation and is given a strike as a penalty, ending the frame on a strikeout. Penn's head coach did not like the call but said after he agreed with it.
"I was told that although Calvin was in the box, he wasn't ready and attentive…. So yeah, obviously, I'm don't know if there could have been a worst time for that one….I actually think they made the right call. It's unfortunate for us." Yurkhow said.
After that, Storm sat down the next 14 batters he faced. And absolute earthquake on the mound.
Southern Miss took the lead for good in the top of the sixth. Paetow tripled down the right field line scoring a run, then scored on a wild play after an error charged on Penn. The score stayed at 3-2 until the top of the ninth, where Southern Miss put up eight runs to take complete control. Monistere collected another RBI, and he had a day. He said he credits Dustin Dickerson's bat because he had dents in his.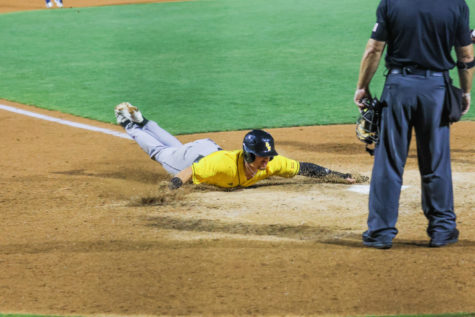 "Dustin gave me his bat today because both of mine were all dented up and I wasn't allowed to use them. I told him I would give him credit for letting me use his bat. Lately I've been off time, so today I was trying to get the head out and get something I can hit." Monistere said.
Southern Miss moves on to a Game 7 at 2 PM tomorrow. This is their third straight game seven in a regional in a row. But Berry knows Penn isn't going down without a fight.
"I hope we feel that sense of urgency of the opportunity that we have created for ourselves. The road and the path that we have had to get there, to get to where are tomorrow. And use the momentum from today and take it into tomorrow and be ready to play." Berry said.
Leave a Comment
Your donation will support the student journalists of University of Southern Mississipi. Your contribution will allow us to purchase equipment and cover our annual website hosting costs.