NEW ORLEANS, La – As the Sun Belt Football Media Days wrapped up, fans and media members alike were given a great deal of information about the previous season, the state of the conference, and what to expect. This article will summarize the top 3 Sun Belt Conference Football Media Days takeaways.
1. Sun Belt Rising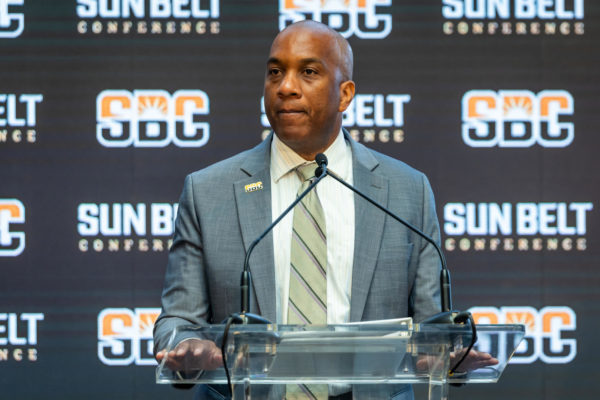 In his State of the Sun Belt speech, Sun Belt Commissioner Keith Gill gave the media a glimpse into how much the conference is growing, and the numbers are incredibly promising. Boasting over 35 million viewers last football season, the Sun Belt Conference saw its viewership grow over 100%. This is likely due to the addition of four new teams, all with large and incredibly passionate fanbases, but that cannot account for all the boost in viewership. With the increased accessibility of college football paved by ESPN+, growing interest in the sport, and the sheer competitiveness in every game played in the Sun Belt, it is obvious why people are tuning in to this conference's games. It is a rare occurrence where a conference game in the Sun Belt is a blowout, and even when teams are favored greatly (USM at Troy and Arkansas State at USM, 2022), it is riveting television when defensive battles or shootouts that go down to the last minute occur.
There have been many conversations about conference realignment. Some have argued that the additions of ECU, Liberty, Tulane and Memphis would undoubtedly make the Sun Belt a top-three conference in terms of entertainment, regional rivalries, and power in general. When games are within driving distance, every school wins, as the revenue is increased exponentially, and this revenue compounds more because if a school is within driving distance for fans, they will care more about the rivalry.
"We are really happy with our membership. 14 teams is perfect for us… obviously this regional footprint has established great rivalries. And so, we don't have any plans to expand." Gill said.
Gill later added that this was for the near future, and he was always open to expansion if plans changed or the opportunity was right. If a massive wave of other G5 conferences signs schools or if conferences implode, look for the Sun Belt to add some new universities.
2. The Golden Eagles are Confident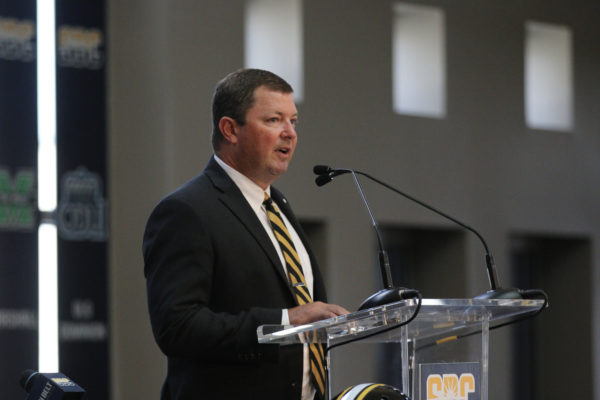 Will Hall, Cole Cavallo and Jay Stanley took the stage at Sun Belt Football Media Day yesterday, and this trio was confident. This was unlike any press conference or media availability that Hall had been at before. Dima Mixon of the Student Printz joked that this was the first time he had not heard Hall say, "we're just trying to build a program," and he was right. Obviously, Hall and his staff are still building their program and getting Southern Miss where they would like it to be, but instead of focusing on that, Hall showed the media what he has built and what to look forward to this season. There was a standard set last year, and if the 2022 season's final two games indicated what this upcoming season will look like, the Golden Eagle faithful have plenty to be excited for.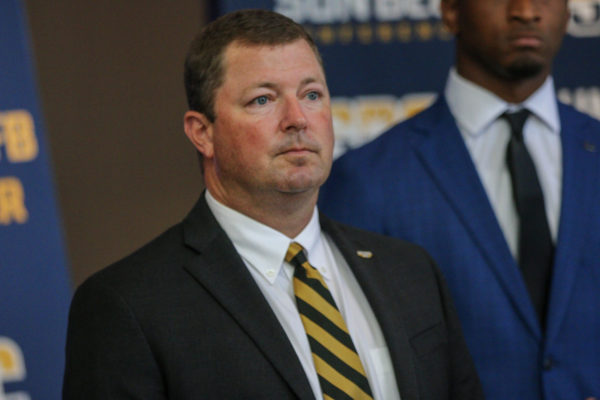 The offensive line play will be much improved, and Hall confirmed that there will be three full sets of offensive linemen, all returning starters. This opens up the run game to a much greater extent, and it should give whoever starts at quarterback more time to get their looks off to receivers. When looking for what Southern Miss is capable of with good offensive line play, look no further than the Lending Tree Bowl, where Frank Gore Jr. set an NCAA bowl game record with 329 rushing yards on 21 attempts, averaging over 15 yards per carry. Now, apply that to a backfield with not only Gore Jr. but Chandler Pittman, Kenyon Clay, Zahn Diaz, and the addition of Rodrigues Clark, a transfer from Memphis, and one can see how the Golden Eagles can have a season where their run game is even more terrifying than the last.
The quarterback battle is heating up as well. With the additions of Billy Wiles out of Clemson and Holman Edwards out of Houston, real competition exists for the starting job. Not to mention that Zach Wilcke and Jake Lange, who got minutes last year, are still on the team. Senior tight end Cole Cavallo was excited for the quarterback play to improve so that "everyone can get fed." When there was worse play, Cavallo said that the QB would just "throw it up to Brownlee," which is not far from the truth. Improved quarterback play combined with the loss of Jason Brownlee means that everyone on the field will get their shot at catching the ball, and expect the tight end role to be much more integral to the offense this season.
"Well, the two transfers we brought in came out of spring a little bit above everybody else. They solidified that through the summer… Holman Edward and Billy Wiles. They both fit those traits. They're both accurate, they're both tough, and they're both servant leaders." Hall said.
When asked if there would be a two-QB scheme and when the starter would be announced, Hall replied that he would like to have the starter and stick with him. He also stated that he would name a starter before week one.
The defense is something all parties are still confident in. With new DC Dan O'Brien being promoted from within, there is hope that this may be like transitions Southern Miss is used to seeing in baseball. Jay Stanley, the star defensive player for the Golden Eagles, agreed with the sentiment and confirmed as much by stating the defense is still similar, with only some changes in terminology. There is some real excitement to be had for this season, and when asking Stanley about how he will transition into a new role this season, he mentioned how he will need to be a leader and teach the younger DBs what he has learned during his time starting and pick up the slack.
With this, there are no fundamental areas of worry outside the schedule. Coach Hall has often stated that this is the most demanding schedule for any non-autonomy school in America, but it also provides a great opportunity.
"It's a tremendous challenge, but it's also a tremendous opportunity… as far as expectations go, we just want to play well every week." Hall said.
The more formidable opponents for Southern Miss this year are as follows:
At Florida State, Game 2
Vs. Tulane, Game 3
At Appalachian State, Game 7
At South Alabama, Game 8
At Louisiana, Game 10
At Mississippi State, Game 11
Vs. Troy, Game 12
If Southern Miss does well this season and takes a few games from some of the powerhouses it faces, there can be some real buzz around the Golden Eagles. What should excite fans wearing black and gold is that the team seems confident they can do just that. Hall put it best when speaking on the chance to pull away with wins in these big-time games.
"It catapults our name into the national conversation quickly." Hall said.
3. They are Ready for the Zombie Apocalypse
As a joke in the final question with the players, I asked Cavallo and Stanley to name three people on the team – players, coaches, staffers, anyone – who they would want in their survival squad for the zombie apocalypse. We didn't expect how seriously the two thought about it and how funny Hall found the question to be.
Cavallo responded nearly immediately with Briason Mays as his first overall pick.
"Just cause, I mean, he's an outdoors – he likes to shoot guns at the range and stuff, so definitely him as one." Cavallo said.
Then he went with his second pick.
"Maybe Matt Ryals because the comedic relief, and you kinda need comedy to be in a zombie apocalypse."
He thought about his third pick to round out the squad, and he went with an interesting rationale for who he would want for pick number three.
"I can't go with a fast guy cause if, you know, the zombies are running I gotta outrun him, so I gotta go another big guy."
Hall interjected, recommending Will Saxton, but Cavallo had a better idea.
"No, I think I'm gonna go Gerquan. I think I'm gonna go Gerquan Scott."
Cavallo didn't know how his crew would last, but he did know that it would be fun.
Stanley had some time to think about his while Cavallo gave his answers and rationale, so as soon as he got the mic, he was ready to list his compatriots on the apocalyptic battlefield.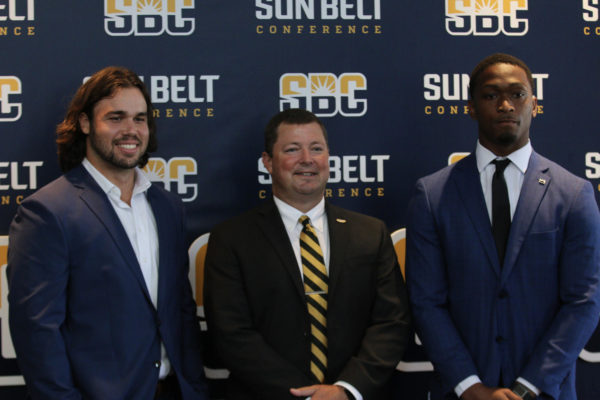 "I'm gonna go with MJ Daniels. Big hunting guy, so I feel like he's gonna have some aim." Stanley said.
A smart choice that got laughter and agreement from the likes of Hall and SID Jack Duggan.
"Bryce Ramsey. Big guy, he's gonna protect us, he's gonna block. Block the zombies off." Stanley added.
Stanley thought about the final member of his squad and then smiled once he knew the answer.
"Jalil Clemons. JK, you got a crazy mind, he'll think of something to get us up out of there." Stanley said.
So Golden Eagle Nation, if you ever find yourself in a zombie apocalypse, run to The Rock. There isn't much doubt that you'll find a few Southern Miss Football players holed up in the athletic building surviving and thriving. Just make sure you can run faster than Cole Cavallo, or you may be on his squad for a different reason than you'd like.