After Austin Armstrong left the program to be a field staff member for Alabama, Southern Miss head coach Will Hall knew immediately who would replace him, insert-Dan O'Brien. O'Brien had been with Armstrong and came to Southern Miss when Hall named Armstrong the defensive coordinator in his first year.  
 "I knew about three months after we had been here that he was somebody, if Austin ever left, that I was going to consider. But then after that first football season going into that Christmas, I pretty much knew that he was going to be my next guy. Just a great fit for me and what I look for in a person and a leader." Hall said.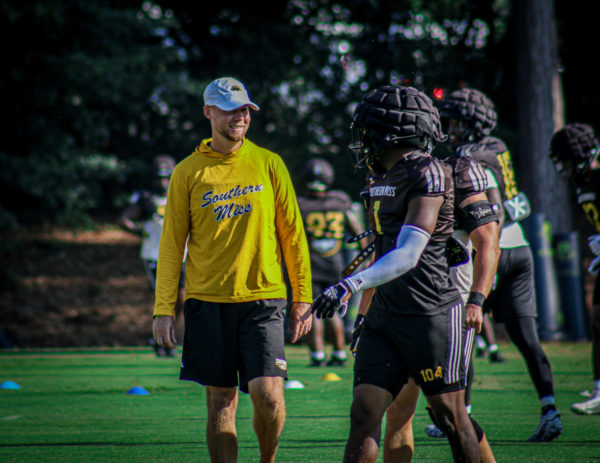 O'Brien has been with the program since 2021, which was Hall's first year; this is his first season as a head coach of the defense. O'Brien spent two years before coming to Hattiesburg in Georgia as a quality control coach; before that, he worked at the Naval Academy for five years. He was also a scouting assistant intern with the New England Patriots with Coach Bill Belichick.  
"I actually had never worked with Coach Hall before, a majority of the guys on staff have. I just happened to be with Austin at Georgia in 2019, and that's where we first met. I had been involved in that Saban, Smart, Belichick coaching for eight years. I knew the ends and outs to that scheme." O'Brien said.  
O'Brien's family is no stranger to college football. O'Brien's dad, Tom O'Brien, coached college football for 40 years. Tom always gravitated toward the offensive side of the ball, but Dan focused more on the defensive side of things. Dan feels like his dad's legacy sets him apart as a coach in the Sun Belt, but also his added energy that his dad did not have.  
"My dad for so long had been a college coach. He's not a super fiery guy. There's times you've got to bring that fire. To me, there's so much within a game that you've got to process in your head as a coordinator." O'Brien said. 
His energy on the sideline is not unique to the respective coaches he worked with. Armstrong's energy on the field with his defense was a fan favorite all last season. Moreover, everyone knows what Nick Saban and Kirby Smart display on the field.  
Even with the history of coaching in O'Brien's family, Dan did not even decide he wanted to be a coach until later in his young adult life.  
"I'll be honest I didn't make the decision until my senior year in college. It was one of those things, growing up seeing the relationships that develop between my dad and his staff and his players. I used to invite his players to my birthday parties as a kid, it was just one of those things that you grow up in that lifestyle." O'Brien said.   
Dan grew up in New England and went to school at Boston College; he was not far from Belichick and the Patriots, where he first got interested in the defense.  
"Growing up in New England and going to school at Boston College, obviously Bill Belichick was at New England, and I always found it interesting to work on the defensive side. My dad was an offensive guy for his whole career," O'Brien said. "My dad always told me 'if you're going to work on the defensive side, you better coach the secondary because that's where you're going to learn everything from back to front…that's the mindset I grew up with and watching those New England defenses early on with Coach Belichick just kind of peaked my interest there. But again, it's the relationships between players and coaches and coaches and players."  
O'Brien said he still gets constant advice from his dad. It is a very similar story to Hall himself, whose dad was a famous coach, and he is also taking advice from his dad.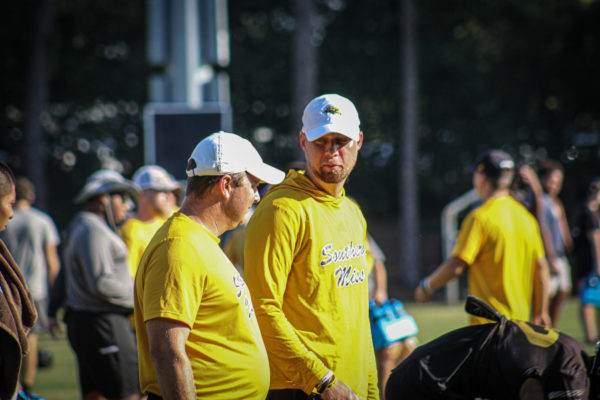 "Dan's background is similar to mine except his dad was coaching college. But his dad was a great head coach, he grew up in an arena where his dad was a phenomenal head coach and that's how I grew up. His dad is a great man as well, treats people the right way. Dan moved a lot because of that like I did, and when you move a lot as a young child you get to where you can adapt and make friendships and learn the culture…so he's very adaptable to people. The big thing he's got going for him is that he's got a good center point with what he believes in his faith and how to treat people. Then, he also just a really smart guy." Hall said.  
As a no-brainer hire, O'Brien looks to this season for a whole new challenge to adapt to: leading the defense.