Southern Miss Men's basketball held its annual media day, giving fans a taste of the upcoming season. Unlike last season, this team has many expectations from what they did last season.
After being picked to finish last in the league, Southern Miss shocked everyone and won the regular season Sun Belt title. With familiar and new faces this season, head coach Jay Ladner looks to bring his team to something that has yet to be at Southern Miss in a long time: a standard of winning.
"We're not going to surprise anybody this year. But that's really how I want it to be. I want it to be an expectation," Ladner said." [Last year] Nobody thought we could do it. And this particular team did it. Let's have an expectation every year that Southern Miss basketball will  be competing for a conference championship, NCAA Tournament, but that's that's the motivation,"
Ladner and his team have embraced that new motivation this season and will continue to seek further a standard of winning in Southern Miss basketball.
Here are three main takeaways from basketball media day and everything that Ladner and senior Austin Crowley had to say:
1. Status of Andre Curbelo
Southern Miss landed transfer Andre Curbelo from St. Johns over the offseason. Unfortunately for Southern Miss, Curbelo needs a waiver to be granted by the NCAA to play for Southern Miss this season. A former top-50 recruit by 247Sports announced his transfer to USM in June.
Curbelo and assistant coach Juan Cardona have deep ties in their respective hometowns, so it was not a shocker when Curbelo decided to transfer to USM. He averaged 9.6 points, 4.3 assists, and 2.8 rebounds in 26 games at St. Johns. He ranked second in Big East play with a 4.4 steal percentage.
It will be tough if he cannot play due to the transfer rules. Ladner explained the issue during media day.
"Well, first of all, he's a four to four transfer, meaning four to four to four transfer. So with the NCAA rules, he has to have a waiver. We are in the process. We have a law group out of Jackson that's handling that and they've been responsible for putting all that stuff together. Very excited about the possibility of him. He's an incredibly talented player. He does some things that you can't coach. He's really good and he's been fun to coach to be honest with you," Ladner said.
From what Ladner said, the NCAA must have this waiver submitted to them from the law firm out of Jackson. They have been back and forth clarifying the information they need with the NCAA, but Ladner noted that it is "very close to being filed." If filed soon, the NCAA should decide on Curbelo's eligibility within a couple of weeks.
Ladner said they will prepare "like he is going to play."
"He has such a great feel for the game. He is so far ahead mentally. He is one of those rare guys that can see plays developing two or three plays ahead of the actual play and can make the play accordingly. Great with the ball, great passer, incredible floor vision,  shoots it pretty good, scores it inside, can score in traffic. He is very seasoned, he's played a lot of basketball in his career," Ladner said.
The Student Media Center will keep the public updated on Curbelo's status. Ladner did mention that Curbelo checks "most of the boxes" the NCAA is looking for in these decisions.
2. The back court will be the strength of the team.
Last season, Southern Miss fans were entertained by the presence of two big men, Felipe Hasse and DeAndre Pickney. Both players graduated, leaving a massive void in the center and power-forward positions. While Hasse and Pickney were Southern Miss's backcourt strengths last season, that will not be the case this season.
"Our back court is going to be our strength," Ladner said. "Mo Arnold has had an incredible offseason. Neftali Alvarez and Cobie Montgomery know our system, but I'm really proud of the way Austin Crowley has shown his leadership. He's one of our hardest workers and he had some great role models last season to show him how to be a leader."
The Golden Eagles return Crowley, Neftali Alverez, Donovan Ivory, Trey Alfonso, and Tate Ryder in the front court from last season. All of those players saw significant minutes last season and will be essential to Southern Miss's success.
The Golden Eagles have a smaller team, with only one center in Tegr Izay, seven-foot-zero. However, the frontcourt has loads of talent, so Ladner is adamant that this will be the team's strength.
Ivory is one interesting player coming back. He has the experience of playing in big games and is looking to take the next step this season in his play.
"Ivorys is a guy that I think has the potential to be an all league player. I think he just has a maturity issue, a consistency issue, but he's had a really good offseason," Ladner said.
3. Austin Crowley, embracing a leadership role, looks to take the next step.
You cannot speak enough about how big Crowley coming back to this team to play for his senior year is. Today, in practice, he looked more mobile than ever. He looked bigger, stronger, and way faster than last season. However, more importantly, Crowley embraces a more prominent leadership role than last season. He is teaching the younger guys while still elevating his game.
"His leadership has just been second to none," Ladner said. "If your best player can also be your hardest worker and is also a great leader…you got a chance. Well, of course a leader can't lead unless they're willing to do those things themselves. And he's in here every morning at 5:30 a.m., working out on his own and leads by example every day in practice. So, he's got great respect from his teammates and I just couldn't be more pleased with him,"
Crowley, the Sun Belt Newcomer of the Year last year, led all Golden Eagles in scoring at 16.0 points per game and finished with 63 steals. He looks to elevate his game, not for himself but for his team.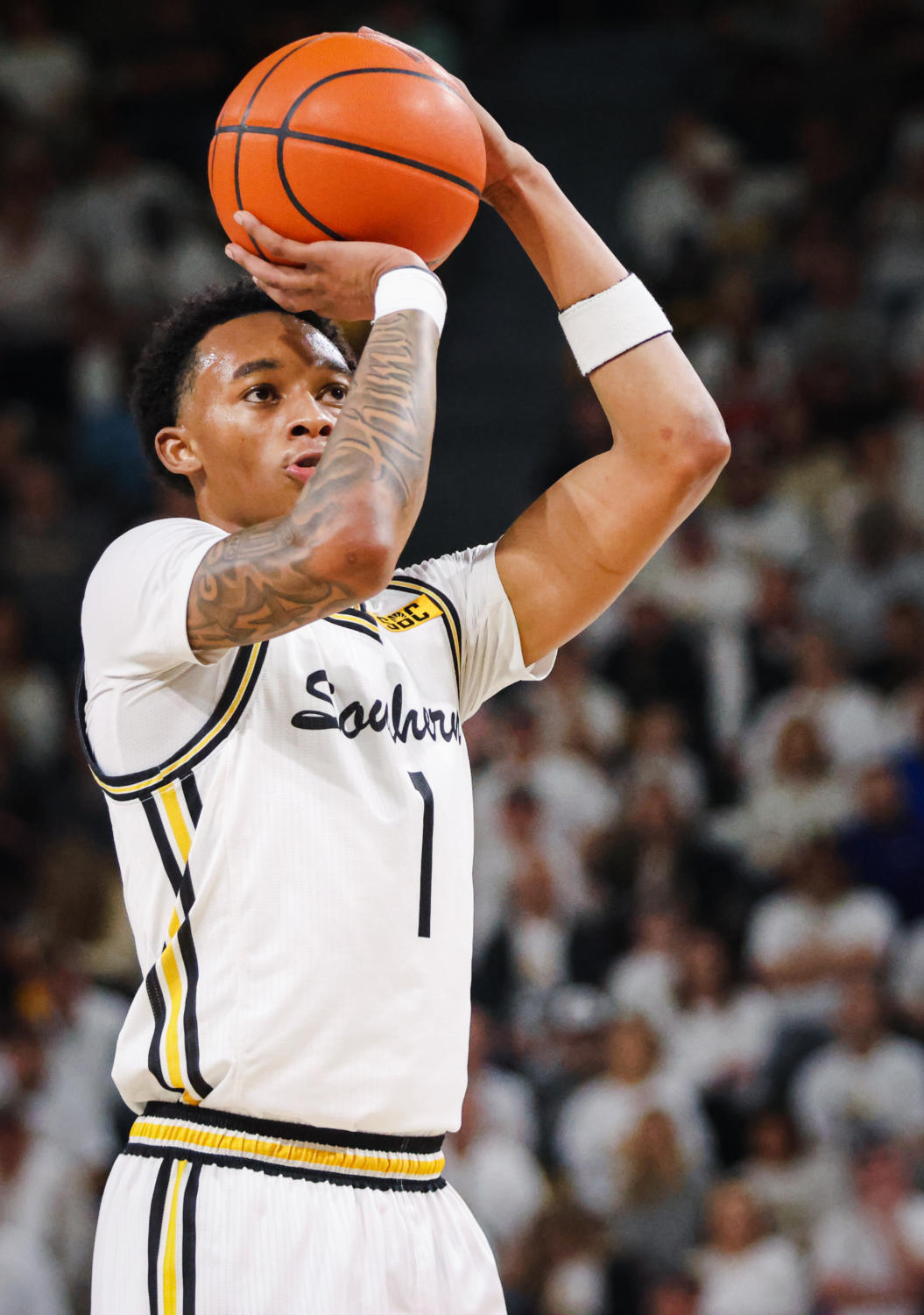 "I'm very excited to be back. I think that was one of my main focuses this year was just to just get back, be as healthy as I can, be as ready as I can for the season.With the crowd we got coming in the year, I think we got a really good chance to be really good team," Crowley said. "Just to stack on days just like we did last year. I just think this team has a really good outlook on where we want to be. I think everyone understands their role and understands who they want to be. They understand the job that we have in hand, but that's something that we live for,"
Crowley shared that he had participated in Impact Training in Las Vegas, Nevada, over the summer to enhance his game. He said that he was able to showcase his ability to a lot of NBA guys out there, and he got some great feedback, which would explain his increased ability in his mobility.
The potential of Crowley, Alvarez, and Curbelo in the backcourt should make every Golden Eagle squirm in their seats.
"I'm trying to hold myself back from being excited. But if you could imagine him [Curbelo] and Neftali  and Moe and AC and Kobe and those guys out there playing together, you have a chance to be pretty good in those positions," Ladner said.
There is lots of excitement, lots of opportunity, and lots to look forward to this basketball season.
The Golden Eagles' action begins on Tuesday, Oct. 24, when they host Delta State in an exhibition at Reed Green Coliseum.