Lady Eagles fall to Middle Tennessee, 66-49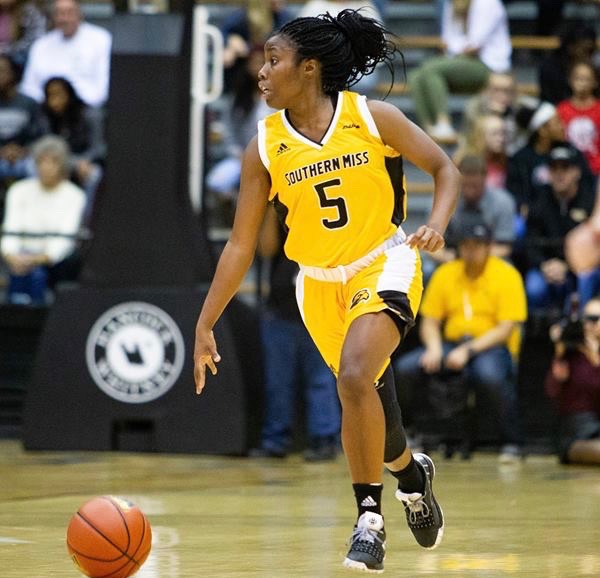 In the first contest of a two-game road series, the Southern Miss women's basketball team (8-8, 0-3 C-USA) dropped its fourth-straight game after losing to Middle Tennessee on Thursday (12-4, 3-0 C-USA) by a score of 66-49.
The Lady Eagles captured the lead at the start of the game with a jumper by junior Alarie Mayze and an assist by junior Shonte Hailes. Mayze helped to maintain the Southern Miss lead with another jumper and a free-throw at the 6:37-minute mark.
A three-pointer from junior Camille Anderson kept the Lady Eagles ahead until a Middle Tenessee three-pointer at the 4:59 mark in the quarter tied the game at 8-8. The Blue Raiders then went on a 16-2 run for the rest of the quarter to take a 24-10 lead.
The Lady Eagles narrowed their point deficit by scoring 21 points in the second quarter, but Middle Tennessee took a 38-31 halftime lead.
Redshirt senior Megan Brown led all Southern Miss scorers with 10 first-half points on 4-of-5 shooting.
The third quarter saw another 20 points from Middle Tennessee compared to 13 from Southern Miss. The Blue Raiders kept the lead for the remainder of the game, holding Southern Miss to just five fourth-quarter points and finishing with a final score of 66-49.
Brown finished the night with 14 points and four rebounds. Mayze scored 11 points and Anderson had six points and two assists. As a whole, the team shot 42.9 percent from the field and made only 5-of-17 three-pointers.
The Lady Eagles edged out the Blue Raiders in total rebounds with 27 and each team had 22 defensive rebounds. Southern Miss committed 17 turnovers in the contest, compared to 10 for Middle Tennessee.
Southern Miss will continue on the road with a 2 p.m. at UAB on Jan. 12. The Lady Eagles will return home the following week to host Charlotte on Jan. 17.
Donate to Southern Miss Student Media Center
Your donation will support the student journalists of University of Southern Mississipi. Your contribution will allow us to purchase equipment and cover our annual website hosting costs.