USM showcases defense in exhibition affairs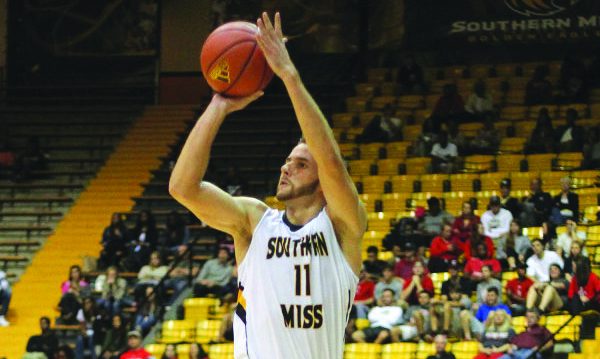 Southern Miss played host to William Carey for their second exhibition of the year this past Monday, claiming the victory 79- 60 off of the improved defense efforts of the Golden Eagles.
"Tonight was a better indication of who we can be." said Head Coach Doc Sadler. "It is not close to the finished product but we have made improvements [defensively] already from the last game."
After allowing Mississippi College to score 95 points on Nov. 3, the Golden Eagles bounced back from that performance and only allowed William Carey to score 60 in that contest. Also a bonus for the Golden Eagles, is considering that William Carey averaged 80-plus points a game last year.
Southern Miss saw an early 9-3 lead and the momentum accumulated during this run led to a 23-6 run leading to another comfortable 32-14 lead.
Out of the 18 paint touches in the first half, the Golden Eagles were able to convert on 14 of them.
"If we can get the ball in the paint and never shoot a three-point shot, I'll be happy," Sadler said.
With the Golden Eagles' success in the paint, abandoning the inside game was not expected. The lack of perimeter threats were the downfall of the Golden Eagles as they only shot 3-of-12 in the first half, 4-of-20 for the whole game, allowing William Carey to cut into their deficit by halftime, 38-23.
Despite a rough 10 minutes for the Golden Eagles at the start of the second half, Cortez Edwards, Bilal Abdur-Rahim, Kevin Holland and Quinton Campbell combined for 57 of the Golden Eagles 79 points and shot 58 percent for the night.
Southern Miss looks to bring the hot start into their season opener against Tougaloo Friday. Tipoff is set for 7 p.m.
---
Donate to Southern Miss Student Media Center
Your donation will support the student journalists of University of Southern Mississipi. Your contribution will allow us to purchase equipment and cover our annual website hosting costs.