Hattiesburlesque Returns to the Thirsty Hippo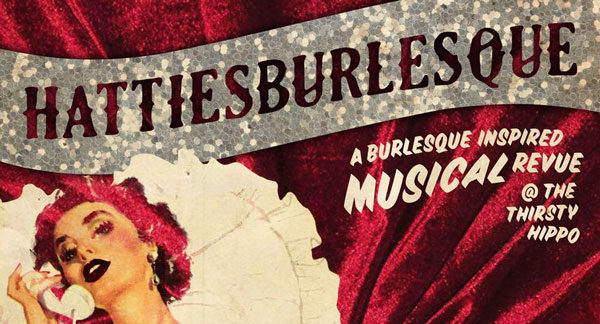 The girls (and guys) from Hattiesburlesque are ready to titillate fans with another amazing show as the event returns at the Thirsty Hippo.
Abigail Allen and Rebecca Chandler founded Hattiesburlesque, a burlesque-inspired musical revue, in 2013. This will be the ninth installment the group has produced.
Allen is an artist who loves to create. "Hattiesburlesque is a celebration of beauty in all shapes in sizes and ages and colors and backgrounds," Allen said. "It's really high energy and it's more like a revival than a strip show. That's for sure. It makes people feel more beautiful when they come."
Allen said that one addition made to the performance in the last show is a catwalk. "The catwalk has added to the show because now there are no bad seats in the house," she said. "If you've never seen a show, it won't seem abnormal, but we have dancers all around the audience, and upon the bar."
Rebecca Chandler is a choreographer who runs Hattiesburg Ballroom and Beyond in downtown Hattiesburg. "When we started this, we only had fifteen dancers, and now we have double that," Chandler said. "In the past, we've held auditions, but now we have so many dancers that are able to perform."
Allison Neville has been involved with Hattiesburlesque since 2015.
"Hattiesburlesque is a show that's not just for women – it's for the people and about feeling good about yourself," Neville said. "It's about leaving your inhibitions at the door and tapping into your creativity. There is no theme for this particular show, which I enjoy because it opens up the song selection and we don't feel boxed in to adhere to any themes."
Brittany Purvis, who was voted best burlesque performer in the Pine Belt in 2017, is a local comedian and emcees the show. "The way I always describe Hattiesburlesque to people is that it's a sexy dance recital," Purvis said. "Because of the decency laws in our city, we can't get nude or anything like that. I've been doing stand-up for over 5 years now, and once I started hosting this burlesque show, I was like, oh, I like this more than stand-up."
The first show begins at 8 p.m. on Thursday, May 3, and the following begin at 9 p.m. on Friday, May 4, and on Saturday, May 5. Tickets can be found at www.thirstyhippo.com.
---
Donate to Southern Miss Student Media Center
Your donation will support the student journalists of University of Southern Mississipi. Your contribution will allow us to purchase equipment and cover our annual website hosting costs.