Senator John McCain dies of brain cancer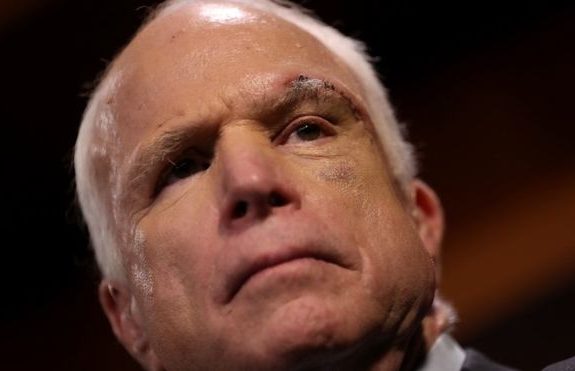 Republican senator from Arizona John McCain died at 4:28 p.m. today with his family by his side, according to a statement from the Office of Senator John McCain. He was 81.
McCain had been diagnosed with glioblastoma in July 2017.  Just yesterday the McCain family announced that McCain would be discontinuing his cancer treatment.
"In the year since, John has surpassed expectations for his survival. But the progress of disease and inexorable advance of age render their verdict," the statement said.
With the threat of a government shutdown, McCain voted in the Senate for the last time in December 2017 when he voted to not extend government funding for two weeks.
Before becoming a politician, McCain served in the U.S. Navy as an aviator and fought in the Vietnam War. He eventually became a prisoner of war in Hanoi, where he was subject to solitary confinement and torture from 1967 to 1973, a fact that President Donald Trump infamously disapproved of in 2015.
"He's not a war hero," said then presidential candidate Trump. "He was a war hero because he was captured. I like people who weren't captured."
Years of an increasingly hostile relationship between Trump and McCain caused for rumors to spread in May that McCain did not want Trump to attend his impending funeral.
Despite their public feud, Trump tweeted his condolences for McCain minutes after his death was announced.
"My deepest sympathies and respect go out to the family of Senator John McCain. Our hearts and prayers are with you," he said.
Former presidents Barack Obama and George W. Bush are expected to deliver eulogies at McCain's funeral. McCain had lost to both Obama and Bush in his two presidential runs in 2008 and 2000, respectively.
During his lifetime, McCain was willing to disagree with his fellow Republicans, calling Obama a "decent family man" who voters should embrace in 2008 and choosing to vote against the "skinny repeal" of Obamacare in July 2017.
Donate to Southern Miss Student Media Center
Your donation will support the student journalists of University of Southern Mississipi. Your contribution will allow us to purchase equipment and cover our annual website hosting costs.