Hattiesburg Arts Council hosts Fill Your Heart with Art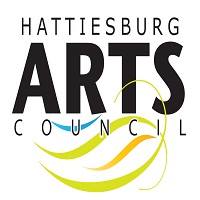 The Hattiesburg Arts Council hosted their annual Fill Your Heart with Art event on Feb. 13 from 7-9 p.m. in the Hattiesburg Cultural Center.
Participants of the event were provided with art supplies to make cards and other Valentine's Day-themed crafts. The event included live music, cocktails and a variety of snacks. There were also numerous local artisans selling handmade jewelry, stained glass artworks and pottery.
One attendee, Natalie Wu, came to the event with her fiancé to celebrate her birthday.
"He wanted to do something kind of random, and it was great, and I got to make this flower bouquet," Wu said.
Another participant, Caroline Bradley, came to the event with several friends and co-workers.
"We wanted to come here to support the arts in general and support local events in Hattiesburg. It's been a good time of fellowship and meeting new people in the community, such as local vendors," Bradley said.
The Director of Hattiesburg Arts Council, Rebekah Stark Johnson, said the annual event helps raise money for HAC's other programs and events, such as their smART Space program for children.  
"This event is our kickoff event," Johnson said. "Every year we do an event that spotlights all of our smART Space kids. All the work on the walls here is from their after-school classes. This is just a night for people to be with each other and make Valentine's art."
The Fill Your Heart with Art event is just one of the many events and programs that the Hattiesburg Arts Council hosts throughout the year.
"Our main goal is to bring the community together through the arts and interactive opportunities like this," Johnson said. "We also have exhibits, dance performances and children's theater programs. We occasionally do things like this to support our smART Space program, which is an outreach program through the city, and we also do an after-school program once a week."
Abigail Allen is the program coordinator for the Hattiesburg Arts Council's smART Space program.
"We go into schools and rehabilitation centers," Allen said. "And we also work with the Arc's Rise and Shine organization and the public schools here and summer camps. It's really important for children to be able to make choices and get messy since they don't have many opportunities to do that. We like to give them a chance to be creative and imaginative."
The Hattiesburg Arts Council's upcoming event Art in the Garden will be March 23 at 2 p.m. at the Hattiesburg Cultural Center. The event will feature a birdhouse contest and a presentation by Felder Rushing.
photo courtesy Hattiesburg Arts Council on Facebook
Donate to Southern Miss Student Media Center
Your donation will support the student journalists of University of Southern Mississipi. Your contribution will allow us to purchase equipment and cover our annual website hosting costs.