The Marvelous Co-Creator of Kamala Khan comes to USM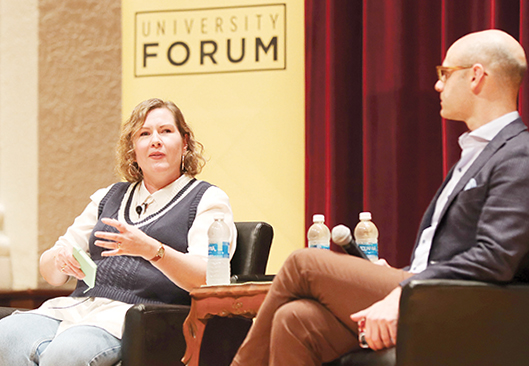 Campus was made truly marvelous when beloved comic book character Kamala Khan's co-creator G. Willow Wilson spoke at the University Forum on September 13th. Wilson arrived to discuss religious diversity and mass culture, relating to her own experiences as a Muslim woman in America. The Forum gathered more than one hundred listeners, all gathered to hear Wilson's story and even ask questions of their own.  
Wilson is no stranger to diversity, and channeled it within her own writing. Before Kamala Khan debuted in 2015, Wilson worked diligently with fellow creator Sana Amanat to create a character that was creative, unique, and even related to her Muslim religion. When speaking on how her faith impacted her writing, Wilson reflected on anecdotes relating to the evangelical writer J.R.R. Tolkien, and how he spread messages of love and shared the beauty of his own faith through his writings. Wilson encouraged the students to accept others and not pass judgment on the basis of sex, race, gender, sexuality, religion, along with other aspects.  
Wilson is fervently proud of the creation of Kamala Khan, who has since become a paramount character in modern comic books. The character became the first Muslim character to headline a comic book, representing Marvel Comics. Khan is particularly popular to teenagers and young adults, who find themselves relating to Khan for her experiences in her young age. Despite initial fears that Khan would be poorly received for her religion, love and admiration grew for the character. Starring in multiple video games for the legendary comic book studio, and most recently a TV series on Disney+, Khan has truly changed Wilson's life for the better.  
In a personal interview with Wilson, the writer discussed how effective Khan was in her life. Not expecting the success that she achieved, Wilson reflected on the creation and devotion that went into Khan's development.  
"You know, it went from being just a brief assignment that I thought was gonna be a few months long to something that will outlive me." Wilson said.  
Dr. Andrew Haley, the Director of University Forum, was proud to have Wilson at the event, commenting on the importance of the grander scheme of things when it comes to things such as religious diversity and mass culture.  
"It's just exposing all of us on this campus to a bigger world outside of USM and Mississippi, and that's a wonderful thing." Haley said.  
University Forums are a key part of Honors College students, but are also incredibly important to the Hattiesburg community. Since 1974, the forums have had stunning figures of society such as Kurt Vonnegut, Gloria Steinem, Russell Means, Antonin Scalia, among many others. As Southern Miss is able to add G. Willow Wilson to this esteemed list of speakers, one can reflect on just how inspirational Wilson is to future generations. 
Leave a Comment
Your donation will support the student journalists of University of Southern Mississipi. Your contribution will allow us to purchase equipment and cover our annual website hosting costs.