Learning and Laughter at PRISM's Human Library Event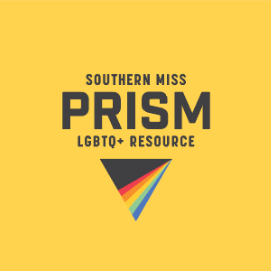 On Sept. 28, PRISM, Southern Miss' LGBTQ+ center, hosted a "Human Library" event. Coordinator of Programming and PRISM Wes Shaffer hopes that guests were able to find representation. Participant Jenna Dittmer also shared her thoughts. With increasing hostility towards the LGBTQ+ community in recent months, the event was an important space for fostering empathy and solidarity. 
Guests moved in 10-minute rotations to different tables around the IME space. The space itself was abuzz with positive messages, from pride flag banners to quotes about diversity and inclusivity. Participants shared personal stories with important life lessons such as perseverance, pride and more. Guests listened in and shared their own perspectives, leading to important and intimate conversations.  
Shaffer discussed the inspiration for the event. They wanted a way for students to connect with allies on campus as well as see themselves represented in the Southern Miss community. "I really feel like representation is at the forefront of our office and my vision, so I wanted to show [students] that there was representation of who they are across campus," they said. "Not every single person in this room looks the same, and that's what we really wanna show, is the inclusivity within IME and our campus community." 
Representation was a common theme of the night. The participants come from a list of official allies — students, faculty, and staff who have received Allies training from PRISM. The allies draw from all walks of life on campus. One participant, activist and graduate student Jenna Dittman, shared why she chose to attend. 
"I agreed to participate in this event because I feel that it is necessary for students to see all different types of representation," said Dittman, whose story was about how growing up as a multiracial first-generation immigrant impacted her life. "Being a graduate student at the Inclusion Center, I really wanted to interact and make sure that the students here feel that their leadership also wants to talk and learn with them," she said. 
This event comes at a time when LGBTQ+ identities are increasingly under attack. In recent months, conservatives have labeled the LGBTQ+ community and its allies as groomers and predators. Back in 2021, Governor Tate Reeves made Mississippi the first state to ban transgender women and girls from competing in sports. And a survey from The Trevor Project found that suicide rates for LGBTQ+ youths rose to 45% in the past year.  
Shaffer says that this backlash makes their work at PRISM more important. "We know that [inclusivity] plays into suicide factors, suicide rates, and also the students going to student counseling. So I really think that it's important that we make sure that they're valued, they're heard here, and also that they have a home," they said. 
PRISM is a branch of USM's Office of Inclusion and Multicultural Development. They provide programming and a safe space for people of all genders and sexualities in the Southern Miss Community. They hold events like this throughout the school year, which are open to people across campus.  
Leave a Comment
Your donation will support the student journalists of University of Southern Mississipi. Your contribution will allow us to purchase equipment and cover our annual website hosting costs.