Lady Eagles roll past ULM to continue strong start in Sun Belt
HATTIESBURG, Ms – Southern Miss (12-5, 5-1 Sun Belt) took advantage of a hot first-quarter performance to control the game the entire way to a 77-57 win against the ULM Warhawks.
Slow starts have been a problem for the Lady Eagles this season, but the team came out of the gates strong Saturday and never gave up a lead.
"I think that start helped propel us to be able to go in strong into the locker room at the half and then the third quarter is our quarter- I believe it's our quarter and our players believe it too," Head Coach Joye Lee-McNelis said. "When you look at it across the board, truly every quarter was much more balanced than what it's been. That's growth."
The win marked a milestone for Lee-McNelis, who reached 300 wins as the head coach for Southern Miss. Players rushed to celebrate with their head coach, dousing her with water.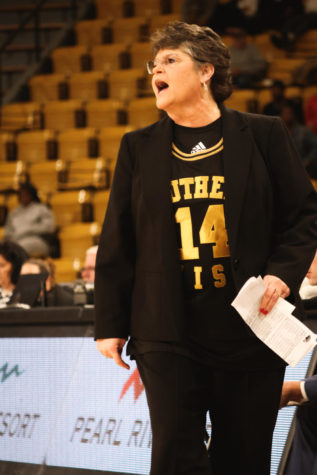 "I just saw the girls getting water bottles, and I'm like 'what are they fixing to do? I had no idea," Lee-McNelis said. "Number one, I have to thank God because he has given me the opportunity to come back to Southern Miss when I was a player here and an assistant coach…I knew that no matter where I went, this is where I wanted to be."
The victory lifted Southern Miss to 12-5 overall and a  5-1 record to begin play in the Sun Belt Conference [SBC]. The key to their early success in the conference is a part of their identity: defense.
The Lady Eagles forced 21 turnovers with 13 steals and held the Warhawks to just 37% shooting. Altogether, Southern Miss has held all but one SBC opponent to under 40% shooting and forced 125 turnovers in those games.
"What has continued to carry us is our defense," Lee-McNelis said. "ULM had a big girl in Emma Merriweather that caused us some problems and Olivia Knight got hot and caused some problems. But other than that, our defense carried us for one of the few games we got off to a really good start."
While the team has relied at times this season on scoring leader Domonique Davis for offensive production, Saturday and recent play have shown a more cohesive and balanced offensive effort. Davis led the team with 14 points (6-10 FG), but three others joined her with double digits scoring. Melyia Grayson tallied 11 points, Jaccoriah Bracey found a couple of late baskets to reach 13 points, and Lani Cornfield shot for a near-double double with 11 points and eight assists.
Lee-McNelis pointed out that the team's progression has shown with the improvement of key points and plays that they have worked on in practice, as well as rest and recovery.
"Yesterday, we started rehab, yoga, and recovery at 8:30. They were in the gym, and then we had practice and finished at 4:00. They have spent long days in these counseling rooms and I think we're now beginning to see it pay off, and I can't say enough about how proud I am," McNelis said.
Southern Miss now turns to a road test this week against Appalachian State and Marshall. McNelis credits her staff for scouting the Sun Belt teams earlier this season and the players' preparedness and execution of defensive sets that have led to their early success in the conference, but she says a different challenge lies ahead.
"These are two types of teams that we have struggled against- [like] a Valpo and Samford. They have five three-ball shooters on the floor…that's our challenge. We've got to figure out how we're going to make it work because we need Melyia and Femi Funeus on the floor but we can't play five guards. We've got to have them to adjust us."
Leave a Comment
Your donation will support the student journalists of University of Southern Mississipi. Your contribution will allow us to purchase equipment and cover our annual website hosting costs.