Southern Miss Lady Eagles split Sun Belt regular season title first year in conference
Southern Miss entered Friday's matchup against Louisiana focused on earning a win for a double bye in the Sun Belt Conference Tournament, and left the game with that, plus a share of the regular season conference title.
Due to James Madison's loss to Marshall, the Lady Eagles finished the regular season tied at 13-5 with the Dukes and Texas State after an overtime win against the Ragin' Cajuns.
Louisiana missed a pair of free throws late in the fourth quarter, sending the game to overtime, and after falling back by three, guard Domonique Davis scored nine points in extra time to lead her team to the regular season title.Southern Miss handled its business and the pieces fell together to give the program its first regular season conference title since the 1993-94 season. It is Head Coach Joye Lee-McNelis' first regular season title in her nineteenth year at the program and only the third such honor in program history.
The team also secured the title the same night as Southern Miss men's basketball captured an outright title after Marshall lost to Old Dominion and the Golden Eagles beat Texas State.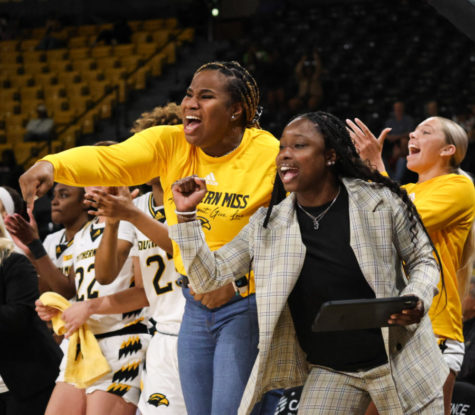 Southern Miss is the first Sun Belt school to earn at least a share of both regular season titles in the same season since 2013.
A double bye, let alone a share of the regular season title, seemed out of reach after the Lady Eagles lost four of six through a stretch of conference games, but the team ended the season on a five-game winning streak.
During that streak, the Lady Eagles found rhythm on offense by scoring more than 80 points in three games. According to Lee-McNelis and center Melyia Grayson, the team played overall smarter basketball.
"It was about us playing smarter and knowing when somebody is hot…it plays a part into when we're on the court. Using that helped us a lot when we were going down the stretch in games, so with us just being smarter, boxing out, and playing the game how we know it's supposed to be played, that has been a big factor," Grayson said.
Southern Miss finishes the regular season at 20-9 (13-5 SBC), which are both the highest marks since the 2014-15 season.
The Lady Eagles will enjoy a double bye in the conference tournament and open play on March 3 at 5 p.m. against the winner of the No. 6 seed vs. the winner of the No. 11 vs. No. 14 seed.
Leave a Comment
Your donation will support the student journalists of University of Southern Mississipi. Your contribution will allow us to purchase equipment and cover our annual website hosting costs.