Southern Miss bounces back, sweeps Dallas Baptist
GAME 1
Golden Eagle pitching rose to the occasion and gave a much-needed strong outing as Southern Miss fended off Dallas Baptist 4-3 Friday. 
Tanner Hall got the nod, recording a quality start with three runs allowed (two earned) over six innings of work. The difference maker was Kros Sivley, though, as he retired the first six batters he faced with five being strikeouts. Hall added six strikeouts of his own to combine for a team total of 11 on the night. 
Despite Hall and Sivley doing their part, fans held their breath as Justin Storm entered the game after Sivley hit a batter with one out in the ninth. Fans held their breath even more as Storm's first batter hit a hard single to right field. But a great play by Danny Lynch followed by a flyout to Reece Ewing sealed the deal, and relief is not a strong enough word.
"Coming off of a tough loss at Trustmark [Park, it was good] for us to bounce back after that loss against a good club who was 7-1," Southern Miss head coach Scott Berry said postgame. "We're trying to grow through those pains that we've been doing, and we know we're gonna have that. Every opportunity is a new opportunity to learn from the last one, and I think that's exactly what we're seeing here."
Sivley and Storm both pitched Tuesday against Mississippi State, meaning both had something to prove. Sivley looked otherworldly in his first two innings with his five strikeouts, and Storm weathered his namesake to give the Golden Eagles a much-needed victory. Their performances might have made Hall the happiest person in the ballpark Friday.
"That's big time right there [with] having Kros come in and fill the zone up," Hall said of Sivley. "I told him that if we want to beat these guys, we just need to throw strikes because they weren't too aggressive on the first pitch. I think he noticed once he actually started going out. He got on a roll and in a rhythm and started filling the zone up a lot."
Hall continued by talking about Storm, saying, "Storm coming in at the end is huge because those are the type of innings where bad things can happen. You never know. Just having him be able to come in there and shut the door to end it is hype. Everybody loved it."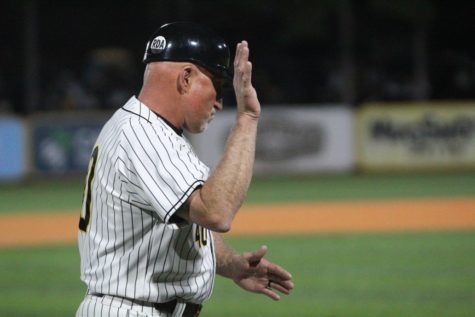 For Hall, this week was the inverse of last week as he did not have the command of his sinker that everyone is accustomed to seeing. Berry noted this postgame, and he believed it to be the difference. Hall said the combination of his sinker and changeup played off each other perfectly, and it helped him keep hitters guessing. 
Hall had a shaky sixth inning to say the least, as he allowed all three of Dallas Baptist's runs. He gave up two soft singles in the gap of the Golden Eagle defense before Nate Rombach drilled an RBI double to left field. A throwing error allowed one more to score, and a wild pitch scored Rombach to clear the bases. Hall was able to escape the inning with Southern Miss still in front thanks to a big second inning.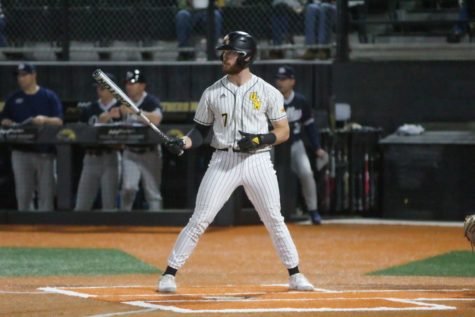 The Golden Eagles came out aggressively to start the game at the plate with swings early and often in the count. Carson Paetow doubled down the right field line with two outs in the first inning, but he was stranded. The second inning was a different story entirely. Slade Wilks wasted no time before launching the first pitch he saw into the stratosphere. The 411-foot home run over the center field run put the Golden Eagles on the board first, and it highlighted Wilks' value to the USM lineup.
"He was really swinging it prior to the hamstring [injury]. We hated to lose him and the bat," Berry said, noting how Wilks missed Tuesday's start due to a hamstring injury sustained Sunday against Illinois. "People keep wondering why I put him in there to pinch hit against Mississippi State. Well, I think he has the ability to do just what he did tonight. He has that ability to turn the game around. We need him in the lineup."
There still is a concern for Wilks' injury for Berry, but he considers the offensive asset too talented to keep out of the lineup for good.
"Obviously, I'm a little concerned as I don't want to push him with that hamstring. But, if he keeps hitting home runs then he won't have to worry about it. He is seeing the ball well, and hopefully it's contagious so the other guys can feed off of him."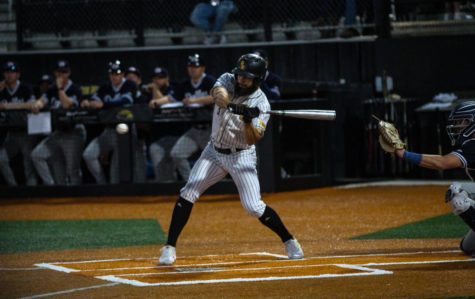 Contagious was the word to describe Wilks' second-inning homer. Immediately following the deep fly, Ewing smacked a single into center field. After Creek Robertson was hit by a pitch, Matthew Etzel notched his fourth extra-base hit of the season with a two-run triple in the right-center gap. After Dustin Dickerson walked following Etzel, a failed pickoff attempt allowed the center fielder to score the fourth run of the inning. 
The second inning netted just enough runs for the Golden Eagles to survive the Patriots. The two would meet again Saturday at 2 p.m.
GAME 2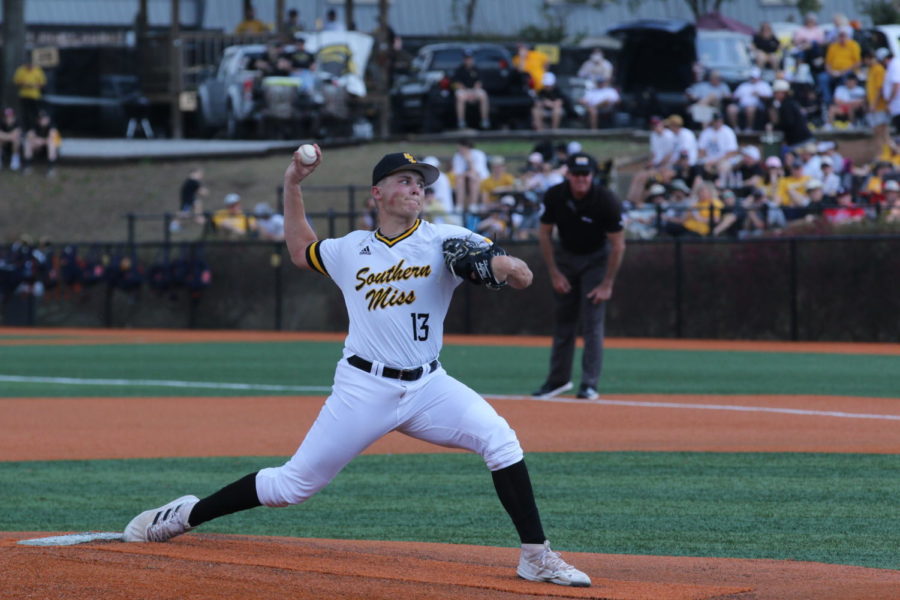 Saturday looked a whole lot like 2022, as Matthew Adams led the charge to shut down Dallas Baptist in a series-clinching 2-1 victory over Dallas Baptist. 
Adams easily had the best outing of his career, striking out a career-high 11 batters over seven-and-one-third innings. He hurled 105 pitches and got stronger as the game went on. The only real struggle he had occurred in the third inning where he allowed three consecutive hits to start the inning. He rebounded though, and induced a foul out followed by an inning-ending 4-6-3 double play.
Adams' best inning came in his final full inning of work by throwing four pitches and recording three outs in the seventh. Scott Berry challenged his pitchers to keep their pitch count down, and the quick inning allowed for another inning of work. He entered in the eighth inning and recorded his 11th punch out before being pulled after a walk. He earned a much-deserved standing ovation from everyone in Pete Taylor Park.
"He's a strike-thrower. He's got three pitches and they go for strikes. He's got the presence of a guy that can go deep in the game," Berry said. "Even though he throws 91-92 miles per hour, it's really effortless. There's not a lot of fatigue. The one thing that can fatigue him more than anything is what Illinois did last week with getting his pitch count up. He did a great job of keeping that down today."
After Adams exited following his brilliant performance, Tyler Martin entered in the eighth with a runner on. He promptly recorded the final two outs before starting the ninth. He hit the first batter he faced in the inning, so he was pulled in favor of Will Armistead. The sophomore induced a foul out before another hit batter led to Justin Storm trying for his second save in as many days. Storm did exactly that, blowing by the final two batters to get a pair of strikeouts to clinch the victory. 
"We knew that he was going to be a big piece of our bullpen," Berry said of Storm. "We didn't know [where], but we knew that his stuff would play. Certainly, the experience that he has and being in those big moments have shown up the last two days with him getting a second save today."
Though Southern Miss did little offensively, the runs they scored were nothing short of exciting. In the fourth inning, Slade Wilks – who doubled earlier and is hitting .448 – walked to bring Reece Ewing up to the plate. Ewing blasted a ball over the left-center field wall for the go-ahead 385-foot home run. This made the score 2-1, and that proved to be the difference.
Berry rewarded Ewing's efforts by pinch-hitting for him in the sixth inning. It just so happened that the pinch-hitter was the returning Tate Parker, who last played Feb. 21 after suffering a hamstring injury. Parker remained in the game until the eighth inning where Bryce Fowler entered following a single by Parker. Berry said this was out of precaution.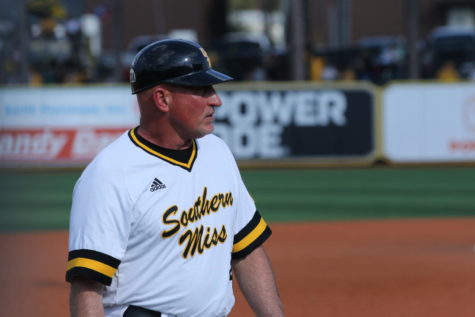 "He's still not 100%, nor is Slade. We have to be really careful with them. He got the base hit there. He said he was okay but [his hamstring] was real tight, so there was no reason to try to push that," Berry said. "It's the same thing with Slade. If he would have gotten on in that last inning, we were going to run for him. I certainly don't want to go backwards with them. They're two big bats in our lineup, and we'll keep going day-to-day with them."
Elsewhere in the lineup, Matthew Russo got the nod at first base after Christopher Sargent's struggles.  Neither have been effective at the plate this season, with Russo failing to have a hit this season and Sargent batting .086 over his nine starts. Sargent wound up entering the game in the seventh after he took over first base duties from Russo. Berry said that Russo's start was due to Sargent needing to relax a bit.
"He and I talked before the game and [agreed] today was a day to let him slow down mentally and just walk away from it. I told him to be ready to pinch-hit if they went to a lefty and I'd certainly go with him in the late innings defensively," Berry said. "Obviously, he's a good hitter and a big part of our offense. We've got to get him going, but at the same time, I think it was time for him to just take a break." 
Berry said Sargent will start at first base Sunday.
Southern Miss looked to secure the sweep against Dallas Baptist with Niko Mazza on the mound. First pitch from The Pete was set for 1 p.m.
GAME 3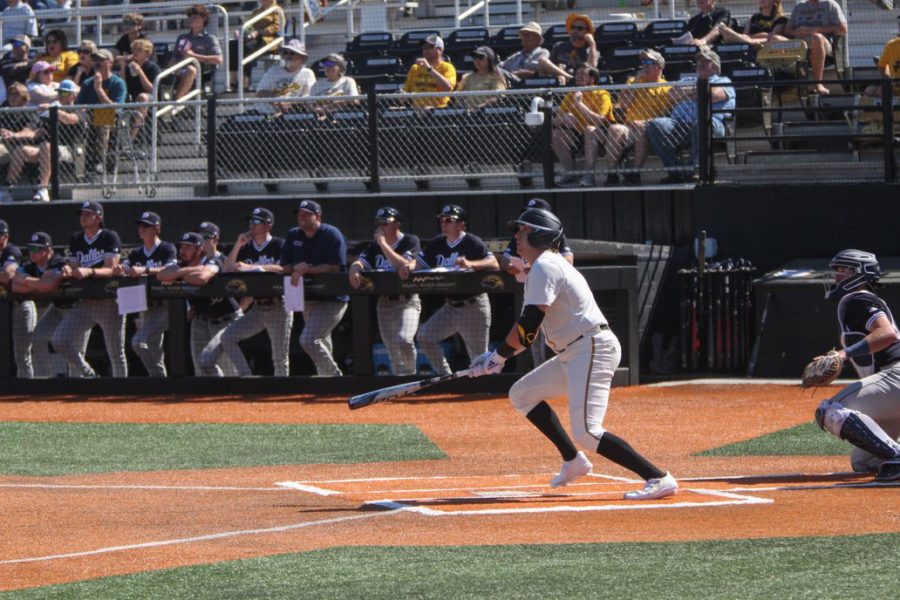 To say that Christopher Sargent has struggled in 2023 would be an understatement. Coming into Sunday, he had a dreadful .086 batting average while failing to record a hit in five straight games. After being benched Saturday, Sargent returned to the starting lineup with a vengeance by blasting a pair of two-run home runs to propel the Golden Eagles to a sweep-clinching 7-2 victory over Dallas Baptist.
This marked the first time Dallas Baptist had been swept since 2018, and it gave the Golden Eagles payback after being swept by the Patriots in 2022. Though pitching was the story in the first two games, the re-emergence of Sargent gave Southern Miss the energy needed to coast to a victory. 
"It's been a tough few weeks," Sargent said. "The greatest thing about baseball is you get to come back the next day and keep going."
Sargent said yesterday's benching had a huge effect on calming him down. He went with hitting coach Travis Creel pregame to take batting practice in the bullpen, and that's what prepared him for Sunday's performance according to head coach Scott Berry. 
"You just start pressing. One of the hardest things to do is to hit a baseball. You hear a lot of baseball players talking about that, but a lot of people don't understand it," Berry said. "Especially with the velocity being thrown today, I think pitching is as good as it's ever been around the country. We're hoping that he'll continue to contribute moving forward."
When Sargent stepped in the batter's box with "South on Ya" by Luke Combs blaring through Pete Taylor Park, in the second inning the fans gave him one of the loudest reactions of the day. They were ready. He was ready. With Danny Lynch standing at first base, Sargent blasted a 389-foot home run into the Longleaf Trace. The fan reaction prior to Sargent's at-bat paled in comparison to the reaction after the ball landed.
"It was awesome," Sargent said. "I love this crowd no matter what, and I know they're going to be behind me no matter what I do."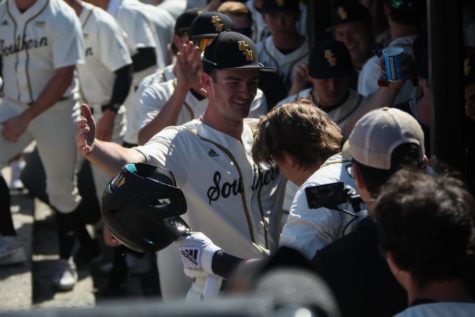 His second plate appearance arrived with more applause, but there couldn't have been many that expected lightning to strike twice. Indeed it did, as Sargent turned on an outside fastball to drive it over the right center field wall at 381 feet to score two more in the fourth. Both long balls were at least 100 MPH off the bat.
"The young man's got tremendous ability. We've seen that over the past couple of years," Berry said. "Everybody that's ever played this game knows you're going to go through a slump. Hopefully, he'll be out of it now moving forward."
The scoring started early and often for the Golden Eagles, as back-to-back singles by Matthew Etzel and Dustin Dickerson led to an RBI single by the red-hot Slade Wilks in the first inning. Southern Miss had a great opportunity to score another run on a Carson Paetow single, but the ball hit Wilks in the baseline resulting in an out.
The final insurance runs of the day came in the eighth inning following consecutive walks by Paetow and Blake Johnson to start the inning. After a wild pitch advanced the runners, Paetow scored off of a Lynch sacrifice fly to center field. Sargent grounded into a fielder's choice to advance Johnson to third, where he was able to score on an RBI single by Creek Robertson to give the Golden Eagles their seventh run.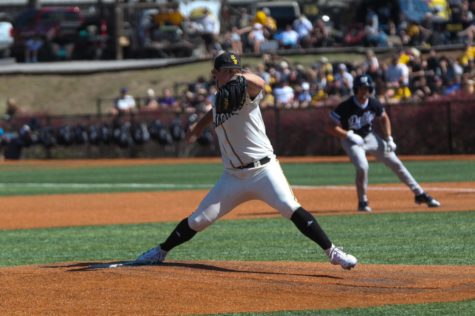 Niko Mazza made the start on the mound for Southern Miss, and he delivered six solid innings of work. He frequently found himself in jams, loading the bases in the third and fifth innings while allowing multiple baserunners in the second and sixth. Mazza threw 107 pitches in his third start with 61 going for strikes. He allowed five hits while walking four and striking out seven.
The lone inning of scoring for the Patriots came in the fifth inning with one out and the bases loaded. Mazza allowed a double and a walk, and the third baserunner reached on an error. An infield single with no play scored the first run, and a sac-fly scored the second. Mazza minimized the damage and managed to come out for a scoreless sixth.
"He created some jams himself, but there were some defensive plays behind that were really good," Berry said. "I thought he did a really good job. He took us through six innings which is exactly what we needed to do."
Former Dallas Baptist pitcher Luke Trahan entered in relief of Mazza, and he recorded four outs without netting a run. Chase Adams recorded the final two outs of the eighth, before J.B. Middleton shut the door in the ninth inning to secure the Golden Eagle sweep. Mazza recorded his second win of the season.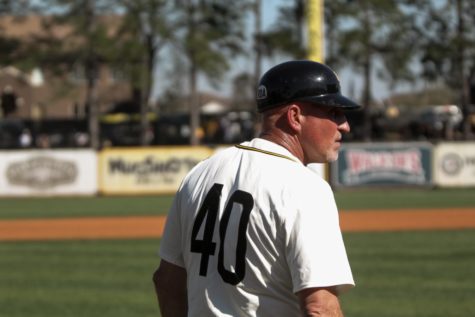 Southern Miss advances to 8-4 on the season following the sweep. The Golden Eagles travel to Oxford Tuesday where they face the defending champion Ole Miss Rebels. First pitch Tuesday is slated for 6:30 p.m.
Leave a Comment
Donate to Southern Miss Student Media Center
Your donation will support the student journalists of University of Southern Mississipi. Your contribution will allow us to purchase equipment and cover our annual website hosting costs.