A 'Cinderella' Story of the Ages: How Southern Miss Men's basketball completed one of biggest turnarounds in NCAA basketball history
Over the past couple of years, Southern Miss fans have turned a blind eye to Southern Miss men's basketball after Southern Miss football and just turned their eyes to the upcoming baseball season. The team hadn't had a winning season in four straight seasons. Worse, Southern Miss did not even reach double-digit wins in those four years of painful basketball.  
Southern Miss head coach Jay Ladner decided they had had enough of the losing. Ladner, hired in 2019, had gotten the Southern Miss job he had always dreamed of. Ladner is a graduate of Southern Miss and a USM basketball player who played for the 1987 NIT championship team. During his press conference after being announced as a coach, Ladner said that Southern Miss was a "destination job, not a stop," He clearly wanted to be here and return Southern Miss basketball to its glory. 
Unfortunately, things did not go as planned. In Ladner's inaugural season, the Golden Eagles posted a 9-22 record, losing all but one of their away games. The Golden Eagles could not play in the 2020 Conference USA championship due to the Covid-19 Pandemic. 
The following season saw no improvement. In a unique and weird season due to all of the Covid-19 precautions, Southern Miss posted an 8-17 record, again failing even to reach double-digit wins.  
In 2021, Ladner's third season with the program, Southern Miss, again did not reach ten wins, with a record of 7-26.  
Ladner's job was seriously jeopardized after this season in the spring of 2022. A good bit of the Southern Miss roster was transferring, and Ladner's job was hanging in the balance. Nevertheless, Southern Miss athletic director Jeremey McClain did not fire him and just asked Ladner for improvement.  
Ladner then jumped up and went to work in the offseason, grabbing players out of the portal, including guard Austin Crowley, and making one of the most consequential coaching hires in Juan Cardona. Cardona had spent two seasons at Mercer before coming to Southern Miss; he also had experience in the international field, including leading the Puerto Rican U-17 National Team to a gold medal at the Centrobasket Tournament in 2007.  
Nevertheless, Cardona brought culture to Southern Miss men's basketball that USM fans will remember for long.  
"Our culture is just so much better," Ladner said what the most significant change he had seen in the offseason at basketball media day in September.  
Cardona was a massive component in bringing Neftali Alverez to Southern Miss along with Felipe Hasse, who became household names just a few months later.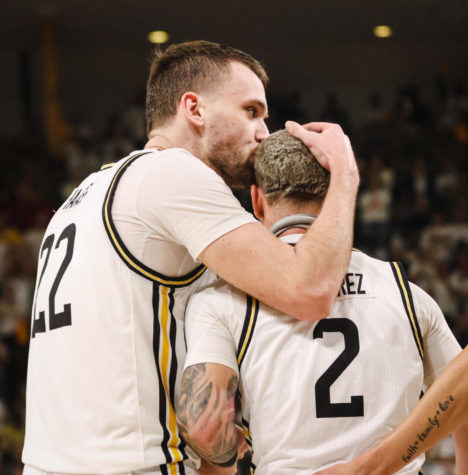 "It's about them, and we are just riding the wave with them." Cardona said earlier in October, right before the season started on the 4th Street Sports Show.  
Even with all of these transfers, all the new coaches they got seemed to be positive; however, Ladner knew that it all mattered about the results.  
"It's time for us to win some ball games. I want to make sure that everybody understands that we understand that. I understand that more than anybody." Lander said at basketball media day in September.  
Southern Miss was picked last (No.14) in the preseason Sun Belt poll, much to Cardona's displeasure. 
"They picked us 14, but they will regret picking us 14…I know when I see a team that can go places. I've told coach I'll take this team over anybody." Cardona said in October.  
But no one but the team could have imagined what would come next.  
The team had claimed the title of La Familia, which means family in Spanish, to remind themselves that they were family but also to show that this group had a different swagger.  
Southern Miss began the 2022 season with a drubbing of Delta State in the exhibition match. Even with that win and the 75-42 season-opening victory over William Carey, the tide turned on November 11th. 
Southern Miss traveled to Vanderbilt for a non-conference SEC matchup. While not known for being the blueblood in college basketball, the Commodores seemed a step up for the Eagles. But they proved this team was different, capturing a double-digit 60-48 victory to move to 3-0.  
Then, they started winning. And winning. And winning. Picking up non-conference wins over Liberty, Winthrop, Montana, and McNeese State. The Golden Eagles headed into Conference play with an 11-2 record.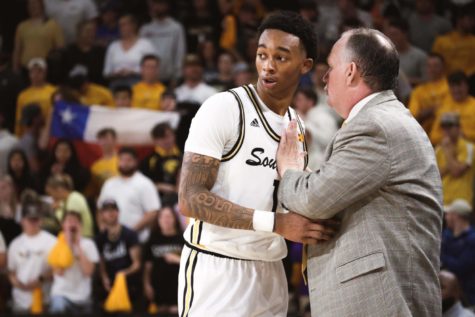 After starting the Sun Belt slate with two straight victories over Troy and Appalachian State, Ladner kept with his message.  
Our goal and vision are the same as it was since we arrived, and that help returns Southern Miss basketball…back to its rightful place of national respect in men's basketball," said Ladner after the App State game.  
The Golden Eagles dropped their first conference games at Louisiana and Marshall before winning seven straight games to set up arguably the biggest Southern Miss basketball game in years in Reed Green Coliseum. Southern Miss and Louisiana were battling for sole possession of first place in the Sun Belt, and the USM faithful predicted a sellout.  
The Golden Eagles were undefeated at home, and Louisiana was on a hot streak. For forward DeAndre Pinckney, who had been with the program for all of the rough times mentioned in this article, it was a dream come true to him when he came out that night warm-up seeing the stands filled.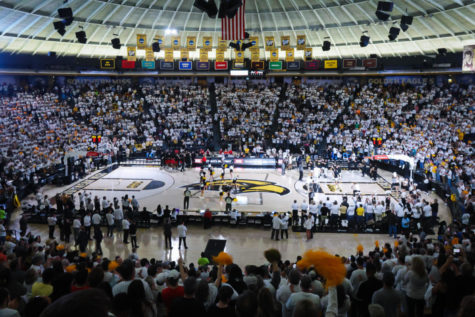 "It just feels so good to be out there and you look out in the stands and all these people are there for you. It's a great feeling. I never thought I would ever experience this in my life. But I'm thankful for this opportunity for sure." Pinckney said. 
Southern Miss beat Louisiana 82-71 in front of 8,097 fans at Reed Green Coliseum. A sight that nobody but the team had seen forthcoming. A team that had posted just seven wins the past season and had not even had a double-digit season since the 2018-19 season got to play the biggest USM basketball game than the old days when Memphis would come to Hattiesburg.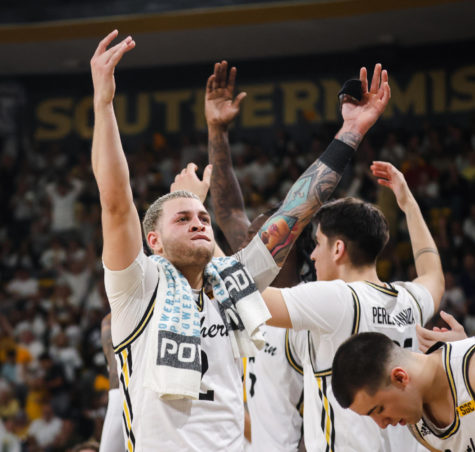 It was a sight for the ages and a memory that Southern Miss fans will remember for a long time. Cardona predicted it back in October, a prediction that at the time seemed so far-fetched, but it became a reality.  
"Get your season tickets now, because you're not going to want to miss out. Because we are going to fill it up," Cardona said on October 10th on the 4th Street Sports Show.  
After that, Southern Miss dealt with injuries that derailed their chance at an at-large spot in the NCAA tournament.  
But, on the final game of the regular season, they claimed the Sun Belt Regular Season Championship. After being picked last in the Sun Belt preseason poll, they finished number one after the season.  
"It shows you how useless polls are," Ladner said in February. 
Southern Miss also finished the season 15-0 at home. This accomplished one of the goals the coaching staff set at the beginning of the year.  
"It doesn't feel real. I was sitting in the locker room before and said 'wow,'" Haase said after achieving this. "We tried to build the program back up, and we feel like we did that." 
The accolades did not stop there; Ladner was named Sun Belt Conference Coach of the Year heading into the tournament. Considering that he was on the verge of being fired just under a year earlier, to have that much success is a turnaround for the ages.  
"If you had told me last year that I would be the Coach of the Year this particular day, I would have said it would have probably been for coaching in high school. I was very close to having to go find a high school job. It's just been an incredible turnaround, and I have to give all the credit to our staff and players for the turnaround." Ladner said after winning the award.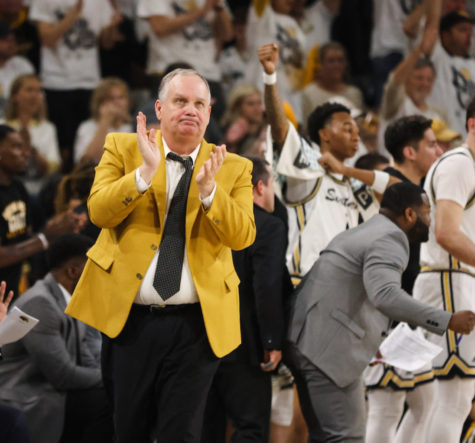 Crowley, another household name now, was named Sun Belt newcomer of the year and made the first-team all-Sun Belt team averaging 16.2 points per game.  
Unfortunately, the Golden Eagles were unable to make the NCAA tournament after going 0-2 in postseason play, losing the opening round of the Sun Belt tournament to South Alabama and the opening round of the NIT to UAB to end the season.  
Historically in college basketball, the season was one of the biggest single-season turnarounds in NCAA history, with the record being an 18-game swing; Southern Miss had an 18-game swing. They needed one more victory for the record.  
Ladner knew that nothing in the postseason would detract from what he and the staff did this season.  
"I would have never anticipated that we set the school record for wins and won the league for only the second time in school history, we won it outright, and we were 15-0 at home. They did so many good things and I don't want the last couple of games but to take away from what they accomplished," Ladner said. 
The season was astonishing, and it all started with a determination by one man who was at his dream job to get this program turned around.  
In every sense of the expression, he delivered. He gave Southern Miss fans a season that will likely be remembered for generations.  
And he gave 8,097 fans a chance to say, "I was there when we sold out Reed Green after winning just seven games the previous season."  
Larry Boyd, who played for Southern Miss basketball and this season was a commentator on the ESPN+ broadcast, noted that he believed that the team had brought Southern Miss basketball back.  
"I was fortunate to get to watch them many times on the ESPN+ broadcast and could tell that there was something very special about this group of guys. The way they really seemed to enjoy each other and enjoyed playing basketball was obvious. They brought Southern Miss basketball back!" said Boyd.   
Ladner deserves a statue, but with how humble he is, he probably wouldn't accept it. He always sent the praise back to the players and staff. 
"I'm forever indebted to them," Ladner said. 
Leave a Comment
Your donation will support the student journalists of University of Southern Mississipi. Your contribution will allow us to purchase equipment and cover our annual website hosting costs.