Nail selected as USM's next provost
Controversial pick comes four weeks after campus protest against his consideration
Lance Nail will become the next provost at the University of Southern Mississippi it was announced via an email to the campus community from president Joe Paul on Tuesday, May 16. This comes after weeks of controversy surrounding Nail's past scandals as Dean and professor at Texas Tech University's Rawl's College of Business.  
According to Mississippi Today, Paul met with students and faculty on the morning of the announcement. He defended his decision, stating that he thoroughly checked Nail's references and found there was more to the story. Nail has said that he cannot discuss his past at Texas Tech in detail due to a non-disclosure agreement.
Jeremy Scott, a USM professor and American Association of University Professors president, told Mississippi Today that it felt like USM was "sneaking it in," or waiting to announce Nail's hiring when school was over to cut the backlash.
In the announcement, Paul praised Nail, "Overwhelmingly those I have spoken with throughout the vetting process have said Dr. Nail is the most student-centered dean they have worked with, and I am convinced he can lead our academic enterprise into the future, while enhancing student success, faculty development, and shared governance," said Paul. 
Faculty senate president Denis Wiesenburg also praised the decision, citing Nail's success as the former Dean of the College of Business at USM. "Dr. Nail was an excellent dean here at USM where he supported the business faculty to higher levels of research productivity. Dr. Nail has always been a student and faculty advocate, and I believe he will continue to share these qualities as Provost at USM," said Wiesenburg.  
Despite the excitement expressed by campus administration, Emily Goldsmith and the USM Concerned Grad Students gave statements expressing skepticism about the decision. 
Goldsmith of USMCGS met with Paul shortly before the announcement was released. The group is disappointed by the decision, but remains committed to protecting students' interests.  
"Dr. Paul and Dr. Nail will have to work hard to mend relationships and regain the trust of students, staff, and faculty," they stated. "I hope for more transparency in the future, and I remain committed to advocating for our student's safety and well-being." 
The USMCGS released a statement condemning the decision. "We are skeptical that Dr. Nail will be a positive addition to USM, but we hope that we are proven wrong. Regardless, we'll remain involved and committed." 
USM announced its provost search back in November 2022. The provost oversees all academic programs and affairs at the university. According to the position profile, the provost's top concerns will be addressing the enrollment drop, fostering diversity, equity, and inclusion, preserving the prestige of the university's R1 research, and more.
The search process began in late December with listening sessions from the USM community. These sessions were used to build a position profile for potential candidates, which was posted online. The position was posted on December 20, and final candidates were chosen between March and April. Finalists visited campus in throughout April to interact with students, faculty and members of the community. Finally, the provost begins their tenure on July 1 of this year.
Nail will succeed Gordon Cannon, who served as interim provost during the search. The previous provost was Steven Moser, who served as provost from 2012-2022 before retiring.
This provost search has been defined by the controversy surrounding Nail. Goldsmith and their fellow grad students formed the group to protest Nail's candidacy. Goldsmith created a Twitter thread raising awareness about Nail's past.
Goldsmith and their fellow grad students formed the group to protest Nail's candidacy. Goldsmith created a Twitter thread raising awareness about Nail's past. 
In 2015, Nail was forced to resign as dean of Texas Tech's business school after an investigation revealed that he changed students' grades behind their professor's back. A 2016 Title IX investigation showed that Nail enabled another professor's sexual misconduct. Nail is also being sued by another professor for alleged retaliation over that professor's opinions on tenure.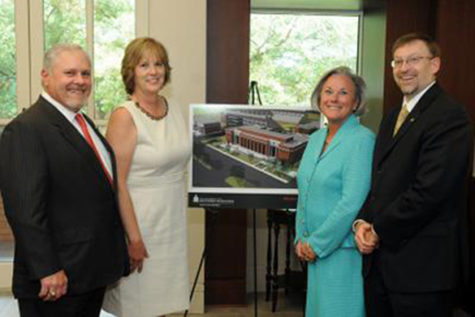 The USMCGS led a protest on April 18, the day of Nail's campus visit, with undergraduates and faculty joining in. Shortly afterward, other provost candidates faced scrutiny for their pasts. 
USM donor Chuck Scianna emailed Goldsmith defending Nail, which Goldsmith and others feared was an act of intimidation. Scianna denied this in an interview with Mississippi Today. 
Goldsmith hopes to turn USMCGS into an official student organization dedicated to graduate student advocacy. 
Nail will begin his position on July 1, 2023.  
Editor's Note: This story will be updated as new information is confirmed.  
Leave a Comment
Your donation will support the student journalists of University of Southern Mississipi. Your contribution will allow us to purchase equipment and cover our annual website hosting costs.