Matthew Etzel, Tanner Hall have big days helping Southern Miss blank Louisiana 4-0.
Southern Miss only needed one big hit to beat Louisiana, and that came from Matthew Etzel, who would blast a grand slam in the fifth inning to give the Golden Eagles their 14th win in a row. Southern Miss has now clinched the No. 2 seed in the Sun Belt tournament, which is significant because they will not face someone's ace in the opening round.
All of Etzel's home runs this season have come in the win streak.
"The at bat before that one, I had five straight heaters I was a little bit late on all of them. Next at bat I knew I was getting the same stuff. And the first heater I saw I took it to the moon." Etzel said.
"Off the bat it felt like a marshmallow."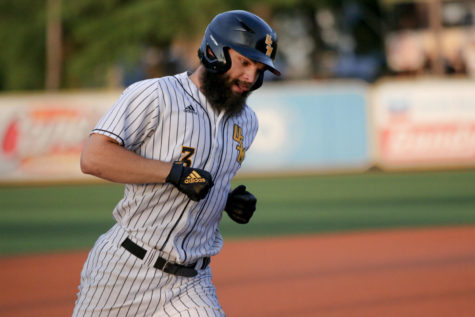 While Etzel's grand slam gave USM the runs they needed to win, one run would have won this game thanks to the dominant effort by starting pitcher Tanner Hall. Hall just cruised through a strong Louisiana lineup like it was nothing. From the opening pitch, he was in total control.
"He's a special competitor. He's a special pitcher. He ranks up there as one of the best that's come here and pitched for us. He's penciled in every Friday night through the whole year and rightfully so, and you saw that tonight." Southern Miss head coach Scott Berry said.
Out of the first 12 at-bats for Louisiana, Hall struck out nine of them. He contributed to a combined shutout of the Ragin Cajuns, the first time they had been shut out all season. He moved into sixth place in career strikeouts at USM with 278, leaping over Walker Powell, Nick Sandlin, Frankie McLendon and Ray Guy.
"I really just kept it as the same mentality I started with, it's a 0-0 ballgame. Obviously, even though we had four runs. I knew I could afford a mistake or two, and if it happened I was going to be able to flush it a little easier then if it was still 0-0." Hall said.
Hall's final line was 8.0 IP, 3 H, 0 R, 1 BB, 12 K's, and 114 TP. One hundred fourteen pitches is a career-high for him. His final pitch was an inning-ending strikeout, and he pumped his fist and beat his chest, celebrating the outing in what will likely be his final at Pete Taylor Park.
"I don't want to end it here. I want to keep playing here more and more, this place never gets old, the energy is indescribable." Hall said.
As Hall entered the dugout after striking out the last batter, the crowd started to chant his name. He came out and pulled off his cap for a bow, and the crowd went crazy. If that is the last time he steps onto the bump at the Pete, that will be a moment to remember.
"It was something special. I can't put it into words. Havin all of those people cherring and stuff. I didn't expect it…it was crazy to see all the energy and passion for the game everyone else has. So it was an honor to go out there, and tip my cap." Hall said.
Tanner Hall talks about moment where he tipped his cap to the crowd

"It was something special. I can't put it into words."

WATCH: pic.twitter.com/D58rpUvK72

— Dima Mixon (@dima_mixon) May 19, 2023
What a career for Hall, and what a moment encapsulating that career.
Game two will be played on Friday night, dubbed "Scott Berry Day" in the wake of Berry's announced retirement.
Today, Berry had his first opportunity to discuss his decision with the public since the news broke on Tuesday.
"Obviously it's been a really emotional week for me with this. It was a like a weight lifted off my back when I met with the team and explained my situation with it." Berry said.
You can watch his full comments here:
Southern Miss head Coach Scott Berry discusses his announced retirement

"Obviously it's been an emotional week for me"

Watch full comments: pic.twitter.com/tPzYGz6qbE

— Dima Mixon (@dima_mixon) May 19, 2023
Southern Miss improves to 36-15, 21-7
Leave a Comment
Your donation will support the student journalists of University of Southern Mississipi. Your contribution will allow us to purchase equipment and cover our annual website hosting costs.