Tanner Hall throws complete game of three hit ball; Southern Miss destroys James Madison to open tourney play.
MONTGOMERY, Ala – Tanner Hall was in complete and total control today as Southern Miss dominated James Madison 7-1 to open the 2023 Sun Belt Tournament. Hall went the distance and threw a complete game in just 102 total pitches, 75 of which were for strikes. It was an absolute clinic of an outing by the Sun Belt pitcher of the year.
"He [Hall] was the only pitcher we used today. A complete game in incredible fashion. I think when you look at his line and what he did through nine innings only giving up three hits, the only run was unearned in that inning." Southern Miss head coach Scott Berry said.
The cool, calm, collected Hall on the mound today is a daunting task for any opponent. But especially that of James Madison, which needs to score with their opponent if they want to win. Moreover, when Hall is doing what he did today, it does not matter what the USM offense does.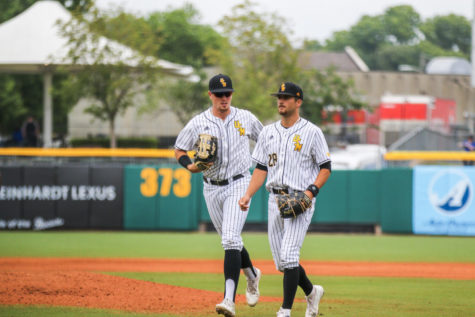 The last time Hall faced JMU, it was far from this dominant from him on the mound. He gave up 12 hits and five runs. Today, he looked completely and utterly in command over the Dukes.
"That was a definitely in my head before the game." Hall said about the last JMU game. "I definitely wanted to go out and do better than I did last time and I told myself I was going to try harder to minimize any mistake I make. Once I started rolling, and the defense started making plays behind me it made it a whole lot easier to go out there and trust in what I was throwing." Hall said.
The game was tied until the fourth inning when JMU got a single off Tanner Hall and then had runners on the corners, thanks to an error on USM shortstop Dustin Dickerson. JMU took the lead on a sac-bunt by Mike Mancini to give the Dukes a 1-0 lead. From then on, Hall sat down 15 of the final 16 batters he faced, an incredible stat.
Even more critical for Southern Miss is that no other pitcher threw, saving the bullpen, which is much needed in a tournament.
"It's incredible. Everybody is rested, and everybody's ready to go. Great workload by Hall. We went 102 pitches there in nine innings, just an outstanding outing." Berry said.
Southern Miss responded to the Duke's early advantage in the bottom of the fourth when Nick Monistere blasted his fourth home run of the year to go up 2-1. From there on, Southern Miss never looked back, scoring runs in the next three innings to take complete control of the game.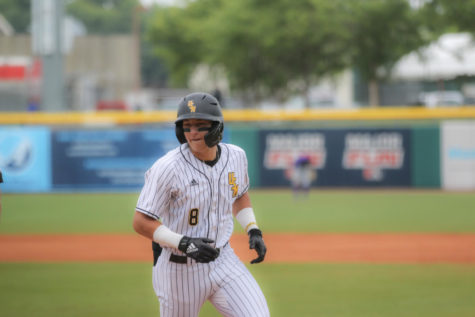 Dickerson, Reece Ewing, Danny Lynch, and Monistere all had RBIs during that stretch. And four of those runs came when there were two outs: an excellent opening day victory and an even better spot now for USM to be in moving forward.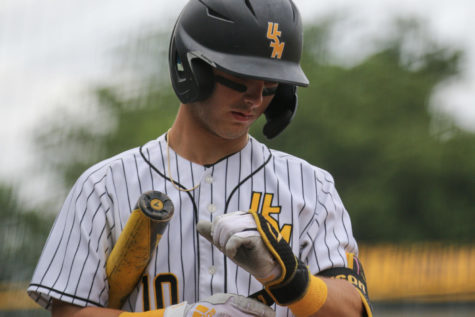 "I think we set the tone that we are going to go after people, no matter what, no matter how long it takes. There was definitely questioning in the dugout about why we were playing like that. But once we figured it out, we put it on them, and kept rolling with it. I feel like that's the tone we want to keep going with throughout this entire tournament and rest of the year." Hall said.
Southern Miss will look to continue setting that tone tomorrow vs. Troy in the winner's bracket game, with the first pitch set for 4 PM CT.
Southern Miss went 2-1 against Troy earlier this season. No starting pitcher has been announced.
Leave a Comment
Your donation will support the student journalists of University of Southern Mississipi. Your contribution will allow us to purchase equipment and cover our annual website hosting costs.