Southern Miss gets the big hit, eliminates Auburn 7-2 to keep season alive
AUBURN, AL – In Southern Miss's 4-2 loss to Samford on Friday, shortstop Dustin Dickerson talked about how they failed to get the "big hit" to put Samford away. Today in an elimination game, Dickerson and the Golden Eagles got the big hit, sending four balls over the fence, two being Dickerson's, to dominate Auburn 7-2.
"We missed the big hit yesterday. I think Sargent led us off great in the first inning with the three-run backside home run, it gave us a lot of momentum. I put two good swings on fastballs that were in, and they went over the fence. I give a lot of credit to Sarge for getting us going and giving us a lot of momentum." Dickerson said.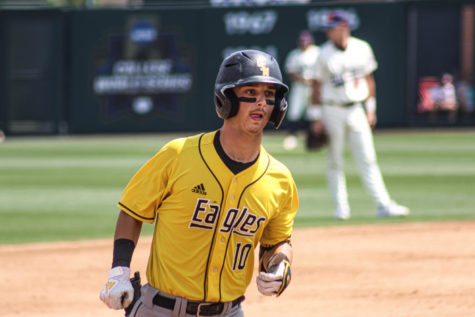 This win over Auburn continues Southern Miss's response after a loss. It all started with the Coastal Carolina series. Facing a sweep, Southern Miss rallied back and won 15-7. They did not lose again until the second game of the Louisiana series. They responded with a wild 11-9 win to win the series.
Then last weekend in Montgomery in the Sun Belt tournament, Southern Miss dropped a winner's bracket game to App State and responded by winning the tournament. Now, Southern Miss got upset by Samford to open the tournament and responded by beating the top seed on their home turf.
"Outstanding game by us. Yesterday we saw terrific pitching and defense, we missed out on the timely hitting. Today we saw a combination of everything that we needed to win against an Auburn team. Very proud of the way our guys competed and the sense of urgency knowing our backs were against the wall." Southern Miss head coach Scott Berry said.
Christopher Sargent helped Southern Miss get off to a loud start. He just got enough of a ball in the top of the first inning for a three-run home run to put the Eagles on top 3-0. USM never looked back after that. The knock immediately took the crowd after the game, and Auburn never could rebound from it.
The knock also helped Southern Miss starter Billy Oldham keep his nerves down. Coming from a division three school, Oldham had never pitched in front of a crowd and an environment like he saw today. The 4,096 Auburn faithful let him hear it, but Sargent's home run made filling the strike zone much more manageable.
"It's way easier to pitch with the lead. Him doing that in the first inning, knowing we had our backs against the wall to come out and score three….it makes me know I can go out there and attack guys. It's what Coach Oz always says, just attack no freebies. With the lead, it's easier to just go out there and attack guys." Oldham said.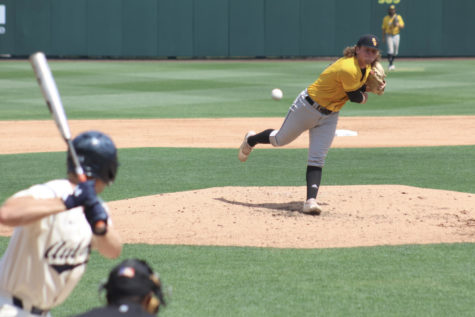 "Lot of fans there, more than I have ever seen." Oldham said.
After Sargent's homer, Oldham settled into a grove, not striking out Auburn but getting them out on routine pop-ups and groundouts. Oldham's final line: 5.2 IP, 4 H, 1 ER, 2 BB, 1 K, 81 TP. Oldham's dominance on the mound allowed Southern Miss to keep extending their lead, slowly but assuredly.
Dickerson's first home run came in the fourth inning. He blasted a full count pitch 395 feet, 107 miles per hour off the bat over the left field wall to put USM up 4-0. In the fifth, he came up with his second home run. The ball went 392 feet and 102 MPH off the bat over the left field wall again.
"I'm not trying to hit the ball over the fence. I'm taking the same swing I've taken for a couple of years now and it's just going over the fence now." Dickerson said.
Rodrigo Montenegro added another in the top of the sixth with a sac-fly RBI to put USM up a commanding 6-0.
It still felt like Auburn would not go down quietly, and they did not. In the sixth, they put runners at the corners with two outs, and Oldham gave up an RBI single to get the Tigers on the board 6-1.
Christian Ostrander then brought in Will Armistead, and he gave up another RBI single to make the score 6-2 in favor of Southern Miss. The momentum was starting to shift until Nick Monistere made arguably the play of the game with a full extended dive on a ground ball to field it and throw it to Dickerson at second to end the frame. If he had not come up with that, Auburn would have scored again, and who knows what happens after that.
"The play of the game was after they had scored two runs and Nick Monistere ball in the middle, dives and takes that ball away and flips to Dustin to end the inning. Otherwise, things could have gotten a little dicey." Berry said.
In the seventh, Armistead struck out Auburn's best hitter to end the frame stranding two more Auburn baserunners. They left 11 runners on the base pads today.
Southern Miss added one more insurance run in the eighth inning. Danny Lynch knocked one out to RF to give Southern Miss a five-run lead taking away the possibility of a grand slam tying the game.
"That solo that he [Lynch] hit there in the eighth. That guy was throwing well and had our number. That was a big insurance run, that put the grand slam out of reach." Berry said.
In the bottom of the ninth, Armistead forced a pop-out to end the game. It was the first win against an SEC opponent the entire season, and no win has been bigger.
Southern Miss moves into Sunday to face the loser of Penn-Samford. By knocking the host team out, Southern Miss will be playing in an amicable environment.
"It's going to be really solid with black and gold." Berry said.
Southern Miss will need three more wins to win the regional. It starts tomorrow with an elimination game against the loser of Samford – Penn at 2 PM CT.
Leave a Comment
Your donation will support the student journalists of University of Southern Mississipi. Your contribution will allow us to purchase equipment and cover our annual website hosting costs.