Southern Miss head coach Will Hall announced at practice on Tuesday that Clemson transfer Billy Wiles will be the starting quarterback for the Golden Eagles this season. 
"We are going to name Billy Wiles as the starter. Two things have been evident to me throughout this fall camp. One, Holman and Billy are both really good players, good leaders, and we can win with both of them. And two, Billy has been better; he's just been a little bit better." Hall said.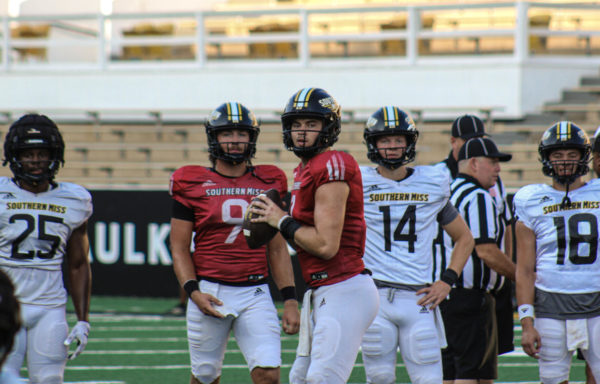 This announcement follows a tight quarterback battle in fall camp between Wiles and Houston transfer Holman Edwards. Hall had stated back at Sun Belt media days that the battle was between those two players. Throughout fall camp, these two players have been going back and forth in one of the tighter QB races that Hall and company has seen in his tenure. 
However, Hall clarified that Wiles won the job because he was just a fraction better than Edwards. He did not have to be light years better, but just a hair better to win back the job, and he did that. Hall clarified that both players were outstanding, but Wiles just won the job. He could not go wrong with a player, but he had to choose one. 
"Holman is a really good football player. Billy has just been a little bit better, and he has done some things better, so he's going to be the starter moving forward, and we will roll with that." Hall said.
Hall has always touted that the player that will win the job is the one that will be able to run his offense the best. This may seem like a no-brainer, but Hall has not been able to use his style of offense practically in the two years he has been here. Because of that, the decision rested on the sort of "game manager" player that can last an entire season. Hall believes that Mr. Wiles has won that job and idea.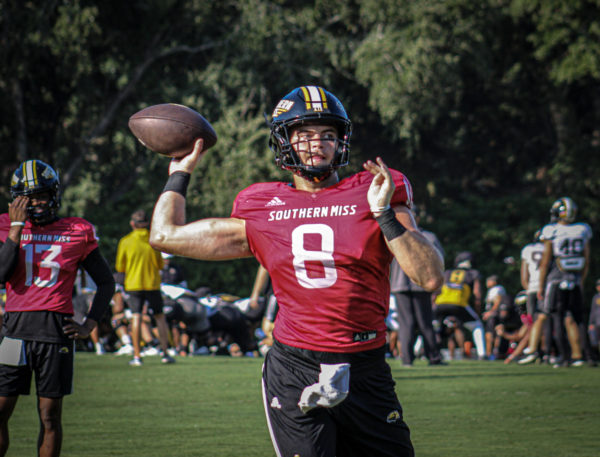 "Yeah, I mean, it's exciting," Wiles said on winning the job. "Little less than two weeks until our first game, so I'm just excited to go and compete with everybody. It was a really fun competition, and I'm happy we are here and the season is ready to go." 
Coming into fall camp, Edwards seemed to be in the lead, especially with Wiles playing through an oblique injury. So, the job needed to be won by Wiles coming into fall camp, but not only be won but taken from Edwards. Throughout all of fall camp, that was what aligned at practice.
Wiles looked more comfortable in the pocket and was more consistent, making easy completions over the middle. Edwards is more of your big play creator. He can spot a beautiful deep ball down the field much better than Wiles. However, there are times he just made mistakes that cost drives, and Wiles made fewer of those errors. 
The QB with the cleaner play is the pick here, and Hall did not shy away. Hall did mention there was no specific moment that Wiles won the job during camp, but rather a more complete showing out of all of the fall camp from Wiles. 
"I never thought there was a moment [Wiles won the job], because I wanted to let it play out. I wanted to scrimmage twice. I wanted every practice to matter, and I think they did. I think they were both really good, I just think Billy was a little bit better. And I know he was a little bit better consistently." Hall said. 
That is why Wiles was named the QB; he was better, but more importantly, more consistent, exactly what Hall needs in a quarterback with his offense. 
Not to mention that Hall goes back with Wiles back to the days at Tulane when he recruited him back when Hall was there. So, he has known and watched Wiles play for a long time, and when Wiles announced he was coming to Southern Miss, it almost seemed like a formality that he would start at quarterback. But, good for both Edwards and Wiles, they pushed each other to be even better than they might have been had there been now competition. 
Now with the starting QB being named for Southern Miss, Hall can move forward with a central approach to running the offense with one guy. One guy, one leader: Billy Wiles
"Let's go. Let's compete. Let's win a lot of ball games and go chase the Sun Belt," Wiles said. 
Billy Wiles on what his message is to the team after being named the starter

"Let's go. Let's compete. Let's win a lot of ball games and go chase the Sun Belt"

WATCH👇 pic.twitter.com/efhL6Ut261

— Dima Mixon (@dima_mixon) August 22, 2023
Southern Miss opens the season on September 2 against Alcorn State.
Follow Dima Mixon (@dima_mixon) for coverage of Southern Miss athletics.