MOBILE, Ala – The South Alabama (4-3, 2-1 Sun Belt) curse lives on.
After tonight, Southern Miss (1-6, 0-4 Sun Belt) may need a priest to perform an exorcist to get rid of this curse because it just keeps getting worse each time.
This is a real low point for Southern Miss football.
South Alabama, a team that had not even played Southern Miss in football before the 2020 season, absolutely dismantled and dominated every facet of the game, leading to a 55-3 victory over Southern Miss, the largest margin of defeat in conference history for Southern Miss.
Even with the extra few days to prepare for the game, Southern Miss had no answers and, for most of the night, did not even look like they belonged on the same field as the Jaguars.
"They kicked our butt in every way," Southern Miss head coach Will Hall said.
Hall laid out a perfect summary of a dreadful reality.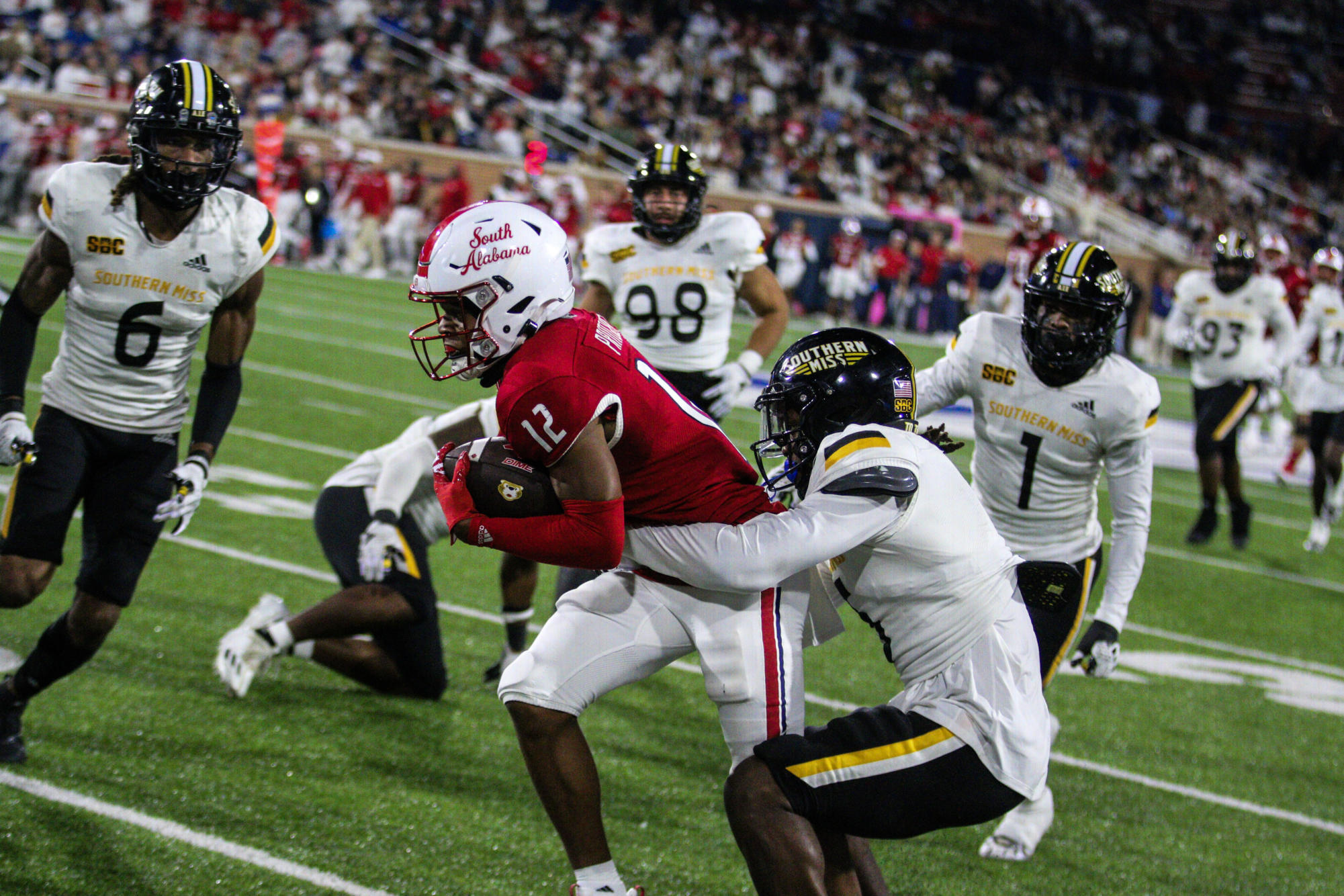 South Alabama wholly dominated from start to finish in one of Hall's worst conference losses in his career.
Specific issues in each game thus far had kept the team from succeeding throughout the season. In this game, however, everything held the team back from succeeding. They failed in almost every aspect of the game tonight and did not score an offensive touchdown for the second week in a row and the third time this season.
It was a one-possession game last season, and this year, it did not even look like these teams were in the realm of competition.
South Alabama's domination was fueled by a big day from running back La'Damian Webb. Webb rushed 20 times for 102 yards and four touchdowns. Southern Miss missed many tackles in open space tonight throughout the game, paving the way to 287 rushing yards for South Alabama.
Granted, USM's defense has been banged up, and Hall mentioned that when asked what the biggest step back for this team is since last season.
"We have been really banged up in the secondary," Hall said. "South Alabama did a great job of taking advantage of that tonight. We got guys playing over there that wasn't even playing on defense a few weeks ago. I thought they [South Alabama] did a great job of exposing that."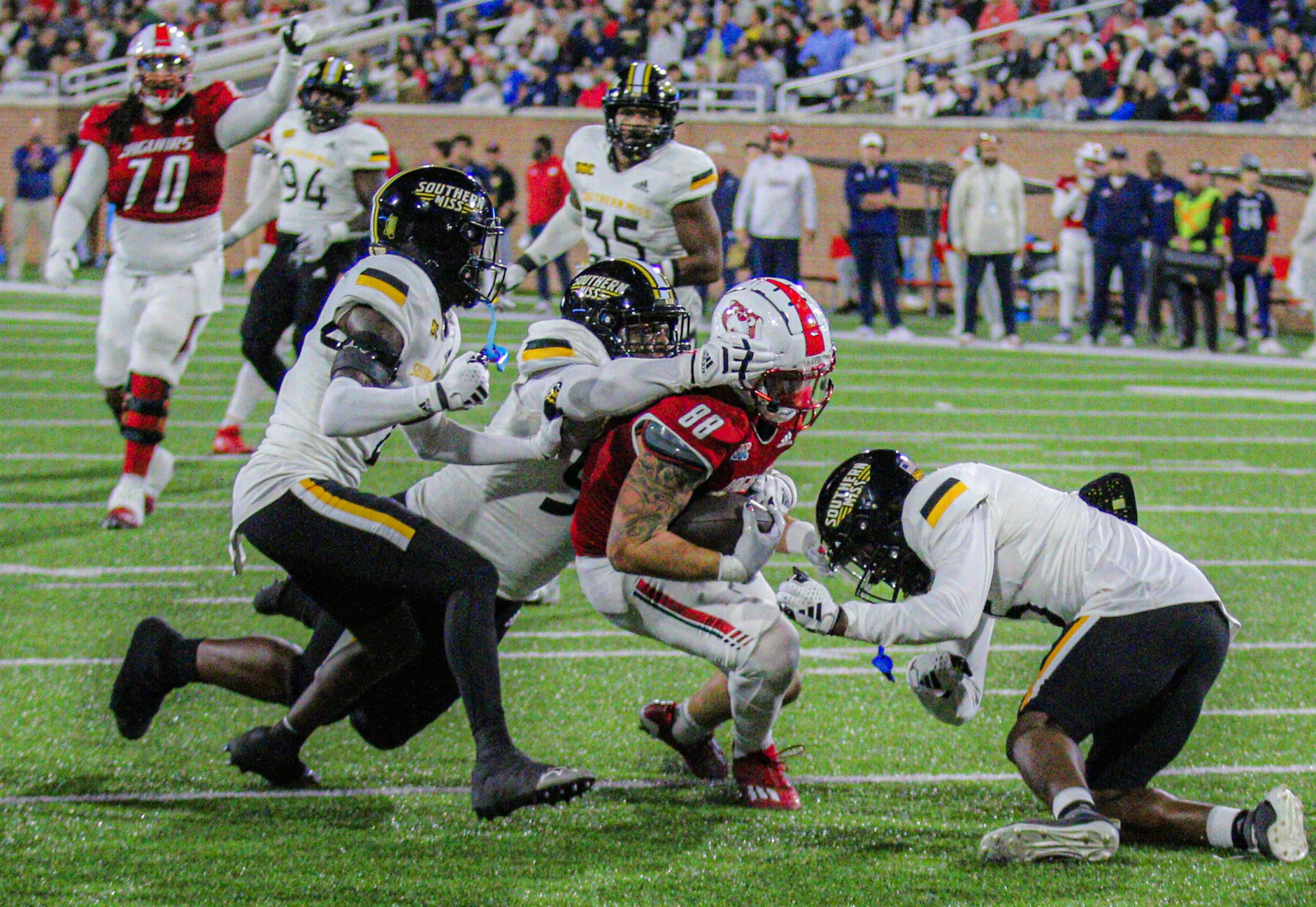 South Alabama scored touchdowns on their first four possessions to take a 28-0 lead late in the second quarter. The drives were not quick either; they were eight, 11, 14, and 10-play drives that were methodical, and they were carving up the defense.
The defense needed answers for Webb or Jaguar starting quarterback Carter Bradley. Bradley threw for 319 yards on 21-27 passing and no touchdowns.
He started 9-9 before his first incompletion.
"We didn't tackle well first of all," Southern Miss linebacker Swayze Boseman said. "It seemed like there was one guy out of the gap almost every play. It's kind of the theme of our season, we had 10 guys do it right and then one guy doesn't,"
That theme was not true tonight because no one did it right at any point in the game. It was also the third time the defense has given up 50 or more points this season, the second time in conference.
Southern Miss's lone scoring drive came on a 10-play, 61-yard drive where Andrew Stein nailed a 32-yard field goal to deny South Alabama the shutout.
Hall benched the starting quarterback, Billy Wiles, for Holman Edwards because the offense was playing badly.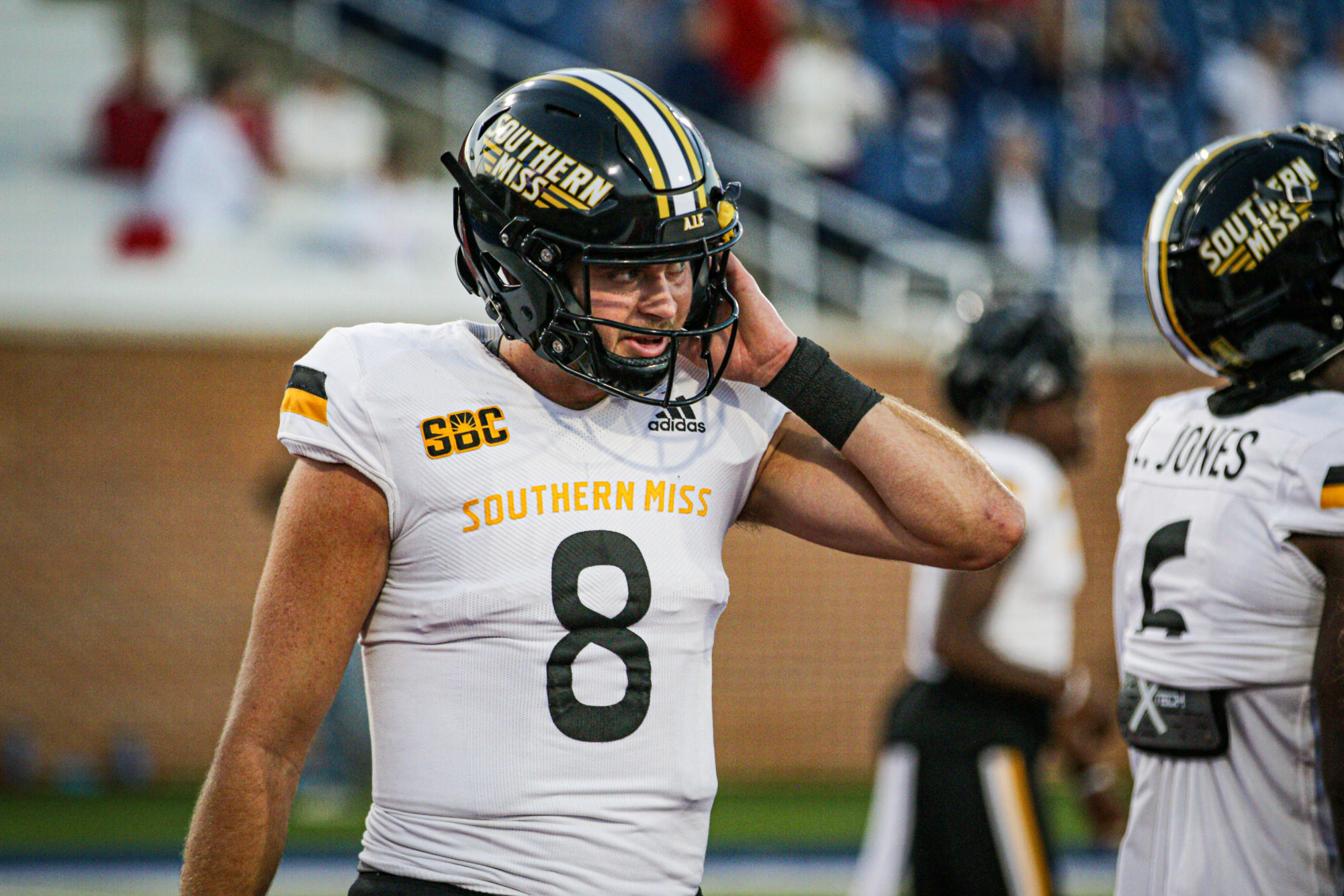 "I just feel like it was something we needed to do," Hall said. "We have lost several games in a row. It's not that Billy was playing bad, but I thought we needed to change it up and see what we can get. See if it would spark us."
Unfortunately for the team, it did not.
Edwards finished the day 5-15 passing for 41 yards and an interception. Wiles finished the day with 2-5 passing for five yards.
At some point, there has to be a winning product put onto the field, and this product that Southern Miss is putting out is just not it.
"We're not as far away as I think it seems," Hall said. "We got to keep recruiting and keep building and keep going."
It sure seemed like they were pretty far away from South Alabama tonight, and enough where there will need to be significant change in this football program to see any success in the future.
Southern Miss falls to 1-6, 0-4 Sun Belt. It is the lowest Southern Miss football has been in a long time, and it seems that with how the schedule is laid out…it will only get worse.