Dew brings big bat and leadership to USM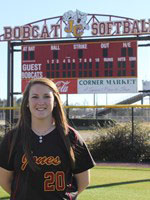 With fall practices underway, Southern Miss is gearing up for a brand new season with the addition of stud JUCO transfer, Tori Dew.
Dew, a junior, transferred from Jones County Community College to play for the Lady Eagles.Her freshman year, Dew was named the National Junior College Athletic Association Division II softball player of the year. She led Jones to a 52-6 record and a state championship. Dew led the nation with a .602 batting average and 104 RBIs.
She also represented Jones on the NJCAA All-Star team during her sophomore year and was named to the All-tournament team. One would imagine Dew had a plate full of scholarship offers, and she did.
USM head coach Wendy Hogue was the main reason for Dew choosing to wear the black and gold. Dew originally planned to suit up for William Carey until Hogue was hired on at USM a week before her scheduled visit to William Carey.
"I love the way she can talk to you as a person, instead of yelling after you make a mistake," Dew said. "She will talk you through it, tell you what you did wrong and (tell you) how to correct it." Dew compliments Hogue on always being true, whether someone is watching or not. "She is true to what she believes," she said. Despite all her success at Jones, winning is not the most important part to Dew.
It is about the friendships with teammates, the coaches she comes in contact with and her walk with Christ.
Dew's cousin has been diagnosed with spina bifida, not being able to talk or walk. Dew has always kept him in her mind when stepping on the field. He has even inspired her to major in special education.
"It's not about the winning part. It's about playing for those who don't get the chance to. I know he would play ball if he was able." – Dews
Dew is also eager to take the field again with two of her former Lady Bobcat teammates, Bailey Stokes and Lauren Holifield. "It's kind of like having your sisters back. It's like my home away from home with the connection we all have together."
Making the transition from junior college softball to Division I can be tough for some athletes, but Dew believes it is all about how well you can adapt. The early morning workouts have been the main difference for Dew so far.
"The season doesn't start in February," Dew said. "It started last week actually and preparing yourself over the summer is necessary to get yourself where you want to be." Prepping at Jones has taught Dew valuable lessons she will carry into her career at USM.
"Me and Lauren (Holifield) were leaders at Jones for the past two years, so we would like to bring that over here," Dew said.
Dew is determined to do all she can to help her team succeed. She prides herself on working every day for the team, not for herself.
Dew wants to represent Christ through everything she does. She does not want her teammates to remember her just because of softball.
"I want them to see God through me and be that light for him," Dew said. "If it changes someone's life, then it does.
I want them to know Christ more than anything and not just softball."
Twenty years from now, Dew knows softball will not matter anymore, but says her heart and relationship with God will always be eternal and she hopes to bring that motive to her new team.
The Lady Eagles are coming off an underachieving season, going just 18-34 overall and 3-21 in conference play.
If Dew's track record is any indication, the Lady Eagle offense will be much improved when the season starts in February.
Donate to Southern Miss Student Media Center
Your donation will support the student journalists of University of Southern Mississipi. Your contribution will allow us to purchase equipment and cover our annual website hosting costs.