Professor delves into auditory history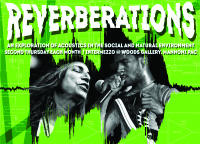 To conclude the fall portion of the Reverberations series— an interdisciplinary exploration of acoustics in social and natural environment—Kevin Greene took listeners on a journey through slavery and Jim Crow laws while teaching the importance of auditory experience through music and understanding what sound means.
Greene, assistant professor in the Department of History and Interdisciplinary Studies, chose to give his lecture without a slideshow in order to reinforce the point of allowing sound to describe scenarios.
"Once you learn to read sound, you'll go through historical text and you'll find that people robbed of literacy, oppressed with the knowledge and information, will make up for their lack of access to learning through visual cues for reading and for literacy in other ways, and the African-American experience is filled with references and ideas about sound," Greene said.
The faces of the faculty, staff and students reflected a feeling of passion as they were moved by the sounds and songs that were used to communicate through the underground railroad system.
"Silence was a very important factor in the underground railroad," Greene said. "There were certain codes and sayings used to relay messages between helpers and slaves."
Professors read along, voluntarily citing pieces of history-changing documents, one of them being the Emancipation Proclamation that freed slaves in America.
Among those professors was interdisciplinary instructor and director Laura Malone, who reflected on her emotional experience during the lecture and what it changed for her.
"It took me on a journey," Malone said. "One of the things I never expected was the (rawness) of some of the sounds and what type of emotion it evoked. This experience gave me a different way to look at text when I read and a different way to take it all in."
Greene also discussed a musical genre that is close to home for Mississippians: the blues. African Americans used this genre to convey life's troubles and good times by way of melodies and rhythms.
"Blues operated far beyond sound for just entertainment purposes," Greene stated.
Many of the listeners were curious to understand how they could use their newfound insight to understand the sounds stemming from today's hardships.
When asked how powerful is the sound of today's generation in response to social issues compared to those sounds reflected from slavery to the fall Jim Crow period, Greene said, "Technology has made this generation powerful with various outlets to use sound to paint a picture of what (goes) on in society."
Junior business administration major Terrance Horton says this discussion ignited an interest in how some of his favorite artists have captured and expressed, through sound, the problems African Americans may face post-slavery.
"Living in America today, there's still a lot of anger today. I would say Kanye West's 'Yeezus' album captures that feeling," Horton said. "It's a matter of accepting this and finding ways to deal with it which can be done through using sound."
Donate to Southern Miss Student Media Center
Your donation will support the student journalists of University of Southern Mississipi. Your contribution will allow us to purchase equipment and cover our annual website hosting costs.