Bias against Markle divides the royal family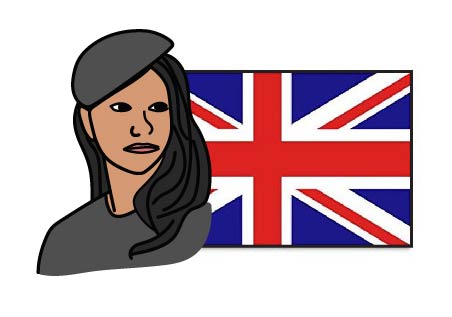 Duchess Meghan Markle and Prince Harry's decision to leave their positions as senior members of the royal family is unquestionably tied to racism.

Markle has been hounded by media since her relationship with her husband has been made public. Her coverage compared to Kate Middleton is like day and night. Markle is constantly portrayed in tabloids as an instigator, manipulator and diva. Meanwhile, Kate Middleton is portrayed as the English rose, an adoring mother and a fashion icon.

People gushed over how loving a mother Middleton was when she cradled her pregnant belly, a universal gesture for pregnant women. When Markle was pregnant and did the same it was an act for attention. The media's bias against Markle went so far as to a comedian comparing her and Prince Harry's baby to a monkey on top of the many jokes about her being assassinated like Princess Diana allegedly was.

With the press coming down hard on Markle, Prince Harry has been swinging left and right to defend their new son. He has been outspoken against the tabloids, and he also filed a complaint against a conservative newspaper that spread derogatory and false coverage.

With their obvious racist agenda, the British press is the real villain against the Duchess in this fairytale. She is everything the white British colonialists hate: a biracial American and a staunch feminist who happened to marry into ultimate whiteness.

Markle was unfairly doomed from the start. The media uses the excuse of pride and respect for the royal family to justify blatant bullying. Their respect crosses the line to a sense of ownership over the royals since they are synonymous with the country and white nationalist ideology. Because Markle is part of the family, in the tabloids' mind she is no longer a person, but the property of the country.

It is hypocritical and insensitive of the press to force standards against individuals that have decided to be, or who are born into, public figures. Public figures are people with feelings and should have their wishes respected like when asking for no photos. It is disturbing how some journalists couldn't possibly fathom that sometimes public figures want privacy, and it is a valid desire.

The union between this famous couple is a hopeful and small progression of the most high-profile family. For the most part, the royal family has accepted Markle and begun rolling with the modernity she brings. Because they have no political power and are just expensive mascots for Britain, they have loosened up a bit. With a century-long list of scandals and conspiracy theories, they have no choice but to keep calm and carry on.
Markle and Prince Harry's departure is not new in royal history. It does not have any impact politically, or even in the line of succession. The problem is not all in the royal family, but rather the media that covers them. It is another example of how white supremacy uses media to manipulate narratives for people of color.

All the while, everyone seems to gloss over how a current member of the royal house, Prince Andrew, had close connections with child sex trafficker, Jeffery Epstein. However, a couple trying to find solace is way more important and easier to make salacious.
Donate to Southern Miss Student Media Center
Your donation will support the student journalists of University of Southern Mississipi. Your contribution will allow us to purchase equipment and cover our annual website hosting costs.